Indulge me, I rarely do haul posts.  But I'm really loving the things that I picked up this week.  And just look how restrained I was at my local CCO (the MAC).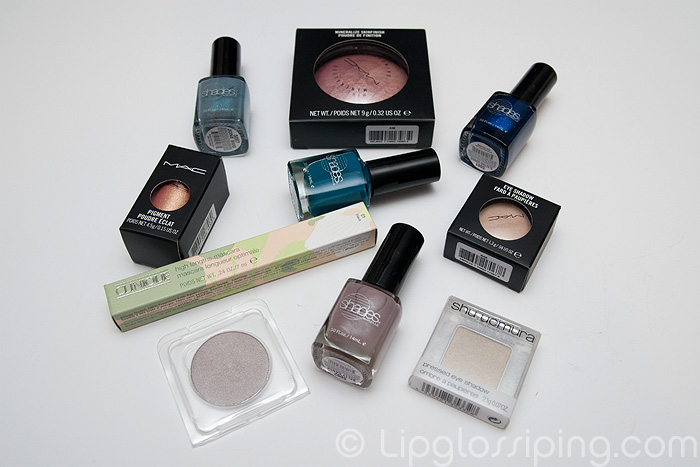 At the beginning of the week my Stila bits turned up from CheapSmells.. oh! I haven't included my Stila Topaz Kajal in the photo!  Oh well, I got that too… But anyway, look at that lovely taupe (bottom left).  That's Stila Cloud, a very cool toned shimmery silver taupe.
I finally took the plunge and ordered a Shu Uemura IR Beige 800 eyeshadow… I was struggling between the IR and ME versions, but felt the ME version swatched a little too pink for me.
I also took advantage of the Barielle BOGOF offer and picked up two colours from the Spring Wildflowers Collection (A Bouquet for Ava & June Bug) and two from the Summer High Steppin' Collection (Belly Dance & Electric Boogie)
Hmm what else…
Oh, I nabbed Clinique's (relatively) new High Lengths mascara that I've had my eye on for a little while… super funky alienesque brush!
Finally, I was (semi) well-behaved in my local CCO on Friday.  I don't have a MAC counter near me… so I usually target the MAC stand quite heavily when I raid the Gunwharf CCO.  I picked up: Melon pigment, Blonde MSF and Femme-Fi eyeshadow.  Pat on the back for resisting Moon River from the Grand Duo collection and Flower Mist Dew Beauty Powder from the Ungaro collection.  (Please don't tell me I NEED those two items in my life… I totally bend to peer pressure!)
What have you bought this week?