I promised you a post on BB creams and in all honesty, what I know about BB creams can probably be written on the back of one.  In other words, not an awful lot.
However, one thing I do know is that they've been around for a lot longer than you might think.  Currently hot topic across the UK blogosphere, we're about 3 years out of date on this one.  Here's the post that introduced me to them back in 2008: The lovely Muse talks about BB Creams…
Since then, I've been gathering snippets here and there from other Asian cosmetics aficiandos like Rowena, Kathi and ParisB (just a small selection of amazing blogs with an Asian beauty focus) and dipping my toe in the proverbial waters.
The biggest complaint lodged against the Asian BB Cream market is the lack of colour variation and this still holds true 3 years down the line… for medium toned or paler skins, it's not too bad.  Darker skintones (with the exception of one or two products) are pretty much ignored in this genre.
Speaking from a personal point of view, my pale pink skin isn't as bothered by the oft-disliked 'beige/grey' tones found within many of these creams.  Infact, I find that they cancel out my redness better than any other foundation or concealer I've tried but I can absolutely appreciate why they don't look as good on olive or yellow-toned skintones.
The below image shows them swatched on my inner wrist where the skin is considerably more milk-bottle than my face.  The texture of the three varies considerably.  I'm going to do a speed review on each…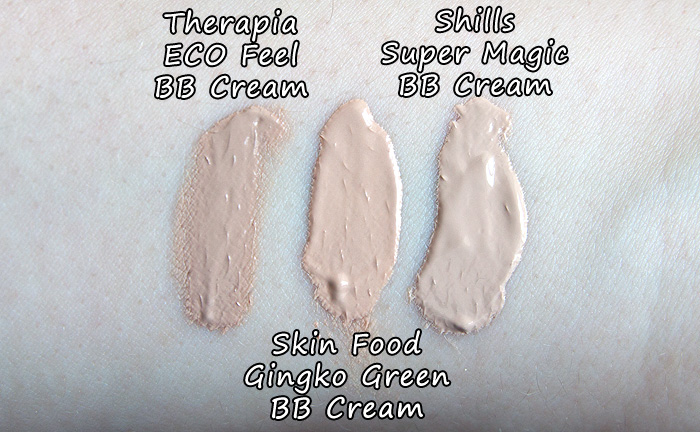 Therapia ECO Feel BB Cream
This one has the heaviest texture, it's quite hard to spread and drags a little unless my skin is well moisturised underneath.  The colour is good, though a tiny bit too dark for me.  Skin-loving properties are based around whitening and calming irritated skin with Apricot Oil and Aloe Vera Gel.
Coverage is medium, it conceals redness nicely but blemishes will need extra work.  I don't find that this builds very well, more than one layer and it starts to look caked on.  It's unscented and has an SPF rating of SPF25 PA++
I would recommend this for normal/combo skins.
Skin Food Gingko Green BB Cream
The lightest in texture of the three I currently have in rotation.  Best for drier skins, this leaves behind a medium coverage and a dewy finish. If you're oily, you will probably hate this with a passion.
It's delicately scented and promises to be filled with 'beauty enhancing' ingredients like lecithin and Vit B to moisturise and nourish.  Sadly, this one contains no SPF.
The colour is less 'beige' (read grey) than the other two and will be better suited to warmer skintones (though it is still very light).
Shills Super Magic BB Cream
My favourite and the one I've been reaching for recently is this offering from Taiwanese brand, Shills.  With the highest SPF rating of SPF50 PA+++, it's been doing a good job of keeping my skin protected in the sun.  It promises to aid with whitening, wrinkles(!) and general skin improvement.
It's the palest of the three and the most suited to a cooler, pink skin tone.  It covers my redness phenomenally well and is mid-way between the other two in terms of spreadability.  Again, this one is delicately scented which may put you off.  It glides on over a moisturised face but if you're combo-skinned, you may not want to add that extra dewiness as this is pretty moisturising on its own.
.
As you can see, these ones all come from the Asian marketplace but I'll be interested to see how the bigger brands currently throwing themselves on the bandwagon will interpret the 'genre' for the Western market.  I buy all my BB Creams on eBay but please be aware that there are fakes.  Infact, I'm not certain that all my purchases are genuine (though I've thankfully had no adverse reactions) so do all your usual eBay homework, check ratings… compare products to stock images etc and if in doubt, ask questions!
Have you tried BB Creams?  Want to?