With my fine hair, I'll happily admit that I don't always use conditioner.  I love how conditioner makes my hair feel smoother and softer, but I simply feel that with each extra product I use on my hair, the heavier my hair feels once dried.  With my current hairstyle (a bob) – it's important to get a bit of root lift to stop my hair looking lank.
Pantene Pro-V's new Aqualight Range is designed with one thing in mind.  Weightlessness.  It achieves this with some clever technology which I'll try to summarise as well as I can.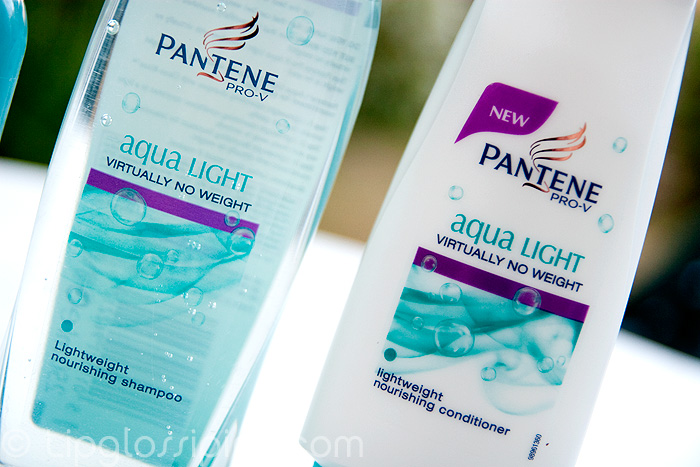 1. Slimmed-Down Silicone. The Aqualight Range has re-evaluated the amount of silicone needed in products for those with finer hair.  Simple no?
2. Clean-Rinse Technology. Making the products as water-soluble as possible means that not only will the product rinse away faster, it will also leave less residue on the hair.
There were other sciencey things that involved molecules and the way in which they break apart, but I'm not gonna pretend to you that I understood it enough to explain it in layman's terms!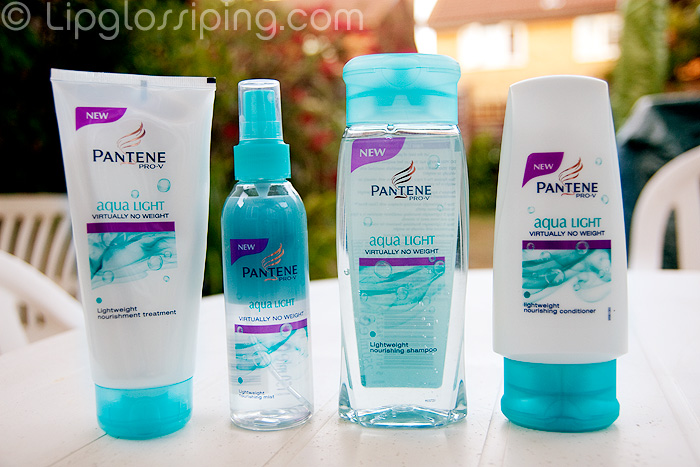 There are 4 products in the range:
Pantene Pro-V Aqua Light Shampoo – New Clean-Rinse Technology allows the products to be rinsed fast meaning hair feels cleaner and lighter. RRP £2.19 (250ml), £3.69 (500ml)
Pantene Pro-V Aqua Light Conditioner – New "Liquid Conditioning" ingredients which stay liquid at room temperature and provide optimum conditioning levels without excess deposits.  RRP £2.19 (200ml), £3.69 (400ml)
Pantene Pro-C Aqua Light Spray Rinse-Off Treatment – A clever, ultra-light intensive hair treatment for extra nourishment without weighing hair down. RRP £3.99
Pantene Pro-V Aqua Light Leave-In Treatment Spray – A lightweight nourishing spray to style and refresh your hair between washes.  The clever "dual phase" formulation contains nourishing ingredients at the top and detangling refreshing ingredients at the bottom. RRP £3.99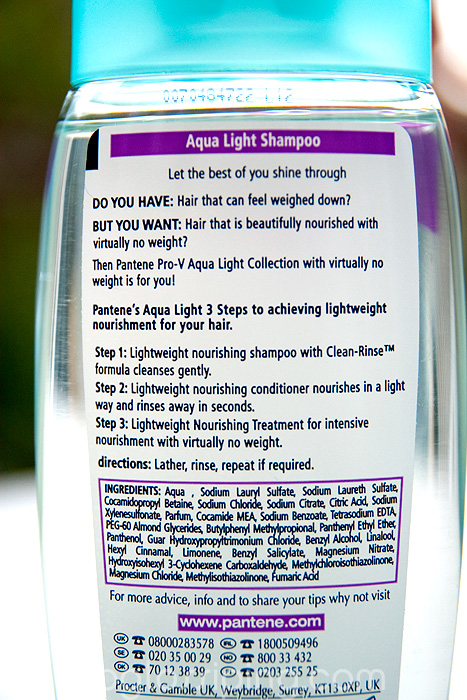 First impressions from my samples are good.  Better than good!  After washing and conditioning, my hair feels gently nourished yet light.  But where I really notice it making a difference, is after styling.
I shampoo, condition and then style with a root lifting product and the lift seems to last far longer than normal.  My idea of 'styling' is the rather lame "pointing the hairdryer at my roots and hoping for the best" trick, but I'm delighted with the results all the same.
I'm in love with the Aqua Light Rinse-Off Treatment too which is seemingly doing wonders for my dry ends.  Ok, they're still splitting (need a haircut STAT!)… but they feel smoother and less rough when I roll them between my fingers.  Completely unscientific testing going on here!  I'm a bit unsure about the Aqua Light Leave-In Treatment Spray though.  The whole range smells beautiful and this is no exception.. but I just can't get it to 'refresh' my hair.  It gives it a touch of gloss… but at the moment, I'm not noticing much more than that.
Honestly, I'm always seduced by new hair products that work fabulously well for a couple of months before they simply stop working, so I'll be sure to come back and update this post if anything changes as I work my way through the products.
I think the Aqua Light range has been out in parts of Europe for a little while but I've spotted the shampoo and conditioner online at Tesco last weekend, so I look forward to hearing what you guys think about the range too!
Before you go, I'm curious!  Would you lovely ladies mind letting me know if I'm alone in shunning conditioner in preference for more 'swishable' hair?
Do you use conditioner every time you wash your hair?
Yes (78%, 126 Votes)
No (22%, 36 Votes)
Total Voters: 162

Loading ...