Monday Musings… Tuesday's Twaddle… Wednesday Waffling…. Thursday Thuckery?  No, that doesn't sound right.
And so on…
There just aren't enough days in the week for the amount of shit I could come up with.
Anyway…
I wanted to acknowledge that I've been terrible at responding to comments over the last 10 days.  I'm home now, and I'm working my way back through them (well, I will when Leila's gone for her nap and I've had another 3 coffees – screw proper work).  I haven't forgotten that I owe a Pantene ingredient list to some nice soul and a comparison of Jo'Mina and Barry M… what else, what else…. I'm working on a nail-care maintenance type post which has been requested a few times and I'd like to do another photo-tip type one but I'm not sure what would be useful?  Any requests?
Ahhh I'm so excited to be home, I could snog my computer!  True to life colours, software that doesn't freeze and the ability to have more than 2 windows open at once.  Life's simple pleasures.
Oh and before I forget (yeah, right… like I *really* was gonna forget) – Lipglossiping.com was featured in last weekend's Waitrose magazine (is it still a magazine if it's not glossy?)
Anyway, look!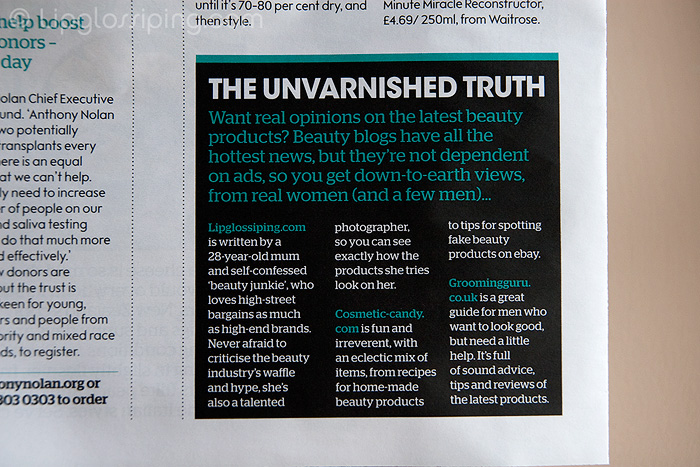 Look at me, inbetween Delia and a BOGOF on extra mature cheddar.  My mama would be so proud.