Following the roaring success of Estee Lauder's previous nail polish release and the fact that I simply couldn't have anymore love for Surreal Violet than I do, I had super high hopes for their Christmas collection.
I was given Extravagant Pearl at a recent event and I have really mixed thoughts on it.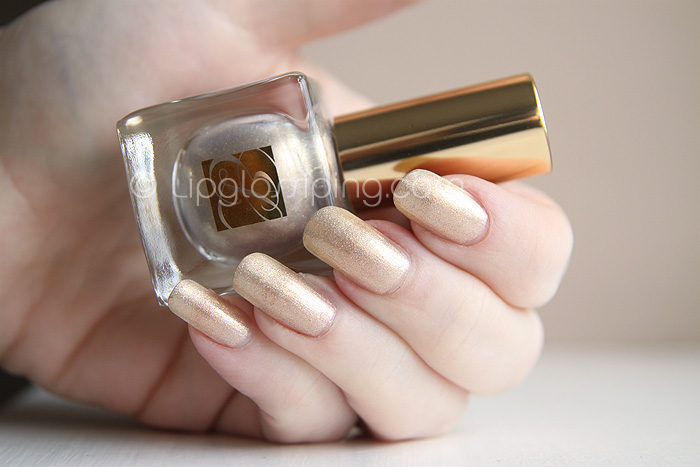 Extravagant Pearl is one of two polish releases for Christmas 2010, the other being Extravagant Night (a dark plum with mesmerising micro-glitter).  Looking at Extravagant Pearl in the bottle, I expected it to be a sheer, layering polish… it isn't.  The above shows three thin coats and if you don't mind a visible nail line, you could be done in two.  Oddly enough, the reviews I've read of the darker Extravagant Night show that one to be a 4 coater!
Anyway, I'm going off on a tangent…
Extravagant Pearl is quite a difficult colour to describe… but I think I'd call it NARS Albatross in a nail polish.  A pale, warm gold with shimmer.  Lots of shimmer.  A little too much for me.
It looks quite frosty and for some reason makes my normally narrow nails look wide and fat.  It needed a top coat too thanks to the micro-glitter making the surface of the nail quite gritty to the touch.
I want to love this shade, I really do… it is packed so completely full of beautiful multi-coloured sparkle in the bottle I was sure I would be on cloud nine with this on my nails.  But I'm just not feeling it.
I tried layering it over black to see if I loved it more… I still don't.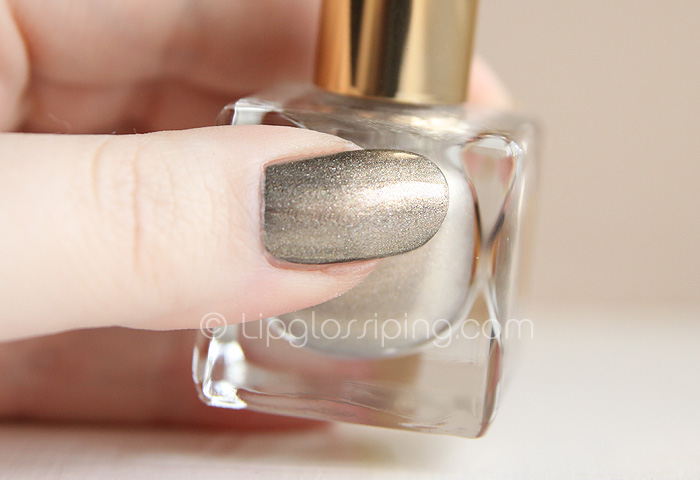 Urgh, what's wrong with me?  It's clearly very pretty and sparkly and totally Christmassy.  It even works well against my skintone… perhaps I just don't like frosts?
Wear has been marvellous… 3 days now with no tip wear at all though it was a little slow to dry between coats.
What do you guys think?  Am I crazy for not loving it?
Estee Lauder Extravagant Pearl is a Limited Edition shade released as part of the EL Christmas/Holiday Collection.  It's available online or on counter and priced at £12.