…and thank GOD!
Last Tuesday, I attended an event at HQ Hair's very own hair & beauty store in the heart of central London.  It's an oasis of pampering conveniently located just off Regents Street with the added benefit of a storefront offering your favourite HQ Hair brands.
I was delighted to see so many brands on the shelves!  There's not too many places you can pick up Mario Badescu, Yonka, Alpha H, Murad, Bare Escentuals, Paul & Joe, Philosophy, Fusion Beauty and much more… all under the same roof!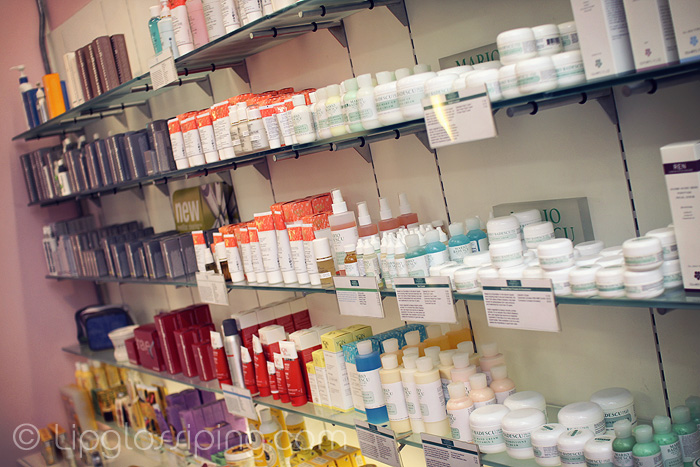 Because the Salon is located to the rear of the store, it doesn't feel like you're walking into a hairdressers.  You don't feel out of place if you just want to visit for a browse.  Even better, if you're in there getting a new colour or a trim… you don't have the general public checking out your 'no makeup face' while they're doing their shopping!  The two areas are zoned well.
I visited the store before when I came for a haircut back in June.  I'm sniggering to myself as I write this next bit because I dragged my husband along with me having just spent a couple of hours doing some serious debit card damage in Selfridges.  Poor Mr L was relieved it was all over.  Little did he know there was another shopping opportunity waiting for me at the salon!
But anyway… let me tell you a little bit about the lovely David Scheffen who came along to meet a group of very cold and slightly bedraggled bloggers on a snowy Tuesday evening.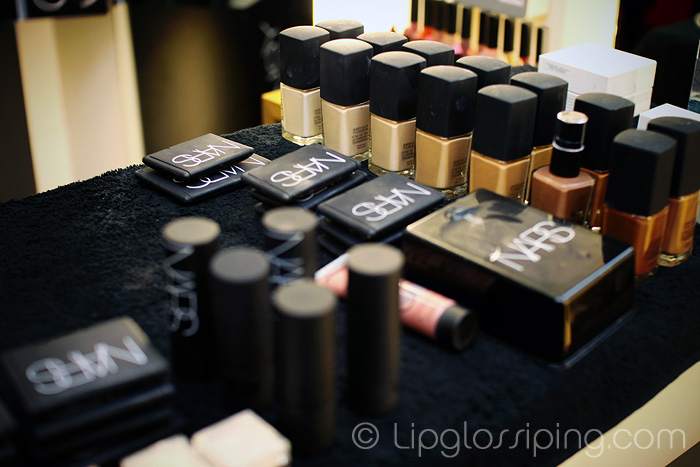 I should warn you now that I'm actually his #1 fan girl.  It's genuinely embarrassing.  I giggled and stumbled over my words… I may even have snorted when I laughed.  I've since gone as far as to ask Mr. L if I could please have a David Scheffen for Christmas.
Let me explain… I don't always have a lot of luck with makeup artists.  I'm not great at coherent speech in social situations… what I want, what I'm trying to achieve… well it rarely comes across well in conversation, which results (quite rightly) in me walking away with advice I don't care about and a look I hate.
Not. This. Time.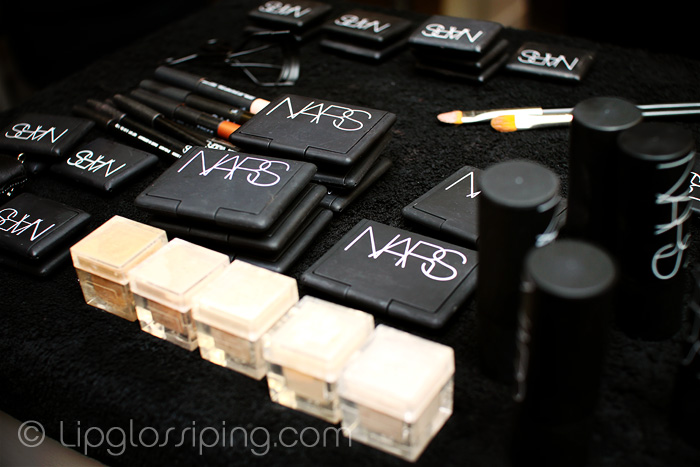 "What's that?" I asked, as he swivelled up one of the NARS Multiples.
"St. Barts" he said (in his endearing French accent).
"I have that!!" I exclaimed, getting all excited… like he was going to give me A* for owning it or something.  "But I can't make it work for me…" my lips continued to move as I expressed to Francois' right hand man what a dumbass I was at applying makeup.  Smooth.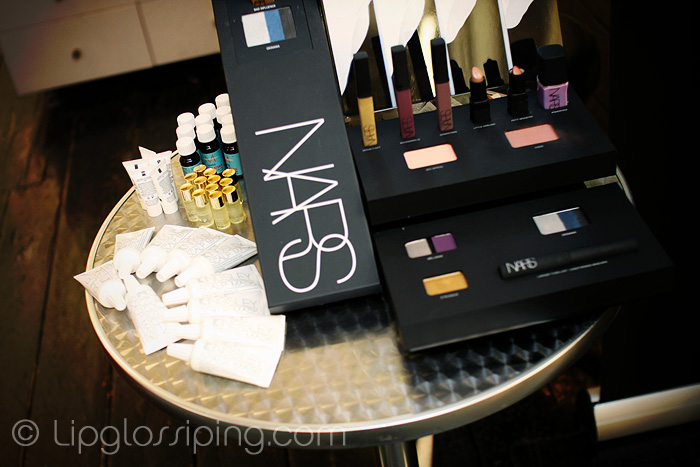 David looked surprised and explained that the cool toasted-taupe shimmer should work well on my colouring and I agreed… it's one of those products that tick all the right boxes.  In theory.
Forty seconds later and the magic has been done, quick fingers transferring product from stick to skin with an effortless grace that I could only dream of emulating.  It looked good.  Really good.
A little on my cheeks, a touch along my browbone and a speck (or two) along the line of my cupids bow.  I didn't look bronzed, I just looked… healthy.  The trick, he explained "…is to always build up to the level you require".
"I know that!" I thought to myself… "But I can't help being heavy handed!" Reading my mind (I told you he was good), David explained that tapping the product onto my skin with my fingers would result in a more controlled application.
Not only does that work 100x better for me but I now can't stop applying this product to my cupids bow.  It has the desirable effect of making my top lip look instantly fuller and defined.
"And now for my next trick!" announced David, reaching into his top hat (ok, I made that bit up).
I was totally at ease in his company.  He has a light, affable manner with a generous side-serving of wicked humour which resulted in me being brave enough to admit something a little shameful.
"I don't know where to apply my blusher."  Then, in the hope that it would make the previous statement seem slightly less retarded… "Does it really make a difference where you apply on different face shapes?"
"Absolutely!"
Placing two finger widths parallel to the side of his nose, David explained that the area covered by his fingers was a no-fly zone.  "Don't apply blusher too close to your nose… it doesn't look natural and isn't flattering for you".  I thought of all the times I'd grinned at myself in the mirror, applying my blusher EXACTLY where he'd just described whilst thinking I was hitting the 'apple of the cheek' bullseye.
He patiently showed me where I should concentrate the colour for my face shape (widest at the cheeks and quite pronounced.  Hamster podge).  I've artfully constructed a little diagram.  Don't laugh.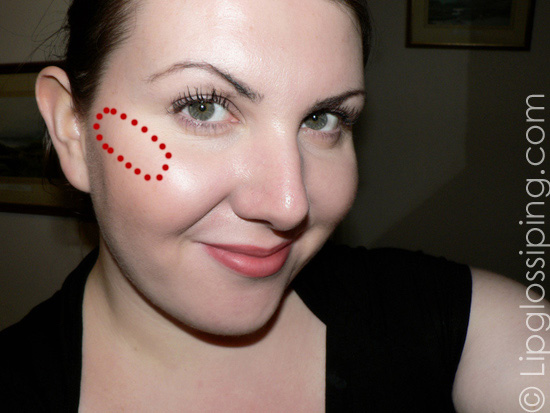 I've found that if I keep my initial application focused right within that small dotted area, I get a natural (and less overdone) flush that detracts attention from the fleshier 'apples' and leaves my face looking more contoured.  I can hear angels singing Hallelujah.
Once blended, the area of 'flush' is larger than shown above and I tend to blend back toward the hairline and down toward the hollow.  It felt alien to me at first… mostly because of how high I'm applying but it's definitely a better method for my face shape.  It's only taken me 29 years to get that one right!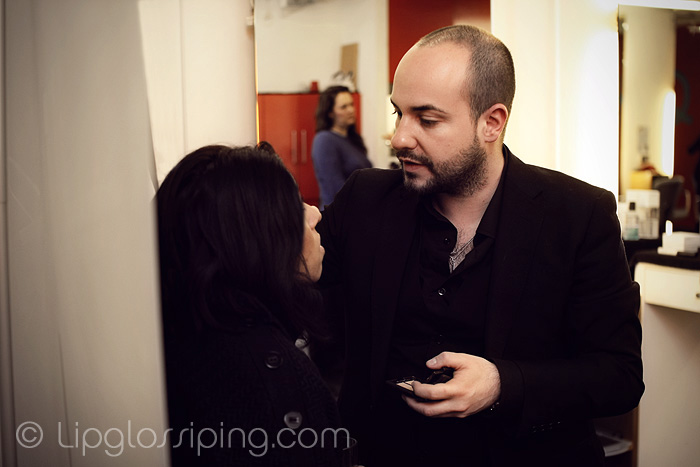 The makeup maestro at work!
He also had a message for you guys…  "Wear more purple eyeshadows.  Women are too intimidated by purple."
You have to love him for that alone.  But you can't.  'Cos he's mine.
For more David-related goings on, keep a close eye on the HQ Hair blog as the HQ Girls get to regularly feature his tips, tricks and looks.  I think they keep him locked up in the beauty cupboard.  Lucky things.
HQ Hair & Beauty Salon,
2 New Burlington Street
W1S 2JE
0871 220 4141 begin_of_the_skype_highlighting              0871 220 4141      end_of_the_skype_highlighting