Yum. Oh.
I'm a long-standing fan of Lush's Honey I Washed the Kids soap. It's got no whizz-bang exciting things going for it but it's comforting. Like an old-favourite jumper washed many times over, I've been repurchasing it once or twice a year since my early twenties.
Which is why I was excited to see the scent launched into a new Limited Edition shower gel that goes by the name of: It's Raining Men. Alongside the other limited edition launches for Valentine's Day, It's Raining Men will only be around for a short while… so I suggest you go sniff it out tout de suite!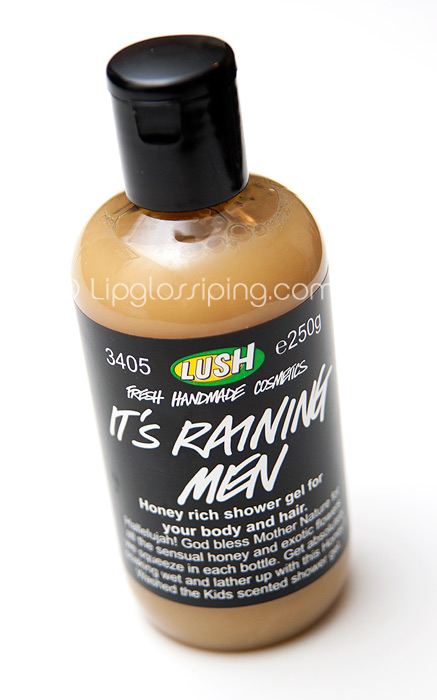 It foams REALLY well… and to be quite blunt, when a shower gel (that doesn't claim to contain magical properties) costs nearly £8 for 250ml, that's an important thing to know about it.  It means that I can see this bottle lasting me for a good long time.  Judging by my usage of the sample I was sent, I'd estimate that it'll still be going in 3 months time.  You really only need a drop on a bath lily to work up a huge lather.
As for the scent?  To me it's a little sweeter than my HIWTK soap… just a touch.
It's Raining Men is a saccharine feast for the shower that bubbles up beautifully and leaves my skin with a delicate honey-ed scent.  I like it and I'm purchasing a backup at the weekend in preparation for it leaving the shelves for good.
Lush – It's Raining Men limited edition Shower Gel is available online or instore at LUSH