I do love reading about the things that people pick up in their lunch breaks, so hope mine is somewhat interesting too!  This wasn't a lunch break… more of a 'coffee' break with the lovely Ally.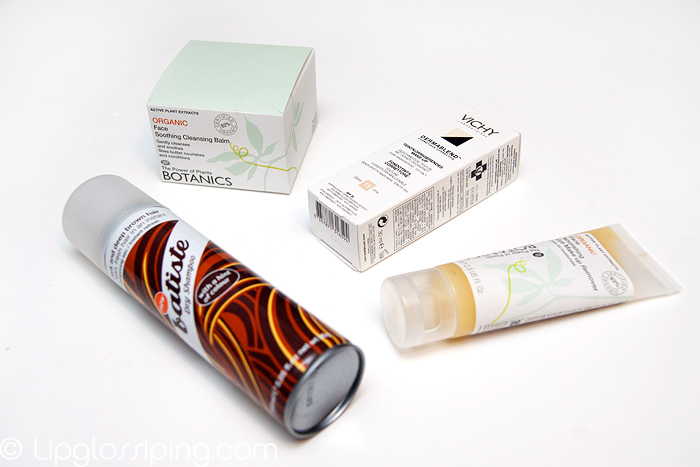 Since getting my Clarisonic, I've turned into a bit of a cleansing freak and there's nothing I like more now than experimenting with all manner of different cleansers in conjunction with the gadget!  Honestly?  I don't know how I didn't get the crap beaten out of me at school.
Not only that, but despite having found a total JOY in the new Elemis Melting Cleanser, I *still* can't resist picking up these 'just incase'.  This is my problem though… by the time I've finished experimenting to see if I can find a cheaper alternative, I will have spent what it costs to go and by the Elemis twice over!  Please tell me I'm not alone in that kind of nonsense!
So after that rambling… what did I get?
Well, there's currently a rather tempting 3for2 across skincare lines in Boots at the moment so that's where I indulged!  I picked up the Boots Botanics Organic Cleansing Balm (£6.63) after reading the on-site reviews.
I also grabbed a nifty looking Boots Botanics Organic Nourishing Eye Makeup Remover (£3.99) (US link – I can't find it on the UK site!) and the much revered Vichy Dermablend Corrective Foundation in Opal (£14.30) which I'm hoping to use as a redness concealer.
One last stop near the haircare and I grabbed the new Batiste dry shampoo for brown hair.  I'm not sure if this is reformulated or just repackaged from this one.  I'm secretly hoping this can will get me through those days where it takes you longer than it should to realise that you seriously should go buy some more hair dye.  Like now.
I'm in London today and I'll be doing my best to avoid 'popping' into Boots for another look before the offer ends.  Honest!
What have you been hauling recently?