If anyone took the time to analyse my blog, there would be a few words that showed up regularly. Like, really regularly.
Cake, Leila, Lipstick and Lazy.
Infact, (given an extra 7 hours in the day) I could write a blog about lazy.  Though such dedication to detailing my idleness would defeat the purpose of the exercise somewhat.
So, instead… I'll show you my lazy bank-holiday FOTD.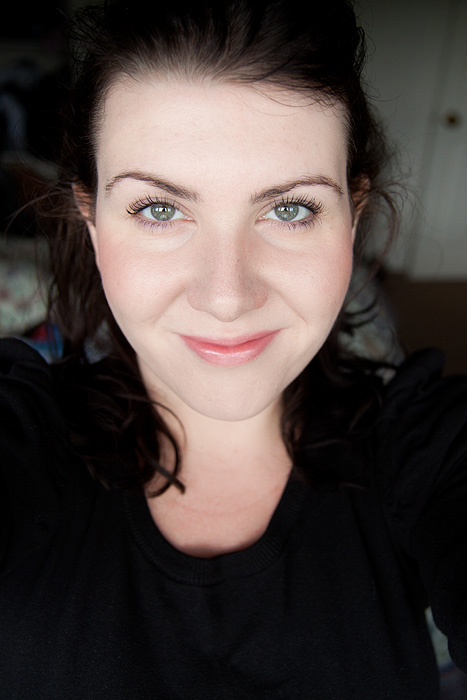 All you can really see is the mascara right?  Well… I'd like to tell you that I carefully engineered it to look that way.  Yano, the not-natural, natural look?
Infact, I really didn't…  This was my FOTD for my Mum's 70th Birthday on Sunday.  A special occasion.  This… my 'special occasion' face.  My makeup is weeping from my loss of mojo and complete lack of inspiration.
Here's my list of products…
Face

Shills Super Magic BB Cream

Guerlain Meteorites in Mythic

Bobbi Brown Illuminating Bronzer in Maui (as a blush)

Eyes

Avon Supershock Gel Eyeliner in Black (tightlined on the upper lid)

Max Factor Lash Extension Effect (2 coats)

Joe Blasco Ultra Base in Ultra Fair to conceal

Lips

Chanel Rouge Allure Laque in #76 Ming
Lovely products but look… 7 products for a 'special' FOTD?  That's lazy.  I've confused 'whee, this a great opportunity to PLAY with your face!' with 'make yourself look presentable but ultimately dull'.
I think that I'm just not used to having the time to do things like that and so when I do get the opportunity… I don't know what the hell to do with it!
Would you be kind enough to inspire me with some of your favourite bloggy peeps who do awesome makeup please?  This boring old cow needs some cosmetically-charged awesomeness to get her through the week.