It's only in the past year or so that I've developed a real passion for fragrance. I suppose that there's always been an underlying appreciation but it wasn't until I met like-minded bloggers and fragheads that I realised it was possible to create dialogue and debate over scents without sounding like a mental.
I've since become convinced that it's perfectly normal to lie awake at night thinking of the scent that you sniffed on the counter at Selfridges in passing… Right? Right?!
Without further ado… here are my picks of some great scenting gifts for loved ones…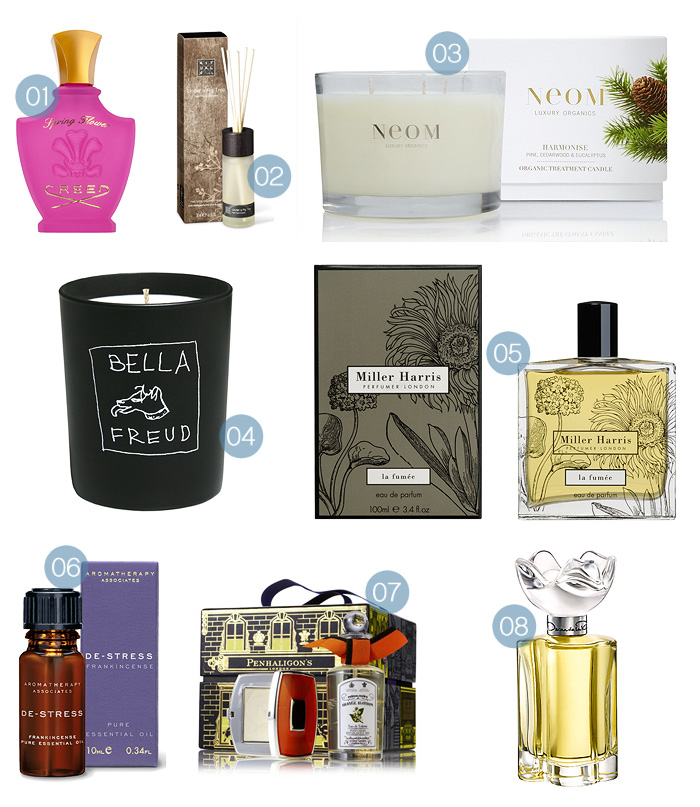 1: Creed Spring Flower Eau de Parfum (£92.95)
A fruity floral that smells clean and bright as opposed to syrupy or cloying. An "after-rain" scent without the rain. Youthful but sophisticated, fresh yet warming with a musky dry down. A perfect gift for a special young lady who wants a signature scent all to herself.
2: Rituals Mini Under A Fig Tree Fragrance Sticks (£11.00)
Perfect for smaller spaces, the mini version of Ritual's best selling home fragrance will transport you to out of the everyday realm and into warm, Mediterranean climes. A great home-scenting gift for people who aren't comfortable with candles burning in their home.
3: Neom Harmonise Home Candle (£39.50)*
With the uplifting scent of eucalyptus, pine, and cedarwood, the Neom Harmonise Candle takes the brand's unique take on holistic fragrancing to the max. Clear your mind and soothe your spirits with this scented winter-wonder.
4: Bella Freud Incense Wood & Oud Candle (£38.00)*
New to SpaceNK, elite fashion designer Bella Freud's range of luxury candles include: Fig Leaf & Tomato, Tiger Lily, and the delightful Incense Wood & Oud featuring a smoky, resinous accord. With notes of cedar wood, amber, and myrrh, it doesn't get much more Christmassy than this.
5: Miller Harris La Fumee Eau de Parfum (£62.00)*
Bonfire night may be over for another year but put the whizz-bang into someone's Christmas with this heady concoction from Lyn Harris. La Fumee is burning embers on an Autumn night, the calming interior of a incense-filled church after midnight on Christmas Eve. Dry, warming, and hypnotic.  Available from Escentual.com.
6: Aromatherapy Associates De-Stress Frankincense Pure Essential Oil (£24.50)*
If you know someone who has a tendency to let trivial things get the better of them, treat them to the sensuous pleasure of Aromatherapy Associates De-Stress Frankincense Pure Essential Oil. A few drops on a tissue or diffused in a fragrance burner will help bring calm to any situation.
7: Penhaligon's 2 piece Orange Blossom & Fragrance Compact (£55.92)
A beautifully-presented fragrant set from British brand Penhaligon's. This set available at QVC contains a 50ml flacon of Orange Blossom EDT and a complimenting solid fragrance compact which will leave a slight shimmer on the skin wherever you apply. Perfect for layering and intensifying a truly classic scent.
8: Oscar de la Renta Espirit d'Oscar Eau de Parfum (£38.35)
Bring back the glamour of the early 80s with this reincarnation of Oscar's original. This scent has everything with a fresh, effervescent opening, a big, bold heart of warm florals and a powdery dry down that leaves behind a creamy, nose-nuzzling softness. A grown-up choice for grown-up ladies.
Think the best things come in small packages? Come back tomorrow to hear my musings on the best minis!
* press sample