I've written previously about my love for Gielly Green's Argan Rescue Oil that I use a few times a week to perk up my over-processed hair.  I recently took delivery of a couple of samples from the Gielly Green body range which included a hand & body lotion and a hand & body wash.
At 300ml a-piece, these understated but elegant bottles will last a fair length of time which is reassuring when you take into account that the 'wash' and 'lotion' are priced at £12 and £18 respectively.  These are luxury prices for products squarely aimed at the luxury market.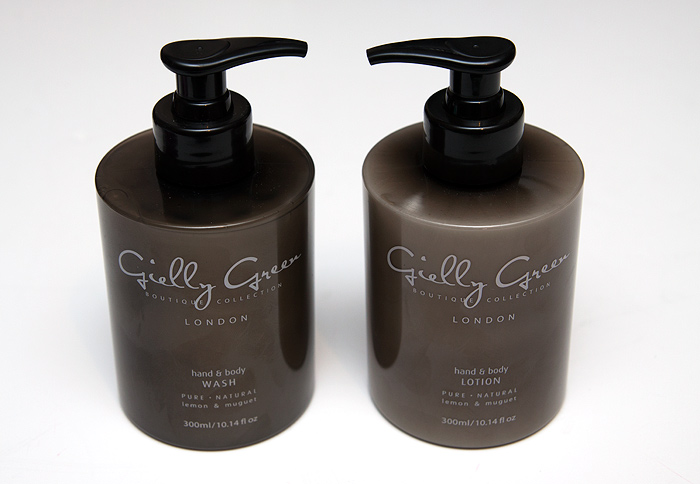 Now, whilst I don't bat an eyelid at paying nearly £20 for a hair treatment, lipstick or facial moisturiser… I get more frugalistic stirrings when it comes to the kind of purchase that generally needs to be replaced more frequently.  This would include hand washes.
Having said that… I can't actually fault the deliciousness of these products.  The Lemon and Muguet (Lily of the Valley) scent is fresh and airy.  It delivers a sparkling citrusy zing without skimping on a more grounding floral that lingers for a few hours after application and the scent conveys an overall carefree lightness without being too 'young', fruity or sweet.
The formula of the hand and body lotion is blissfully light, not great for those requiring more intense moisturisation but I've been using this on my hands (and lower arms) after washing and whilst not moisturising enough to keep my cuticles in check, it's doing a sterling job on the rest, including my rough elbows!
The hand and body wash smells a little zestier than the lotion and delivers a non-drying formula thanks to the addition of Argan Oil (not too far down the ingredients list either!) and a welcome lack of SLS and alcohol in the formulation.
Overall, if your purse can stomach the price tag – you could do far worse than treating yourself to these bathroom gems.  Gielly Green have delivered a perfect pair of body essentials that bring a touch of luxury to a normally mundane task.
Gielly Green Hand & Body Wash and Hand & Body Lotion in Lemon & Muguet are available to buy online from the Gielly Green website.