Question of the Week: – Is there a part of your beauty routine that you absolutely will not skip, even when pressed for time?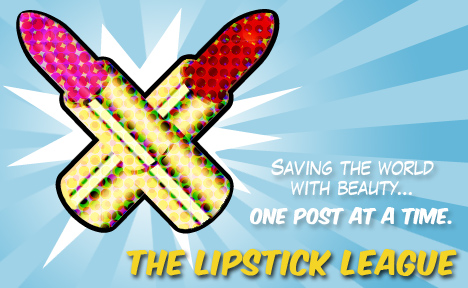 Answer: I struggle to leave the house nowadays without some kind of skin-base.  It doesn't have to be full-on foundation, a tinted moisturiser will do… it just makes me feel that little bit more confident.  I left the house the other day without mascara and didn't even notice!!  My husband asked me (cautiously) if I'd done anything 'weird' to my eyelashes.  I reached up to touch them and instantly realised – I pressed him into telling me why they looked weird (I enjoy watching him squirm a bit) and he said that they looked like I'd dip-dyed them lighter at the tips!
.

Prime Beauty – takes a virtual trip around the globe to Australia.  Join her around the campfire in the Australian bush for a cuppa Billy Tea!
Phyrra – hears all the juicy gossip about Rockeresque Beauty Co. from Issanna!
Vampy Varnish – loves the new Colorburst Lip Butters from Revlon!
we heart this – declares Make Up For Ever Smoky Lash and Kohl Pencil the new dynamic duo. Take that Batman and Robin!
Beauty Junkies Unite – See if Maybelline's new Great Lash Lots of Lashes Mascara delivers…lots of lashes!
Clumps of Mascara – is a mascara fanatic who is in love with mascara primers. But is Clinique's Lash Primer really worth your money though?
EauMG – reviews Prada's newest perfume, Candy.
Gouldylox Reviews – Want to look younger than you do now, in the year 2016? It's never too late to start taking care of your skin!
Krasey Beauty – No doubt about it, you need to get involved with Illamasqua's Theatre of the Nameless Collection.
Lipglossiping – lifts the lid on the latest launch from Lanolips. Try saying that without your teeth in!
Nouveau Cheap – has swatches and official info about her newest obsession: Revlon ColorBurst Lip Butters.
Pink Sith – Shares with you her review of Maison Lancôme Gentle and Long Lasting Powder Blusher AND a sociology lesson on the shopping habits of the Aboriginal Makeup Junkie.