Do you have a lucky number? I'm sure almost everyone does… mine is number 7, which I'm led to believe, is one of the most popular lucky numbers in the world. Not that I really use it for anything, my lottery ticket (when I remember to buy it) is of the "lucky dip" variety and I'm no gambler, but still… it's the LAW to have a lucky number regardless of whether it has any real significance right?
Significance isn't a problem for Liz Earle's latest fragrance. Liz Earle Botanical Essence No.15 hasn't staked its name on the whim of somebody's superstition. The number 15 actually refers to the number of precious botanicals that have gone into creating this olfactory delight.  And delight it does.
I wan't a fan of Liz Earle's other fragrant creation, Botanical Essence No.1 – infact, it really disappointed me.  I found it sharp and reminiscent of an old-fashioned chypre that had seen better days.  When I think of Liz Earle products, I think of fragrances that soothe the spirits and calm the mind… and the perfume bods at Liz Earle have thankfully got it very, very, right this time around.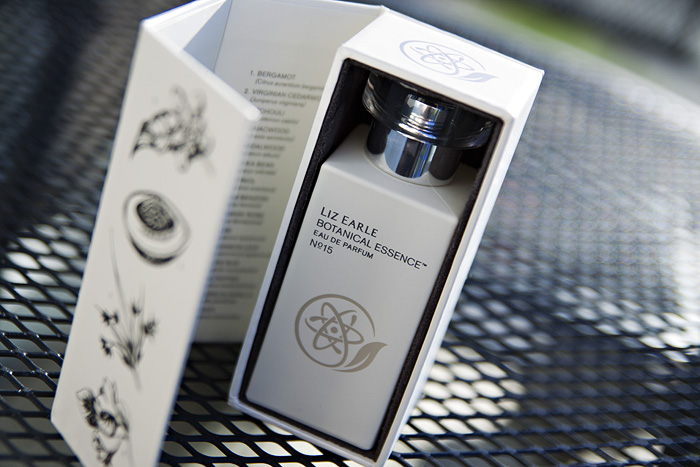 Isn't the packaging lovely?  I know it's not the be all and end all, of course it isn't… but when it comes to perfume, it's definitely appealing when something looks good sat on your dressing table no?
The cardboard housing tells the story of the fragrance and the process in creating it, going to great lengths to detail each of the 15 botanical ingredients, it's an interesting touch and great for novice perfume-lovers who are interested in finding out more about the ingredients and notes that make up a complete scent.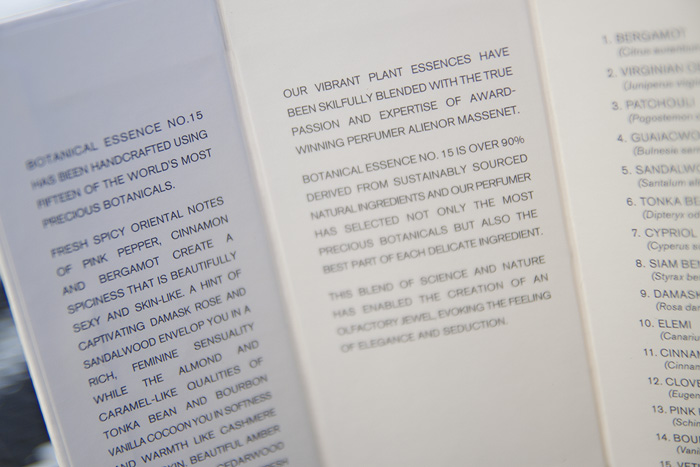 Liz Earle Botanical Essence No15 is equally as heady as Liz Earle's first fragrance creation but in a much softer way.  It's a completely different genre to be fair, and gone is the sharpness that pricked at my senses to be replaced by a warmer vanilla base, studded with spices and a veil of rich Damask rose.
The beauty of this scent lies in how the variety of notes toy so playfully with one another in a non-linear way.  The cinnamon doesn't actually deliver the scent of cinnamon into the equation, it just infuses warmth.  The caramel doesn't bring sweetness, only creamy qualities that tone down the zing of the bergamot.
It just feels (and smells) like a clever, clever creation and the more time I take to analyse it on my wrists, the more I appreciate the work that's gone into it.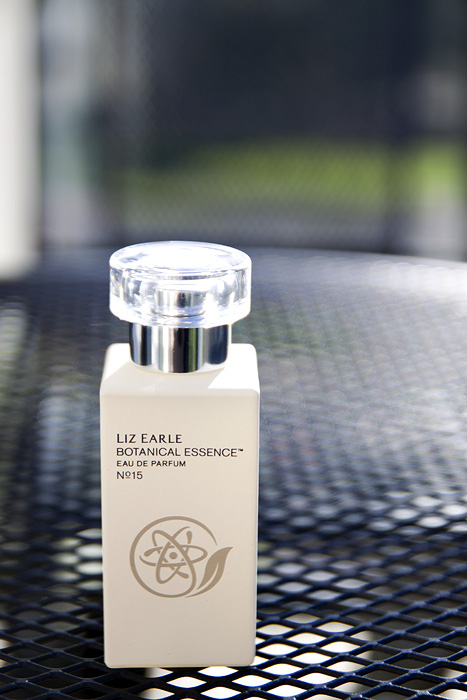 Liz Earle Botanical Essence No15 has that feminine, sensual vibe mastered and yet I can appreciate the more masculine qualities within it aswell.  The spices are rich and deep, the sandalwood is clean and calming, and the vetiver is mysteriously earthy.
No15, it's not the most obvious lucky number in the world, but I think it'll do wonders for Liz Earle's sales this Christmas.
Liz Earle Botanical Essence No15 is priced at £45 for 50ml and available to buy at your local Liz Earle counter or online at lizearle.com and QVC
* press sample