For Autumn/Winter, L'Oreal have released some new shades to join their Color Riche Boosting Serum Lipsticks lineup.  Titled the "Nude Collection", the four new shades are (as you would expect) wearable and flattering for most skintones.
Marketed as "having the power of a serum at it's heart (with) powerful active indredients… …to restore moisture and definition to the lips" and boasting some pretty good ingredients to back up these claims.  Among these ingredients, I was pleased to see Hyaluronic Acid listed and had a quick google on another ingredient "Pro-Xylane"… which appears to have originally been developed by Lancome back in 2006 and is used in many of L'Oreal's more expensive anti-aging facial products.
On paper, if there's one thing these lipsticks should achieve… it's a non-drying formula.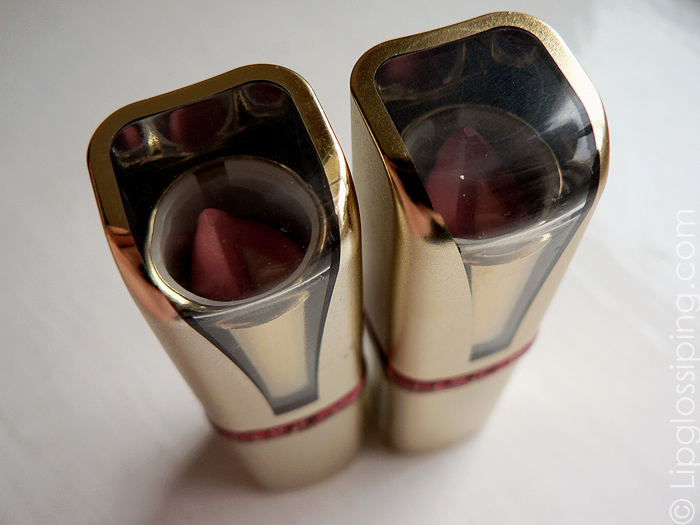 I have to say, I'm not a fan of the packaging.  Yes, it's useful to be able to see the exact shade of the lipstick by looking through the little window… but these feel cheap.  They're very lightweight, overwhelmingly plasticky and they damage easily.  I spent an afternoon with one of them in my handbag and as you can see from the below photo, the casing is already starting to show wear and tear (lipstick on the left).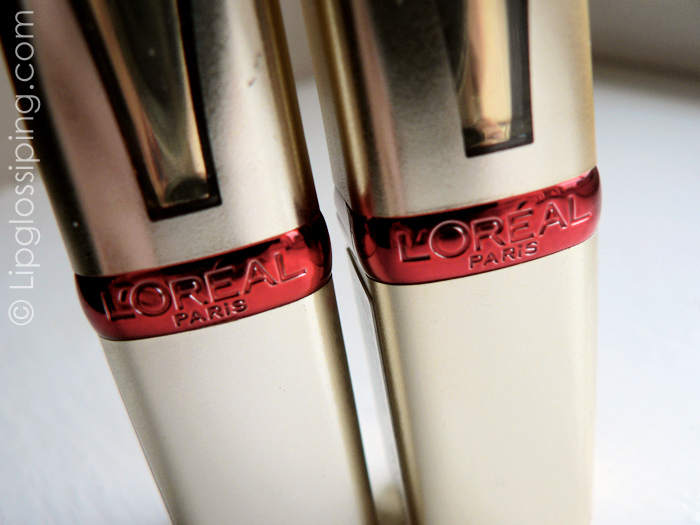 I guess the overall design is pleasing, but the materials used are a let down.
While I'm discussing what I dislike… I'm also going to mention the scent.  For me, it's not appealing… the lipsticks are quite heavily violet-scented and it just conjures up the old lady lipstick smell.  Something a little fresher or unscented would have been preferable.  Thankfully, the scent doesn't linger too long once applied, but it's a point to note.
I was sent two of the new shades shown above by L'Oreal: S106 – Freshly Rosy and S204 Beamy Plum
Of the two, Freshly Rosy is paler and a little frostier whilst Beamy Plum applies creamier whilst still carrying a sheen.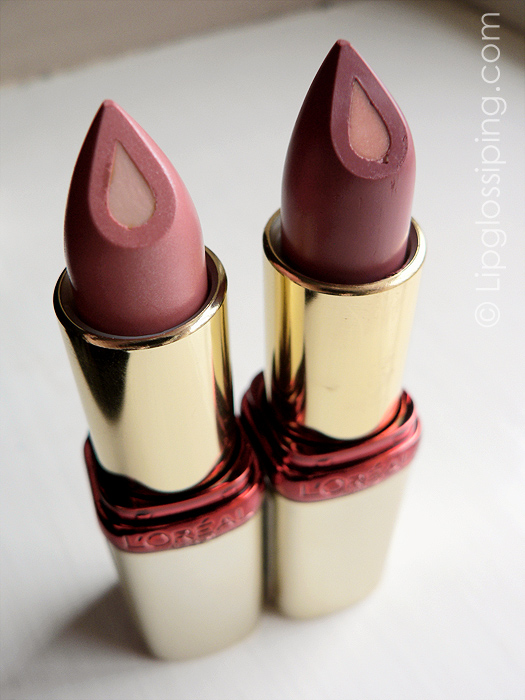 That different coloured core is cute right?
Both apply like a dream.  They're smooth and glide on with no effort at all.  Pigmentation is best with Beamy Plum but buildable for both lipsticks.  They don't stick to any dry patches on my lips and neither do they accentuate the furrows and grooves.  So far, so good!
Hand swatches…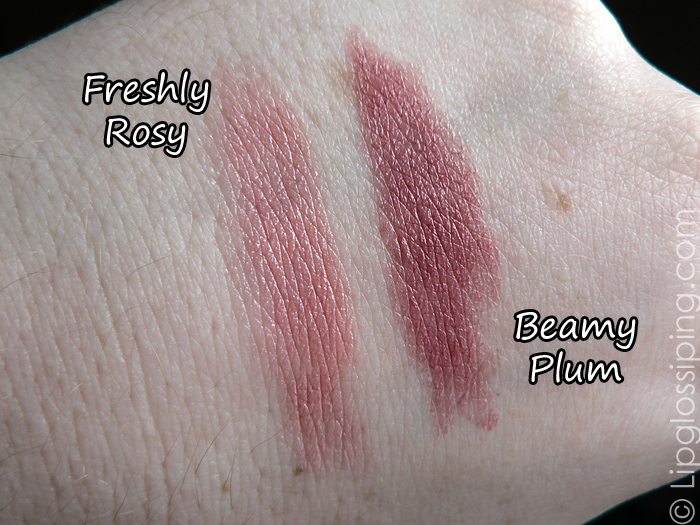 For my colouring, I was expecting to prefer Freshly Rosy… but my lips must be more pigmented than I thought as I struggled to cover my natural pigmentation with this shade.  I got there eventually, but it took a few swipes from the tube to do it.

You can see that they're both completely wearable for fair skin tones and have a glossy appearance.  Despite how moisturising these are, they don't feel at all sticky or thick on the lips.
In context… (please excuse the pyjamas *blush*)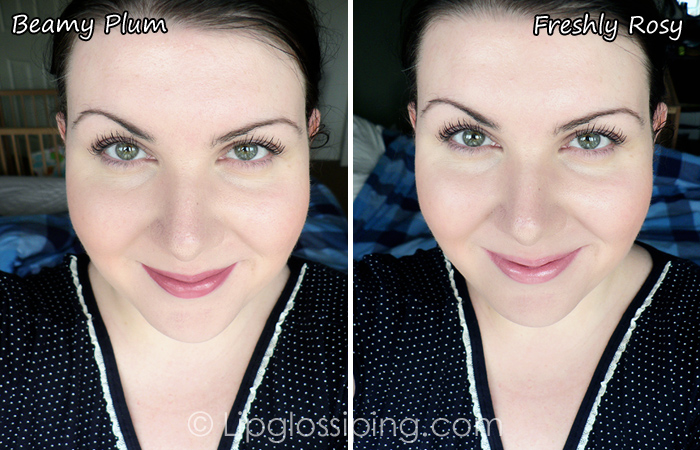 Beamy Plum is a great choice for those of us who want to indulge in slightly darker lips for A/W but are scared of vamping it up too much.  In other words, if you're a bit of a wimp like me… you need to try this shade!
The lipsticks lasted fairly well throughout the morning, both could have benefited from a touch up after my mid-morning coffee but neither *really* needed it.  After my soup though?  Forget about it… they were gone!  To be fair, I fully expected this considering how moisturising I found the formula.
Pros: Moisturising Formula, Wearable Shades, Smooth Finish, Easy to Apply
Cons: Violet Scent, Cheap Packaging
L'Oreal Paris Color Riche Boosting Serum Lipsticks are priced at £8.49 each and the Nude Collection will be available from this month onwards.