It's taken me a while to come to terms with Royal & Langnickel as a makeup brush manufacturer, as opposed to an artist's brush manufacturer.  I didn't do Art in school or college, but my best friend did and she used to drag me around all the independent art and craft shops in the area to pick up supplies… it's a name that, for me, has always been synonymous with watercolours, oils, and acrylics.  But things have changed and today, Royal & Langnickel carry more than 12 lines of beauty brushes and accessories, a fact which cements the brand as one of the market leaders in the manufacture of brushes and accessories… for any application.
They've recently introduced a new line to their range: [R]evolution – a 32-piece collection created under the watchful eye of Emmy award-winning makeup artist, Kevin James Bennett.  The collection features synthetic-fibred brushes which claim to pick up powder products equally as efficiently as their natural-haired counterparts thanks to technologically advanced filaments which mimic the exterior cuticle of natural hair fibres.  Because of their man-made, inorganic properties, these brushes claim to be more resistant to bacteria, stronger, longer-lasting, and easier to clean.
I've been trialling some of the brushes from the [R}evolution Premiere Pro Set* which is available to buy online, read on for some photographs and thoughts on how they're performing…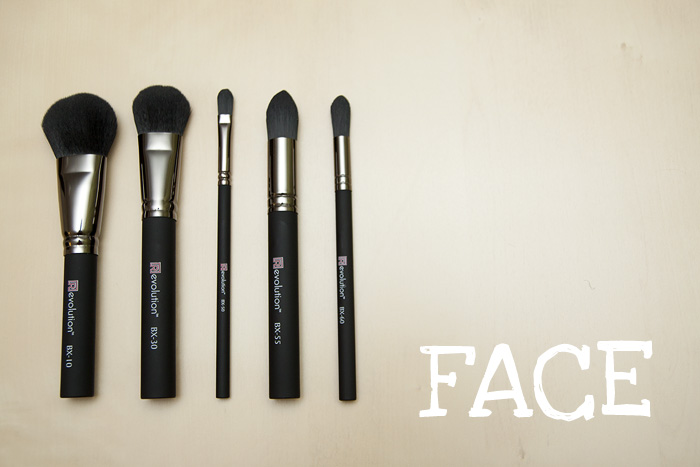 BX-10 (SM Powder), BX-30 (Kabuki Brush), BX-50 (Flat Concealer), BX-55 (Pointed Foundation), BX-60 (Pointed Concealer)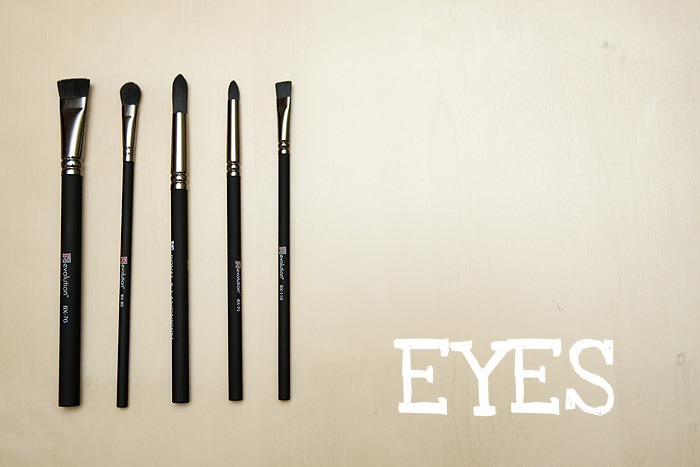 BX-70 (LG Flat Eye Fluff), BX-80 (Detail), BX-90 (Crease), BX-95 (LG Smudger), BX-110 (Flat Liner)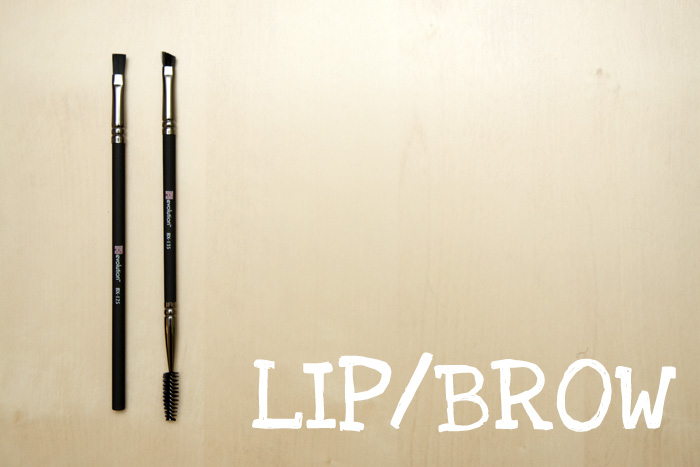 BX-125 (Square Lip), BX-135 (Brow/Spoolie Dual)
I've been trialling these over the last month, and have found them to withstand daily wear and tear without any issue – the eye brushes hold their shape particularly well after washing, and spot-clean more efficiently with a touch of alcohol.  I'm enjoying the peace of mind knowing that approaching these fibres with solvents is not going to shorten their lifespan.
In terms of use, they work efficiently – although some don't feel as soft as I'd like… particularly BX-10, the SM Powder brush – though to be fair, I'm making a direct comparison with my most-used powder brush, which is squirrel hair – renowned to be the softest (though importantly, not cruelty free) hair for brushes.
Before using the [R]evolution brushes, you'll want to wash them.  Not only for hygiene's sake (they have come from a factory after-all) but also because they're a bit smelly – they have that synthetic, factory glue(?) smell.  Thankfully, this dissipates immediately.  I experienced no shedding, not even on the largest brushes and during washing – all brushes rinsed cleanly.
On close inspection the brushes are physically well-made – there is no glue residue seeping out from under the ferrules, the handles are solid with a non-slip rubber coating, and the fibres are well-cut.  Despite the handles having flat bases, only the largest will stand up vertically without toppling over.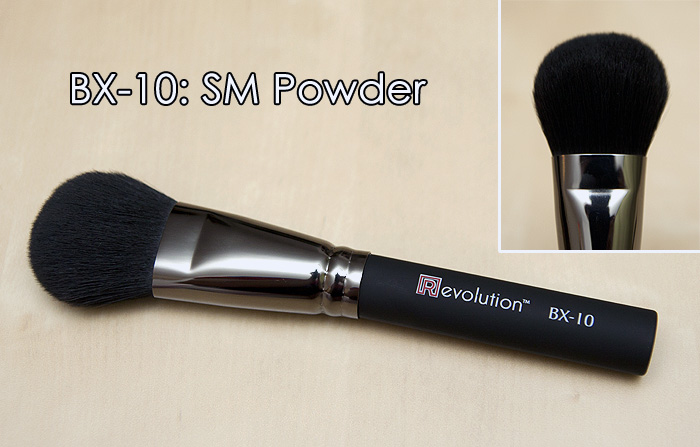 The BX-10 SM. Powder (£31.99) is slightly smaller than a traditional powder brush, allowing for precision application of powder to areas that you need it most.  It works well at picking up even the finest of silica powders for dusting the t-zone and the domed head is well-shaped to allow a smooth rolling motion during application.  Not quite as soft as I'd like but holds its shape well during washing and doesn't shed.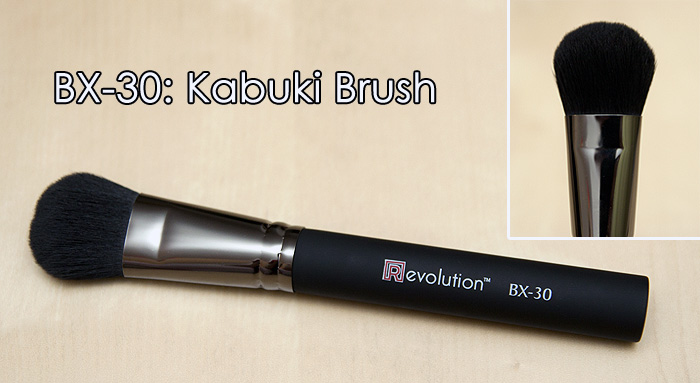 The BX-30 Kabuki Brush (£23.99) is the brush in the collection that I could see myself owning in multiple quantites!  Designed for compact combination blush and contour application, I'm loving this for liquid foundation AND cream blush.  Again, it's not super-soft but isn't at all scratchy.  The head is densely packed and really works well to buff product into the skin, leaving just the right quantity behind.  Highly recommended.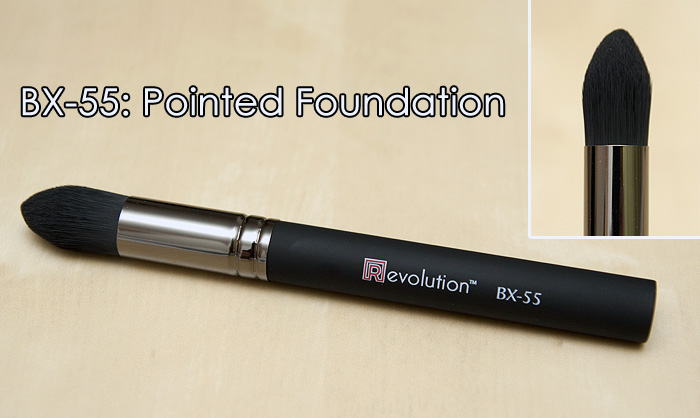 I'm not used to pointed brushes and BX-55 Pointed Foundation (£22.39) is proving to be something of an enigma.  As a general consumer, rather than makeup artist (with a need for true precision), I find it a little too small for a full-face of foundation.  Instead, I've been using it to blend concealer as the sharply tapered fibres conform excellently to facial contours, especially around the nose.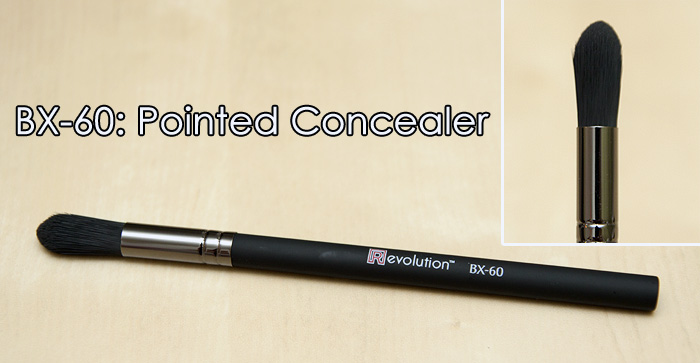 The BX-60 Pointed Concealer (£11.19), is once again, for precision work.  This time, for blending and concealer application – it's roughly half the size of the BX-55 and feels less densely-packed, making it suitable to use on areas you want only the lightest touch.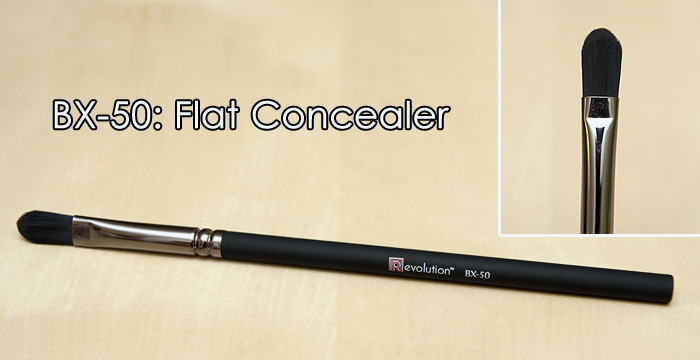 The BX-50 Flat Concealer (£7.99) is the more typical concealer application brush with a flat head and long fibres.  It works well to conceal around the lip area, and I've been reaching for it often to tidy up the vampier lip shades that I've been wearing this season.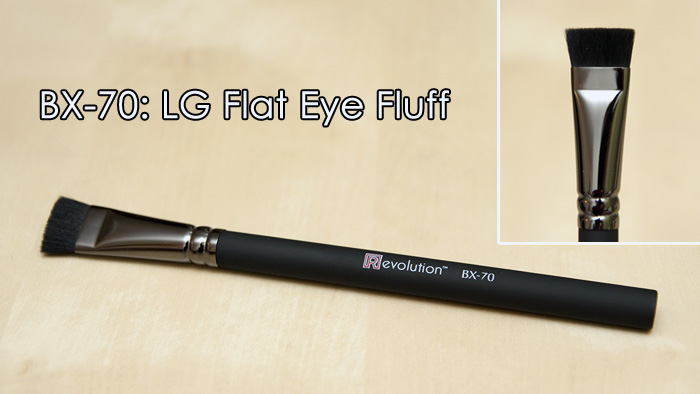 The BX-70 LG Flat Eye Fluff (£11.19) is one of those "what the hell do I do with this?" brushes.  At least, for non-professionals like me.  A little research later and I diccovered that the flat edge makes it perfect for highlighting under the brow bone.  It's like a revelation to me!  It's like the brush I never knew I needed, and now that I have it – I'm not giving it up.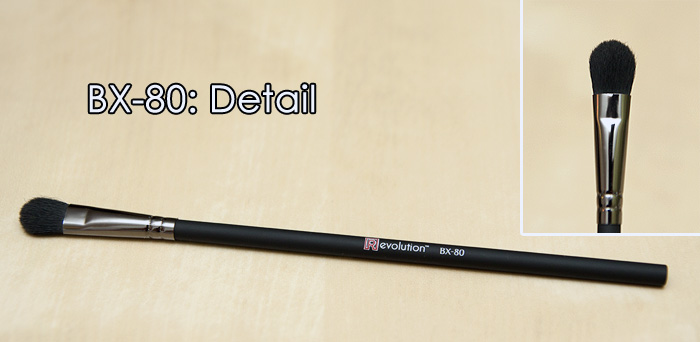 The BX-80 Detail (£10.39) is more your traditional eyeshadow fluff brush, great for general application although this one is around half the size of usual fluff brushes, making it great for precision work in the outer and inner corners.  Alternatively, if you don't have much lid space (like me), you'll be pleased to use this in place of other eyeshadow brushes which may often feel simply too big.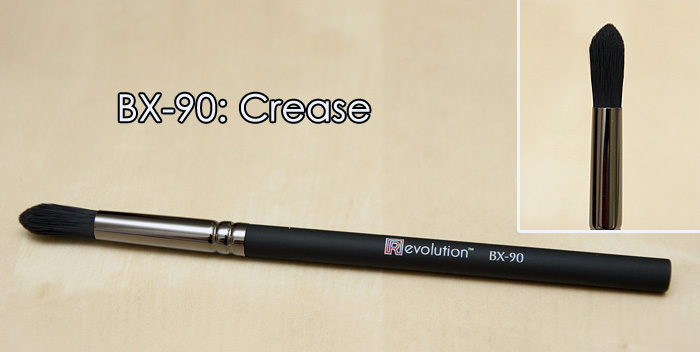 I find the BX-90 Crease brush (£9.59) a little too big for blending along my socket.  It's beautifully tapered and sharply cut with nice flexibility but it's just too large.  It does make quick work of the job though!
The BX-95 LG Smudger (£7.19) has become one of my favourites, it works beautifully for application along the lower lash-line, smudging kohl along the upper lash-line and precision application in the inner-corner.  It's too stiff for blending, so I wouldn't recommend using it on the outer corner but it's one of those workhorse brushes that you'll reach for more than once whilst putting on your makeup.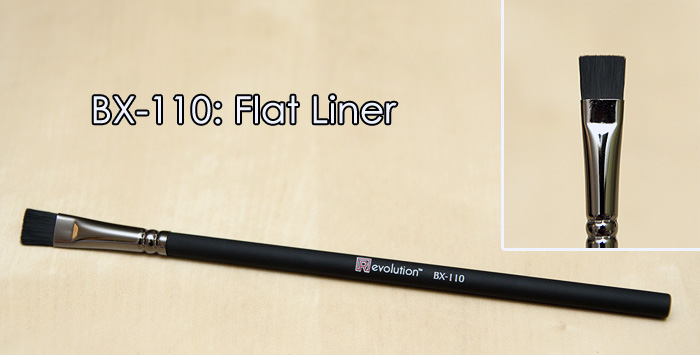 I'm afraid that I don't use gel liners, so the BX-110 Flat Liner (£7.19) didn't get much of a work out!  I attempted to use it once as a "push" brush with my Laura Mercier Cake Eyeliner but I felt that it gave me a line that was a little too thick for traditional tight-lining.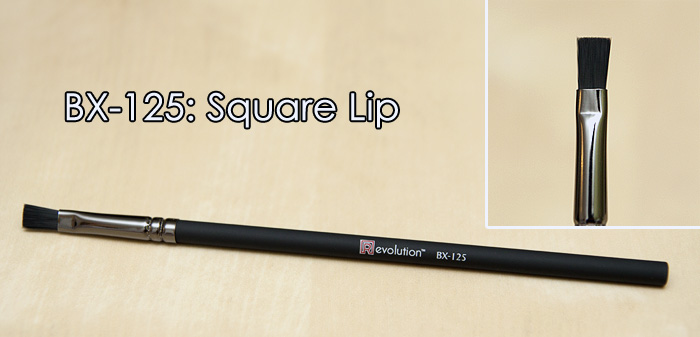 I'm sad to say that I didn't get on with this brush at all.  The BX-125 Square Lip (£6.39) is a brush that, in theory, should be great for precision application of bolder colours.  I just couldn't get any love from this brush and found that I had much more success with my shorter-handled "cat tongue" lip brushes, especially for bolder colours.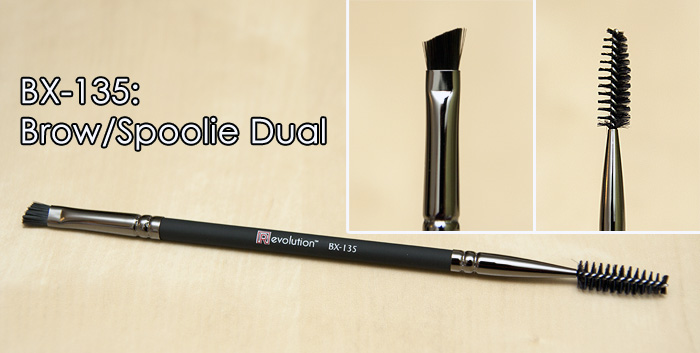 If I needed more than one Brow/Spoolie brush in my collection, I'd have two of these BX-135 Brow/Spoolie Duals (£7.99).  The brow brush isn't as firm/rough as something like the NARS brow brush but is about twice as firm as most other brow brushes – which makes me Goldilocks and it, the "just right" brush.  Spoolies?  Well, they're always useful!
Revolution brushes are priced from £6.39 and available to buy online in the UK at Royal & Langnickel
* press sample