You'd be forgiven for not having heard of Vitage and their range of Colour Mineral makeup… a small, British brand who only appeared on my radar when I received a set of samples through the post a little while ago myself.
At first glance, I'm not gonna sugar-coat it… this range looks uninspiring.  Housed in the kind of packaging that is incredibly easy to forget.  Not that this is an entirely fair conclusion to reach… because, you know, I don't actually know how much thought has been put into the packaging but c'mon, look at it… hardly exciting stuff is it?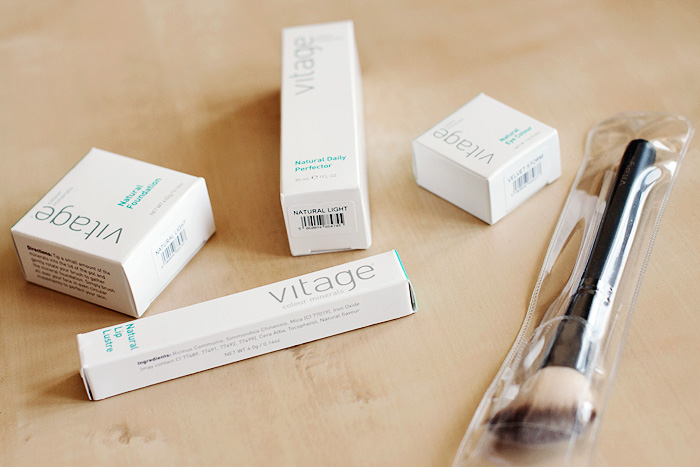 However, if my Mum taught me anything, it's not to judge a book by its cover (much) and housed within this little selection of beauty goodies, lie a couple of lovely products.  Let me give you a quick rundown, and by "quick", I mean "really rambly", of course.
First things first, who are the brand behind the products?
Vitage are a British brand, better known for their premium skincare which has been packed with scientifically-proven ingredients and vitamins and is suitable for a wide spectrum of skin concerns.  The range includes cleansers, serums, moisturisers, sun protection, and lotions for both the body and the face.  This latest update to the brand introduces a line of colour mineral cosmetics which includes: foundations, eyeshadows, tools, primers, blushers and eyeliners.
The Vitage Natural Daily Perfector (£25)* is a primer product with a mousse-like texture that has been enriched with antioxidant-rich Brazilian Green Tea.  It delivers little in the way of pigment but much in the way of pore-filling, skin-smoothing wonderment.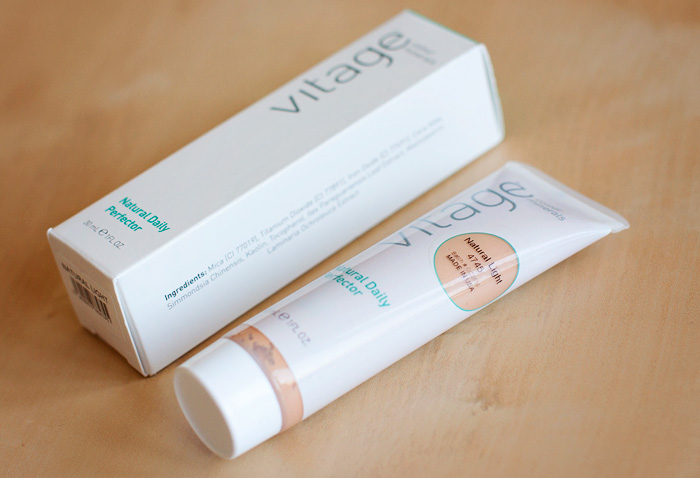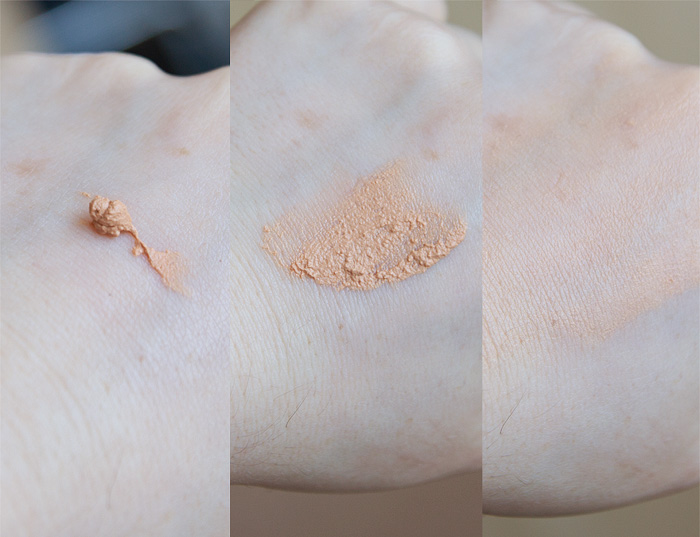 Promising to be suitable for even the palest of skintones, it isn't.  Frankly it annoys me that it dare even suggest that it is.  I'm pale but I'm not super-pale and this is too orange-toned and dark for my skintone.  It gives me a faint unnatural looking hue that no pale, English-rose complexion should suffer.  If this came in a transparent variety… I'd buy it in a heartbeat for its skin-resurfacing prowess but it doesn't, and so I won't.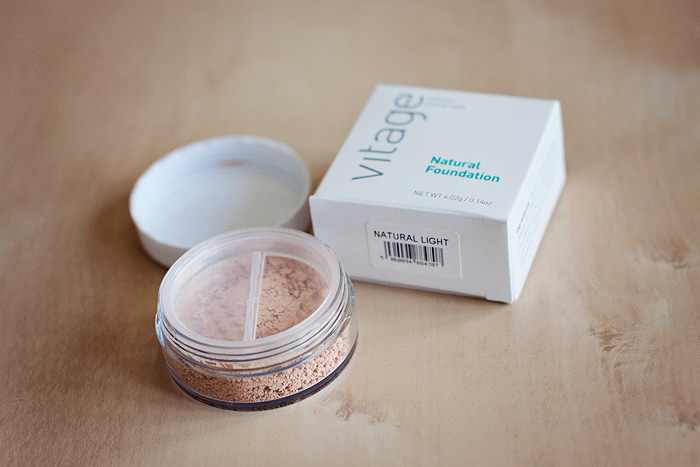 The Vitage Natural Foundation (£24)* looks like your standard mineral powder foundation in clumsy pot packaging.  Again, the lightest shade is not quite right on my skintone, and seeing as the brand only offer four shades… there's a fair chance you may not find a perfect fit either.  And it's a shame, because the pigment on offer from this pot is pretty impressive… a single swatch with my finger below demonstrates the kind of coverage this product packs.
Although it's officially described as "sheer", I find it builds coverage quickly without looking powdery, a sure sign that you're looking at a well-crafted product that has been milled to deliver the softest, creamiest texture that a powder could offer.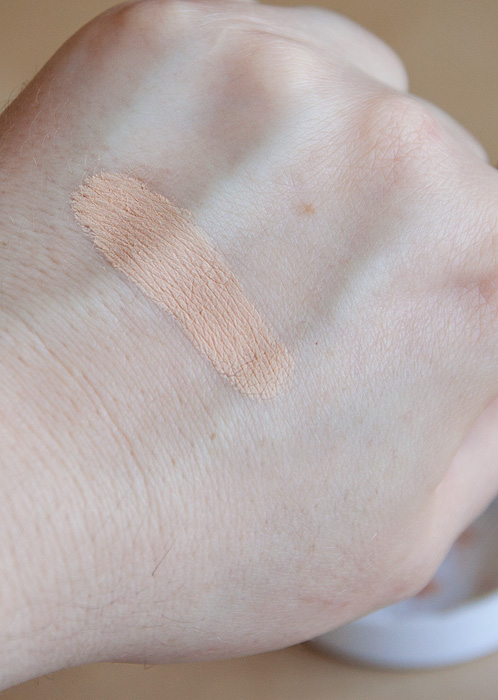 For its price, the Vitage High Definition Brush (£21)*, I'm simply not sold on… there is nothing about this brush that would make me urge you to go and spend your pennies on it.  It's solidly built, well-cut, and soft on the face… but so are a million others, at a cheaper price than this one.  Stick to Real Techniques.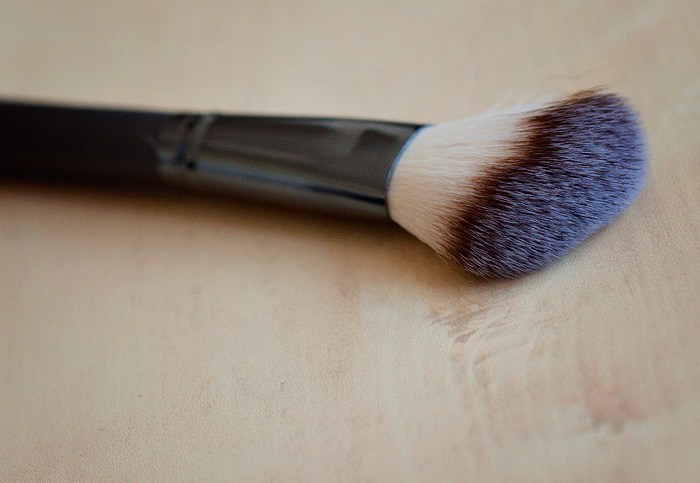 Now, I don't know if the PR knew how to sucker-punch me with a beautiful taupe… but well, they got me good.  The Vitage Natural Eye Colour in Velvet Storm (£14)* is a beaut.  Easily worth £14 of anyone's money for neutral-toned or fellow taupe-addicts like me.  Again, the quality shines through and this product delivers a creamy, well-pigmented and smooth application.  Staying power is perfectly acceptable once paired with an eyeshadow primer.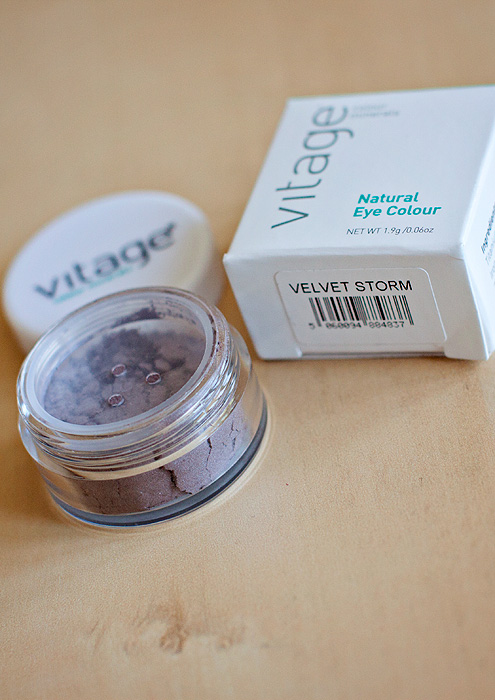 But who cares about all that when it comes to simply "oohing" over a pretty plum-taupe?  Not me, that's for sure…. look at her, go on… look!  She has that ghostly sheen thing going on that reminds me of my Kjaer Weis eyeshadow in Wisdom.  Just luverly.  If it had been pressed, I'd have probably fainted from taupe-love.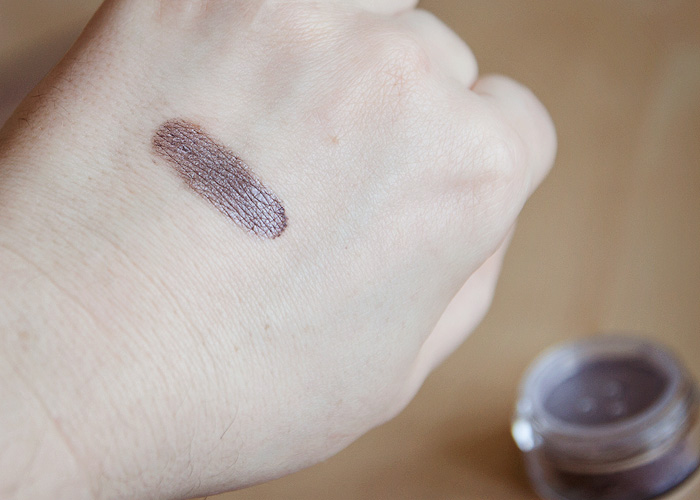 The final product to show you is the Vitage Natural Lip Lustre in Fuchsia Glaze (£14)*, and although I'm impressed by a non-sticky texture and fair-to-good lasting power, I'm still kinda mehh-ing all over this one, again… particularly for the price.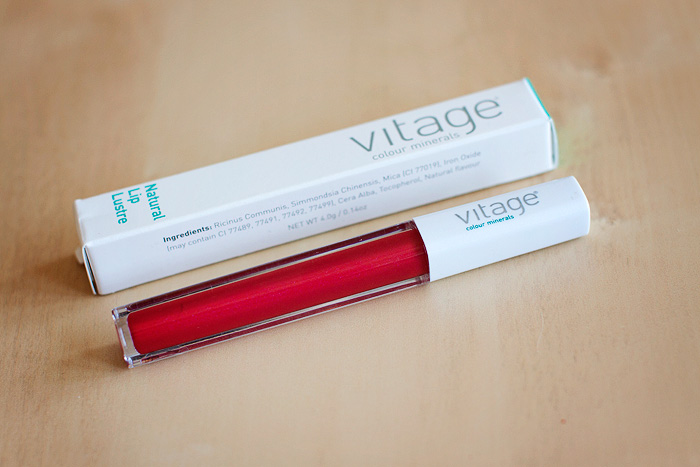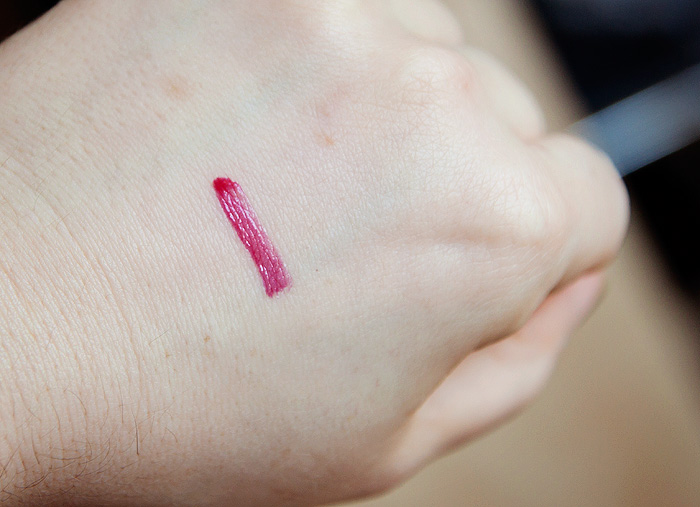 I'd describe it as a gloss/liquid lipstick hybrid which leans more to the gloss side of things.  The pigment is buildable but the texture suffers as a result if you start applying multiple coats which is sacrilege because for me, the beauty of this product lies in its ability to deliver a realistic and super lightweight natural flush in a single coat.  I'm not one for natural flushes, but don't mind applauding a nice "gloss" texture when I feel one.
Overall, my feelings on the Vitage range of colour minerals are mixed, a couple of the products made me raise an eyebrow upon reading their price tags (and I think the plain packaging does nothing to persuade me that they're worth a premium mark-up) but it's also quite easy to take it for granted that these are products are produced by a company that specialises in premium skincare, and as a result, has injected some high-tech ingredients into this cosmetic range…
I'll leave you with a FOTD which uses the products discussed above.  It's a natural display, not exactly ground-breaking but easy to wear and suitable for most modern women looking for a polished look.  Please excuse the grey hairs, my face is the only part of me showing any "polish" at the moment!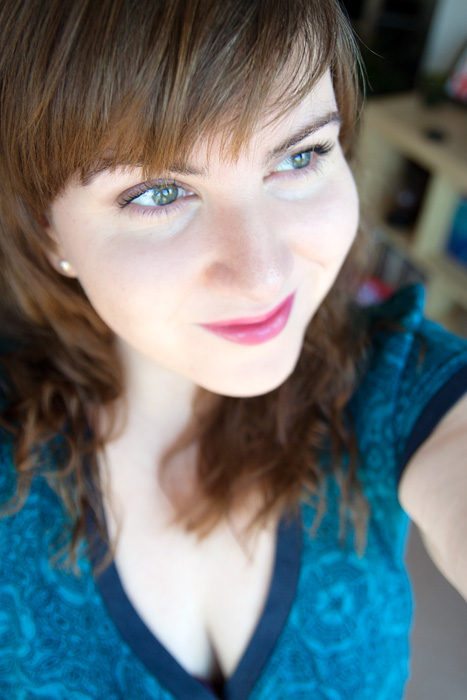 The entire range of Vitage Colour Minerals is available to buy online from beautybay.com with prices starting from £14.00
* press samples