If you ever find yourself in the position of having only 30-minutes to knock up an impressive-looking dessert, then you'll want to bookmark this recipe.  You might know by now that I love cooking, baking, and food in general but positively hate the faff that goes with it.  This means that most of my "creations" end up tasting good but looking pretty mediocre.
I watch programmes like The Great British Bake Off with a certain amount of jealousy at the participants' willingness to spend hours decorating their masterpieces with the patience of a Saint.  I will never be that type of cook.  I have been blessed with very little in the way of a "planning" or "patience" gene.
So it is with a great amount of pride that I present to you my lazy version of a Tarte Aux Pommes.  I've got a bit of a cheek calling it that to be honest as it contains very few of the original features of a classic Normandy Apple Tart.  There's no frangipane in there, and there's no Calvados.  I deal with what I have in my cupboards, which is generally only the kind of stuf that I'm actually using week in, week out.
The thing is though, it tastes lush and it looks the business and I am far from ashamed of it!  Check it out!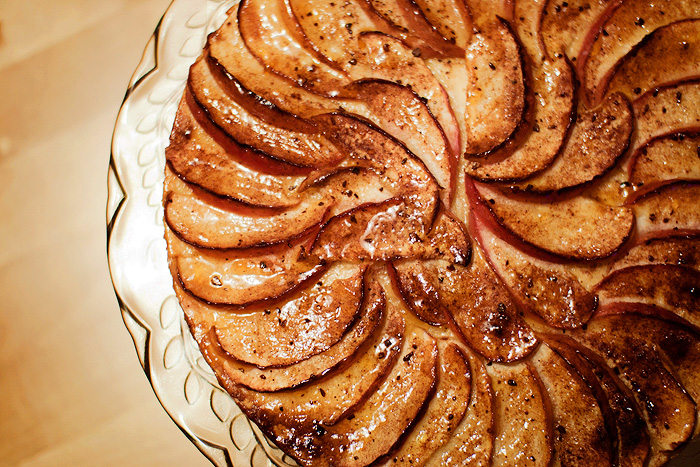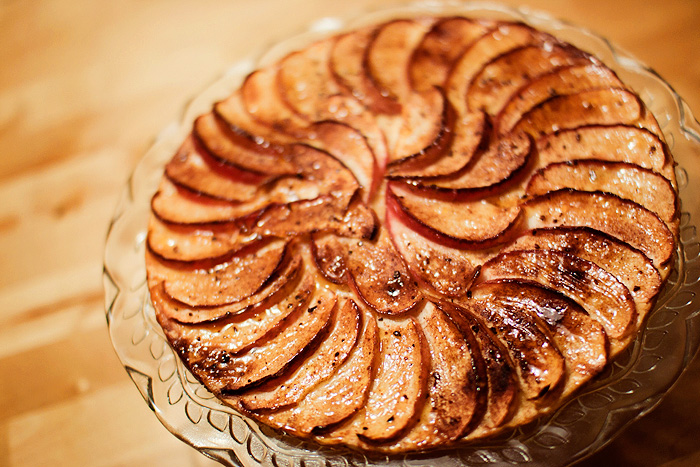 I'll begin by saying that I used a 23cm tart pan… one of those ones with a removable base, this is important because depending on the size of your tart… you'll need more or less apples (and obviously pastry) than I am including in the recipe below.  The safest thing would be to buy a little more than my suggestions, I mean… apples aren't going to go to waste and if you overmake or overbuy the pastry, make some mini-tarts to go with!
You'll need:

A packet of ready-rolled shortcrust pastry (I told you this was the lazy version, you wanna make your own? Knock yourself out!)
1 Pink Lady Apple (more if you don't trust yourself to slice it thinly enough or you want to make a larger tart!)
1 Tbsp Melted Butter (blitz it for a couple of seconds in the microwave in the bottom of a mug)
3 tsp Caster Sugar
1/2 tsp Ground Cinnamon
1 Tbsp Apricot Jam
1 tsp Water
1. Lay your pastry flat with the base of your tart tin on top, trace around the edge with a knife.  Alternatively, you can trace around a dinner plate and bake the tart on a flat baking tray for a custom-size.  Pre-heat your oven to 190 degrees celsius.  You may need to line your baking tray or tart tin with parchment paper, the non-stick on mine is still in pretty good condition thankfully.
2. Quarter your apple(s) – don't peel them, the pink skin looks lovely when baked!  Remove the core and slice thinly.
3. Arrange your apple slices over your pastry disc in the traditional Tarte Aux Pommes design.  I love some of the "rose" styles but didn't have the patience!
4. Brush your apples with the melted butter and sprinkle the Caster Sugar and Cinnamon over the top.
5. Bake your tart in the middle of the pre-heated oven for 15-minutes, before moving it to the top shelf for the remaining 15-minutes if your apples are looking a little pale.
6. Combine the Apricot Jam and water in a small dish before brushing the glaze over the top of the cooked tart to give it a lovely shiny finish.
7. Serve warm with some whipped cream!
Tell me if you try this, I'd love to know how you get on!
if you liked this post, please don't forget to check out my subscriber options, here