This is a shade that was sent as a freebie (for joining the newsletter I believe) back when I took advantage of the Nails Inc. offer a couple of weeks ago.
It's a hot, hot jelly shade! I would describe it simply as 50% red 50% orange.  I can't commit exclusively to either camp for descriptive purposes!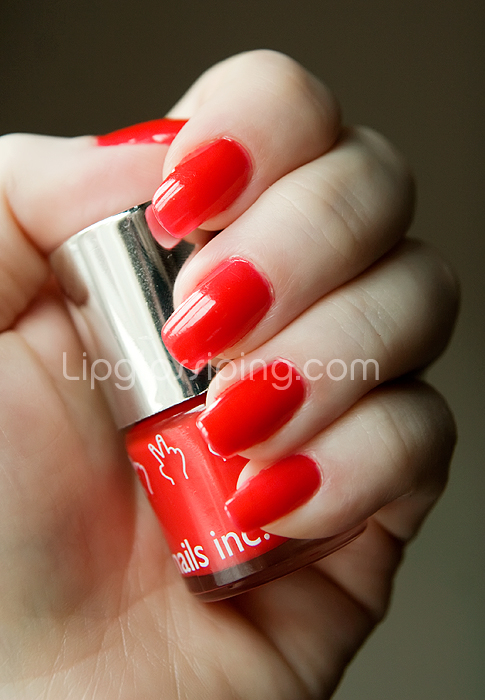 It applies VERY sheer for what appears to be such a bold, solid colour.  The above photo took 5 coats and it's still not fully opaque.  But yanowot?  This is my favourite Nails Inc. application yet!  Woohoo!  It's thin but very quick drying.  Love it!  The result is a gorgeously smooth, bubble-free jelly-like finish.  There wasn't quite enough shine for me, so I added a quick-drying top coat.  I think this would make the most awesome pedicure shade – it makes me very sorry to see the last of summer (well, not that we had one.. but I know you know what I mean.)
I can't find this shade on their website, so if you wanna get your hands on it… make sure that you sign up to their newsletter next time you make an order!
I've said it before, but having to apply lots of coats really doesn't bother me as long as the application is smooth and forgiving.  I'm usually doing my nails whilst watching telly or surfing t'internet so if it takes a couple of hours from start to finish – I don't care.  I find it quite therapeutic!
How about you?… do you enjoy doing your nails or do you find it all a bit of a chore?