Fourteen days, that's approximately 336 hours, or 20,160 minutes.  In other words, a fair amount of time.  In the world of long-lasting manicures, just what you do with that time is almost as important as the duration spent doing it.  For me, that time was spent typing, packing, cooking, swimming, running, playing at Butlins, and chasing ants in the dark.  I like to think that this manicure has been put through its paces over the last fortnight.  The question is, did it survive?
See for yourself…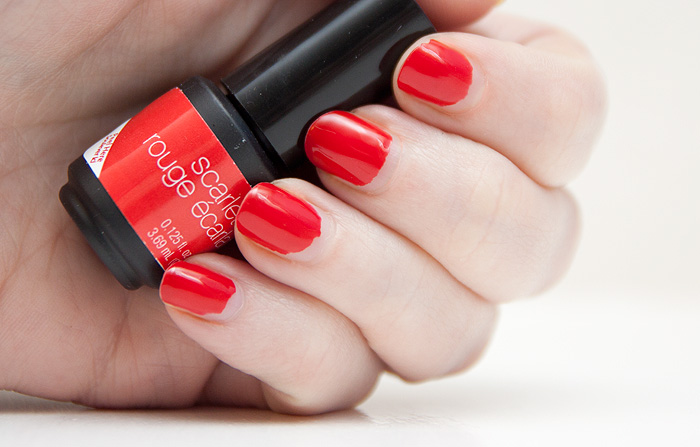 I think that it's coped fairly admirably no?  There is a small chip on my index finger but that was it for the tips… across the entire manicure – spending that extra time to ensure that I had capped all my nails really paid off in this instance.  Infact, you can see that most of the 'damage' actually comes from the other end of the nail bed where I'll happily admit that I didn't do quite so well at applying with the kind of precision one needs.
I suffered some pooling in the cuticles with the base coat and on a couple of nails this led to a small amount being cured over the cuticle so I wasn't particularly surprised when I experienced a little bit of lifting after a few days in those areas.  What I was surprised at though is that despite the lifting, I was able to gently clip those areas off without causing any further damage to the manicure.  Most of what you see in the photo above is actually new growth at the base of the colour.
Now, whilst this is a glowing report so far, I do have one issue that I'd like to talk about… removal.
Damn, this stuff is a bitch to remove without damaging your nails.  I lightly buffed the surface of my nails firstly to remove the shine and create a penetrable layer for the remover to do its work before soaking pre-cut cotton pads in acetone remover (where acetone is the primary ingredient) and laying them down over the nails.  Wrapping the tips in foil, I gave it a full 10-12 minutes before sliding the foil tips off my fingers, expecting to see the gel slide off with them.  Uh, not a chance.  The surface had bubbled and warped and the edges had further lifted but it wasn't giving up without a fight.  I ended up using an orange stick to (as gently as I could) scrape off the gel polish before buffing the surface of the nail to remove the residue.
My nails are definitely in worse condition post Sensationail but seemingly nothing that a hefty dose of almond oil (thanks Squarrell) can't sort out – I'd say that they're halfway back to feeling "normal" within a day of diligent oiling.
Hopefully that's provided an indepth (enough) review for you from application, to pricing, to wear and finally removal.  I'd be really interested to find out what you think about the product in terms of value, I'm confident that it provides the kind of long-lasting, salon-quality manicure that we pay £20+ a time for – but despite knowing that, I'm curious if the initial price tag would still put you off?  I think that this is probably a great bit of kit for a group of friends to pool together and purchase, otherwise – you've got to be a very dedicated nailista – know any of those?
The Sensationail starter kit is available to buy online from Boots, priced at £85, additional shades are available at £15 each.  You can get more tips and tricks from the brand's facebook and twitter pages.