Remember my post a couple of weeks ago about bringing salon-style beauty to the comfort of your own home? I wasn't convinced that DIY options generally lived up to the expectations or convenience of salon service. Well, the people at Sensationail rose to the challenge and sent me the Sensationail Starter Kit* to give it a whirl for myself. I'll do the review in two-parts, today is the application and initial results and I'll be back in a couple of weeks to let you know how the manicure lasted.
I should also preface this by saying that I've had two gelish/shellac-type exeriences in a salon and both were poor, with lifting after only a few days. That's Groupon on for you I guess? Basically, I'll admit that my expectations aren't all that high.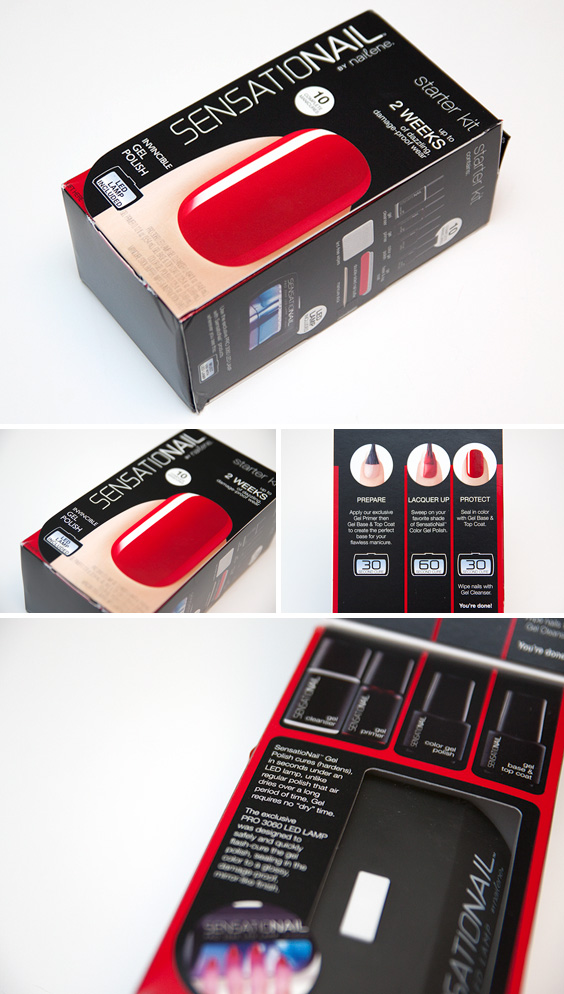 The kit is frankly over-priced at £85 in the UK. Over-priced? I hear you say. Yes, not because it's lacking in quality (although the bottles I received did have the writing peeling off them and the labels weren't fully stuck down which didn't give the best impression of quality) but because in the U.S., our neighbours across the pond are charged $59.99 for the same kit. That's around £35.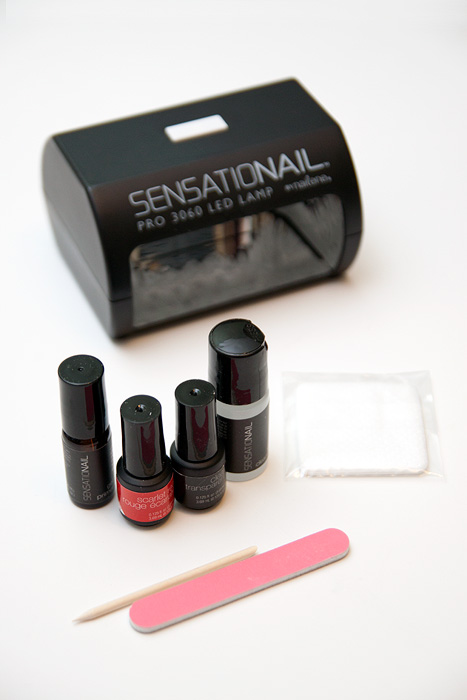 Cross-border rip-offs aside, in theory – you should still be able to break even fairly easily with this kit against the cost of getting your nails done in a salon. The average price in my area for shellac/gelish nails is around £22 – so you're looking at around 5 manicures before you get your money's worth. Which is all well and good, providing the kit lives up to its name and actually provides a good quality gel nail that lasts the course.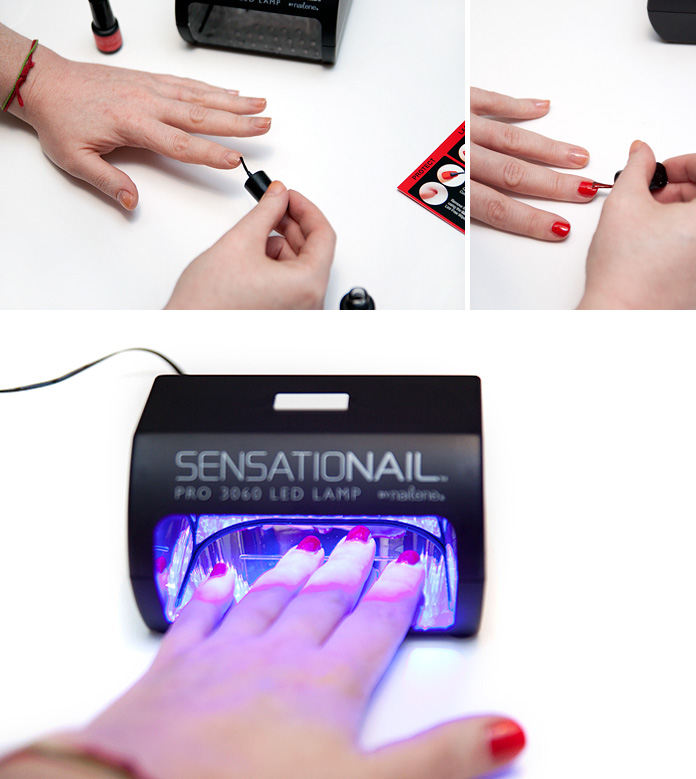 I'll admit that application was indeed, very simple and didn't cause a single problem for me. The instructions are clear and easy to follow, the lamp worked just as it should (although I did wonder how I was going to fit all five fingers and thumbs inside until I read that you er, don't).
In the starter kit, you receive: an LED curing lamp, gel cleanser (basically an alcohol solution), gel primer (nail dehydrator/bonder), gel base/top coat, gel colour, and some lint-free swabs.
Following the instructions, from start-to-finish, I was completed in around 30-minutes and the nails were completely bone dry at the end of it. The beauty of the UV-activated gel is that you have ample time to get your manicure applied neatly, my biggest tip would be to keep the coats as thin as possible. The base/top coat in particular had a tendency to pool in my cuticles while I was completing the other nails, not really a fault of the system… simply a sign that my coats were not thin enough.
If you do get some gel on your skin, make sure you wipe it off before curing…. not only will it feel pretty uncomfortable with this hard resin stuck to your skin but it will also cause your manicure to prematurely lift at the edges.
Here's my finished result… basically, it looks and feels great.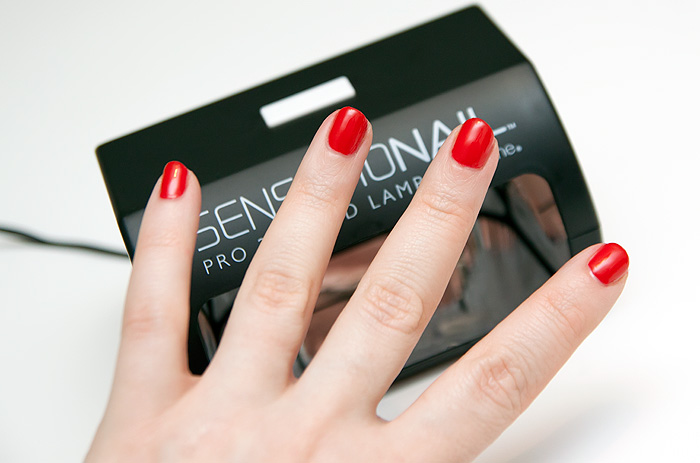 I'm going to embed a tutorial video which I found on the Boots website, you may notice that she hasn't capped the tips of her nails with the polish (you can see this at the end) – this is a pretty crucial step when it comes to making gel nails last. If you want them to stay the distance, you need to take a little more time to ensure that you've bullet-proofed your manicure.
I haven't been able to fault the application process but the bottles in the starter kit are tiny and feel/look cheap. The UK price hike is outrageous. Ultimately, my final thoughts on Sensationail's worth will come down to how long this manicure lasts on me. I'll be back with an update soon, but hopefully not too soon eh?
Check out the brand's UK Facebook page for more information, they're also active on Twitter (something this Twitter-addict always likes to see!)
You can purchase the Sensationail Starter Kit instore and online at Boots.com, priced at £85.00 (individual colour gels are priced at £15.00 each)
* press sample