Nothing gets me excited like a Space NK sale.
You see, I am not a woman of considerable means so I will always clap like a seal and skip like a munter at the thought of actually being able to afford the kind of treats that usually wrack me with stomach-churning guilt whenever I buy them.
Space NK have just released their (up to) 50% off sale page online, I don't know what it's like in store… our nearest is a 40mins+ drive away. I also don't know if I'm buying yet… it's my birthday next month and I've already splashed some cash on another Sara Berman bag (my third), plus a cheeky StrawberryNET and Fragrance Direct order. GOD SPACE NK, YOU COULD HAVE TOLD ME YOU WERE HAVING A SALE SOONER!
Anyway, if I do partake… here are my top picks, I wouldn't get all of them… but this is my shortlist!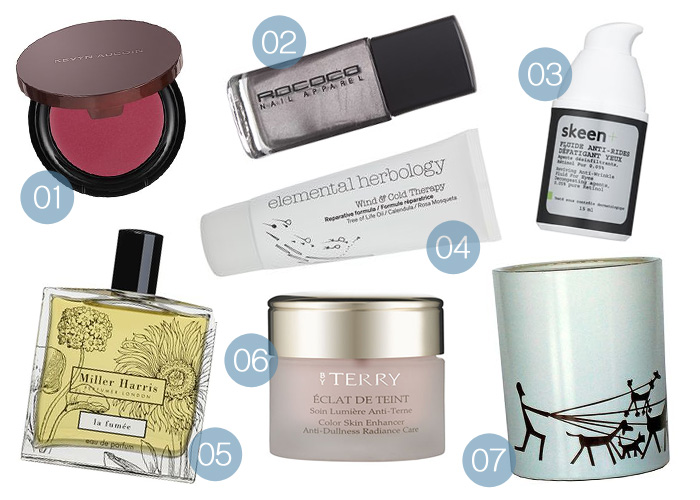 01: Kevyn Aucoin Creamy Glow in Mystere looks like an awesome Autumn/Winter shade that would either turn me into Snow White or simply exaggerate my ruddiness… I'm undecided. I love the formula but the colour may work better on someone less naturally red-cheeked. (£19 £9.50, SpaceNK)
02: I'm a sucker for a neutral metallic and Space have put some lovely Rococo Nail Apparel shades in the sale. This one in Mysterioso is calling me… especially at that price! (£12 £6, SpaceNK)
03: Everyone sorted for eye-cream? I'm not. I haven't found one that I like and as the clock ticks on, it's the one place that I'm really starting to notice a bit of age creeping in you know? I could quite easily panic buy this Reviving Anti-Wrinkle Fluid for Eyes from Skeen… I don't know much (anything) about them but the retinol sure sounds good! (£33 £16.50, SpaceNK)
04: It's always a good idea to buy off-season and there's no harm in preparing ourselves for the (inevitably) cold winter ahead. Elemental Herbology's Wind and Cold Therapy promises to be the business for hands, cuticles and lips. Fail to prepare and prepare to fail! Or something… (£19 £9.50, SpaceNK)
05: Miller Harris is one of my favourite perfumers and La Fumée is one of my favourite Winter scents. Gloriously smoky and reminiscent of Bonfire Night it's a cracking EdP and although I don't need to replace my bottle just yet… this price makes me wish that I did! (£95 £47.50, SpaceNK)
06: It wouldn't be a SpaceNK sale without a bit of nicely-priced ByTerry would it? Now, while more than anything… I would have loved to see some Or de Rose Elixir Extreme pop up on the sale pages… it hasn't. And so I'd happily content myself with some ByTerry Colour Skin Enhancer instead. What it does, I don't really know… I just know that I've got the wantsies. (£64.50 £32, SpaceNK)
07: Finally, and probably my most-lusted-after item from the sale is this Sniff Scented Candle from R Nichols. A bit of a strange lust perhaps but you see, I bought one of these (not this scent) in their Winter sale and it blew me away. I want all of the beautifully illustrated R Nichols candles. And as for this scent, well…. leather and woods… need I say more? (£40 £20, SpaceNK)
None of the free delivery codes I've found work anymore but if I find anything, I'll be sure to update this post… otherwise, there's the standard 6% cashback on Quidco.
What are you lusting after from the SpaceNK sale pages this time around?