OH HAI MOST PRETTY POLISH IN THE WORLD.  WHERE YOU BEEN ALL MY LIFE?
You know, it's funny.  The nail polish community online have been crying out for moar holos, moar party glitters, and moar duochromes from the industry leaders for a few years now.  We haven't really seen anything significant come from these requests and so something very interesting has happened… the rule of the indie/franken brigade is now upon us!  You might still be looking to OPI, China Glaze, Zoya et al to see where the polish trends are heading, and if so… you're looking in the wrong place.
Get. on. Etsy.
I picked up this Darling Diva Polish in Space Beetle a few weeks ago and it's the most beautiful colour-shifting holographic that I own.  Ok, it might be the only one, whatever – I don't have a 9359435 billion nail polishes (well, not quite).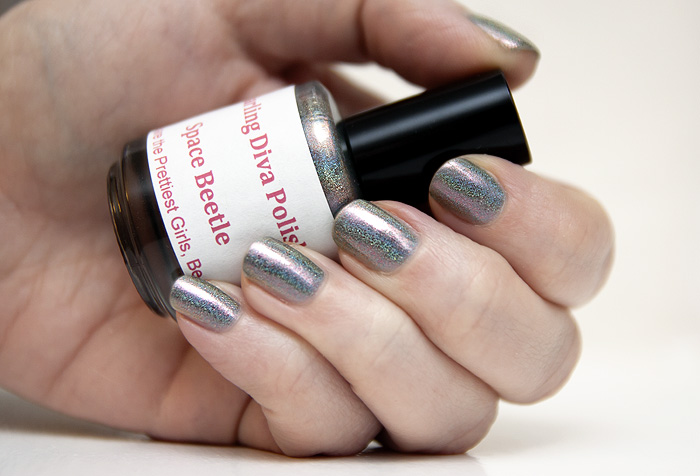 Ain't she beautiful?  Trust me, she's even better in sunlight.
I know that she's been compared to Dollish Polish's Toxic Avenger… of which, I know very little about – so I'm just going to take this polish on its own merits and tell you why you need to go and buy it.  I don't think it's going to be a tough job to be honest.
Space Beetle is a linear holographic-slash-duochrome that's absolutely packed with prismatic bounty.  The highlights flash the most delightful candyfloss pink which is what makes this so unique.  The swatches show the polish applied over a bare nail, two coats – both of which, applied faultlessly.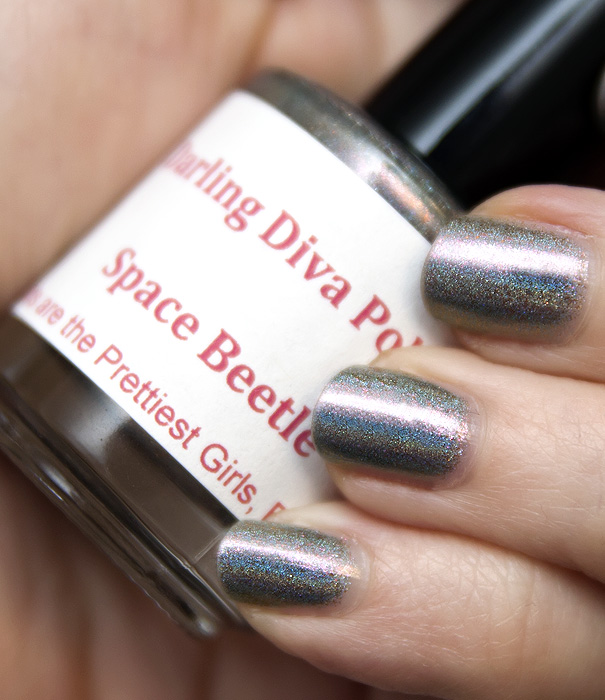 I haven't tried layering it yet, but I can't wait – I'm curious to see what effect those pink flashes have on a variety of base colours.
Darling Diva Polish Space Beetle (£7.86) is available to buy online from the Darling Diva Polish Etsy shop which ships internationally.  I have my beady eye on Ceylon next (I'm a sucker for a Periwinkle!)