I don't care what the newspapers are saying, put down those pastel shades 'cos it ain't Spring yet!  Until I see a daffodil or tulip with my own eyes, we're still firmly in the depths of Winter as far as I'm concerned.  I have an odd love/hate relationship with pastels anyway so I'm not gonna be grumbling about a couple more months of Winter trends.
Talking Winter trends, here's a lovely top-coat from Butter London.  It's all holographic n' stuff.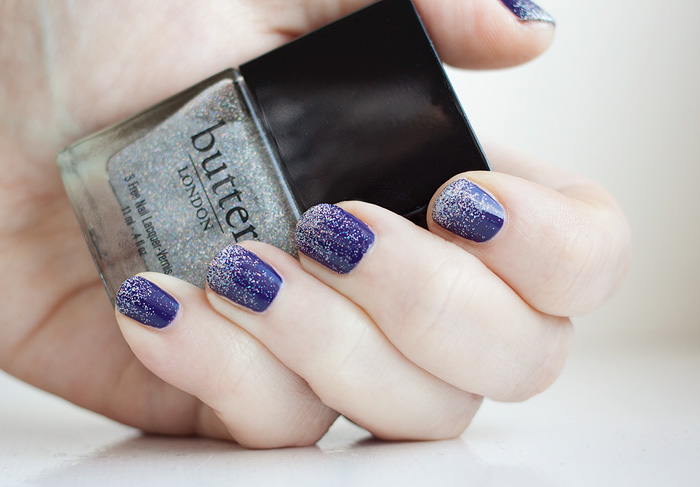 In the photo above, I sponged the top coat over the tips… graduating the density on the way down toward the cuticle, it's much easier than it sounds; You just need a high-density makeup sponge (you can pick up bags of them in Poundland/99p shops) before simply stippling the glitter over your existing polish.  I can't even tell you how much easier it is doing it this way than trying to graduate the polish smoothly with a brush.
The above swatch doesn't pick up the holographic sparkle too well, you really need to be a little out-of-focus to appreciate the fairy light-esque quality of this polish, so if you could all just go cross-eyed for a moment, that would be great.  Failing that, here's an instagram which shows off the sparkle a little better.
As with all glitters, removal isn't the highlight of my day, but the particles aren't too chunky and to be fair, didn't pose enough of a problem to send me reaching for the tin-foil.
Butter London Stardust Overcoat is available to buy online from powderrooms.com, priced at £11.95
if

you liked this post, don't forget to check out my subscriber options, here