I don't usually do "tip" posts like these, infact I'm not sure that I've ever done one before.  So it's with a little apprehension and a large dose of 'Do I know what the hell I'm talking about?' that I present to you some of my tips for dealing with dry skin.
What do I mean by dry skin?  Well, for me… my combo/dry skin is largely self-inflicted.  I know I don't drink enough water (and always see a marked improvement when I do), I refuse to give up my cleansing oil addiction and although I'm leaning more toward kinder organic cleansing balms, I refuse to just 'get rid' of some of my more drying oils until they're finished.  Waste not, want not as my Mum would say.
I don't suffer too badly in the Summer, but come the end of October, my skin loses its glow and the biggest problem I have to battle are those dreaded flakies that make any foundation look like crap.
I'm breaking the tips into a couple of posts:  cleansing, treating, moisturising & makeup.  Please remember that I'm in no way an expert, I've just bumbled through a lot of trial and errors to find what works well for me.  So without further ado…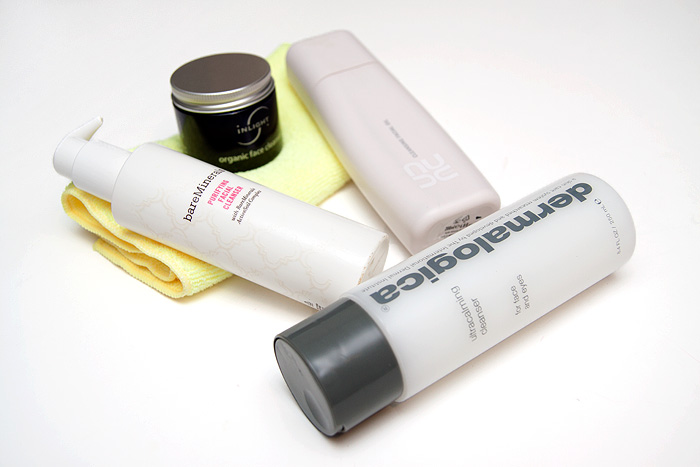 Cleansing
1.  I refuse to give up on my cleansing oils/balms for makeup removal, so try to find one that is as natural as they come.  That means no mineral oils or other Petrochemicals.  Let your second cleanse shift the residue rather than relying on the inbuilt emulsifying agents.
2.  Don't use your hands to wash!  Make sure you have a stockpile of your favourite flannels/muslins and use them to exfoliate!  I can't abide 'flappy' muslin cloths and always opt for microfibre or generic flannels.  I buy 2 microfibre cloths for £1 in Asda (the home cleaning aisle!) but anything is better than nothing at all!
3.  Choose your cleanser carefully.  My skin always reacts most positively to the 'boring' cleansers on the market.  These are usually the creamy-type ones that don't make any additional claims other than to gently cleanse your skin.  Avoid that 'squeaky' clean feeling like the plague.  We don't have the excess sebum production of oilier types and can't tolerate twice daily skin stripping from harsher cleansers.  Avoid SLS and Petrochemicals.
4.  Mind that water!  Living in the South, our water supply tends to lean toward the alkaline end of the PH scale which can encourage dryness if you don't use a PH balanced cleanser to even things out when washing.  Most 'gentle' cleansers are PH balanced by default but it goes a long way to explain why I've stopped simply splashing my skin with water in the mornings.  I thought I was helping by not over-cleansing.  Wrong!
.
I'm sure there are lots of other little gems out there to cleanse effectively without over-stripping our skin but these are the ones that I find work for me.
Do feel free to add any CLEANSING tips you've discovered from dealing with dry skin, I'd love to hear them.  I'll be dealing with exfoliating, treating, moisturising, lifestyle type tips later.
* disclosure: in the above picture, the Inlight Cleansing Balm and Bare Minerals Cleanser are press samples