…it's doughnuts.  I don't care how you spell them or what country they come from, I have no doughnut prejudice running through my veins.  The doughnut world comes in many colours and I love them all equally.  Peace.
Having said that, I quite like to keep my patisserie addiction separate from my confectionery habits.  These two things are quite, quite different and should remain so.  Jelly Tots et al don't belong on cakes — fact.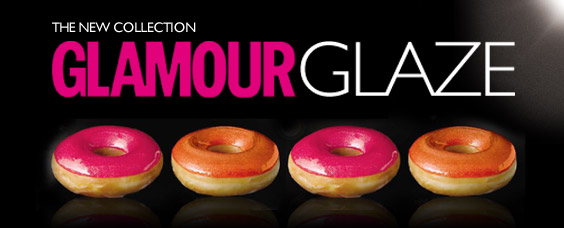 Krispy Kreme have teamed up with Glamour Magazine for the 2nd year running to release their latest collection of fashion-inspired doughnuts.  Released in line with London Fashion Week, I'm busy trying to decide if this Krispy Kreme "capsule collection" breaks my doughnut rules by looking a bit like psychedelic polo mints.
This season's collection features the trademark Strawberry Glaze doughnut, synonymous with the GLAMOUR Glaze line, accompanied by a new Orange Glaze doughnut.  The Orange Glaze has been created from trend predictions of the upcoming season from GLAMOUR's fashion team, who noted the '70s and the bright colour influences as two key themes.
I am loving that this is giving me carte blanche to talk about doughnuts on my beauty blog.  Doughnuts doughnuts doughnuts.  You won't see that in Glamour Vogue.
The Glamour Glaze collection* (£1.35 ea) is available on counter at all Krispy Kreme UK stores and in-store cabinets from the 29th August until 2nd October.
Wanna be a little less glamourous?  How about stuffing your face on 2 doughnuts for the price of 1?  Click through to KrispyKreme but don't blame me if you can't do up your high-waisted, colour-blocked, on-trend skirt.
.
Tried these ones?  Are they bonafide doughnuts or would they fail my sweetie test?
* press sample bum