"I have found men who didn't know how to kiss. I've always found time to teach them." – Mae West
Whatever you forget to do this morning, don't forget to brush your teeth.  Twice.
You see, today is National Kissing Day.  The one day of the year where I think it's practically legal to demand kisses and if you don't get enough?  Stand your ground, stamp your feet and demand some more!  Failing that, take a look at some of the lovely things below that practically guarantee to make your pout as irresistible as a sugar-coated crumb on National Doughnut Day.
There is a national doughnut day right?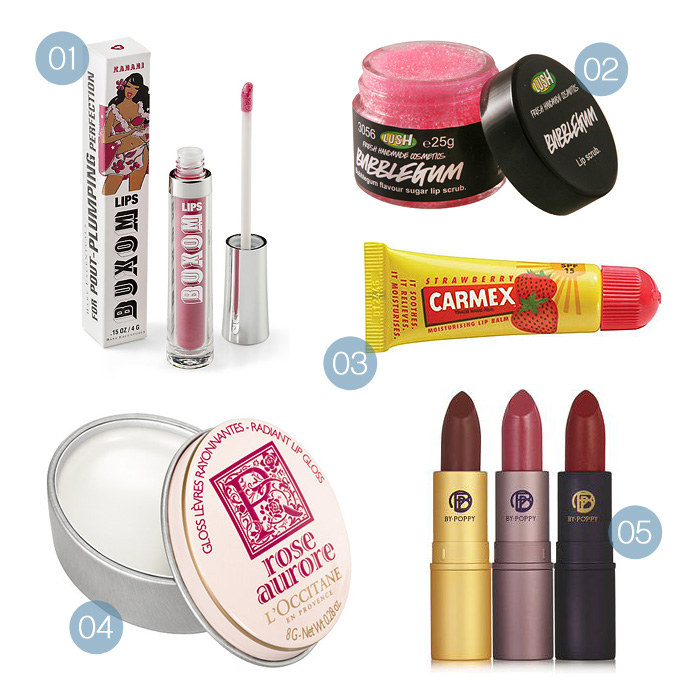 01: BareMinerals Buxom Big & Healthy Lip Polish (£18, bareminerals.co.uk)
Take your pick from a total of over 20 shades of lip-boosting gloss.  From the sheerest of pinks to the sparkliest of corals, the tingling formula of BareMinerals Buxom Big & Healthy Lip Polish will ensure a knee-trembling rush of blood to the hea pout.
02: LUSH Bubblegum Lip Scrub (£5.35, lush.co.uk)
Smells and tastes so damn good you'll be hard-pressed to divert your attention away from this little pot of lip-smoothing scrubbiness.  But divert you must!  You have 24-hours to secure a lip-smacking partner, don't delay.
03: Carmex Strawberry Moisturising Lip Balm (£2.55, asos.com)
With Wimbledon just around the corner, how could you resist this strawberry-scented offering from Carmex?  If it's a slightly less tremendous tingle you're after, this cult classic balm with leave you feeling suitably nourished and prepped for a good ol' smooching session.
04: L'Occitane Rose Aurore Radiant Lip Gloss (£8, uk.loccitane.com)
If subtlety is more your thing, L'Occitane have got your back with their Rose Aurore Radiant Lip Gloss.  Adorn your lips with a pink, delicate shimmer and let your natural radiance shine through while the moisturising formula ensures you're well nourished enough to still be in a lips-locked position this time next year!
05: Lipstick Queen 3 Piece Lip Nouveau Collection (£30.96, qvcuk.com)
When is just one lipstick not enough?  Always!  Have your cake and eat it with this collection of colour from Lipstick Queen.  A classic high-voltage red, a shimmering pink and a sheer deep crimson, this trio will see your lips looked-after from dawn-to-dusk, prepped for every occasion with a variety of texture.
One final piece of advice from the lip queen herself, Poppy King: "Most importantly, smile!  It has been suggested that simply smiling increases endorphins which are the most flattering thing for natural glow ever."
Have a great day lip-lovers, whoever you may be smooching!