Morning Campers!  This post is up bright and early, are you?
You have my sympathy.  It's dark outside and it's flippin' cold.  The kids have probably started whining already, your other half would have most certainly guffed before leaving the bedroom, and I bet you forgot to put your phone on charge last night.  Whatever morning mishaps await you, life can truly suck at this time of day.
Well – they say the early bird gets to scoff all the worms (or something like that) and today is going to be a prime example of society's bias towards those who rise with the lark.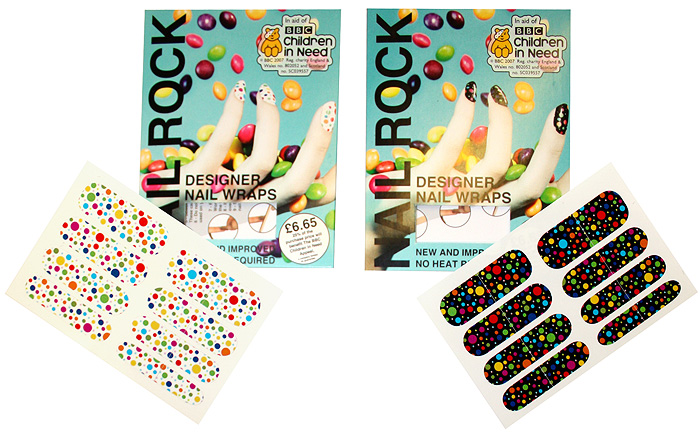 Recognise these nail wraps?  Of course you do, I posted about them last month.  They're from Nail Rock and are currently being sold in Boots having been especially created for BBC Children in Need, which is tomorrow – should you need reminding.
I have 25 of these nail wraps to give away right now!
Courtesy of Boots, I'll be giving these lovely nail wraps to the first 25 people who leave a comment telling me what I should have for breakfast today.
Now come on, don't leave it too late – a girl's gotta eat, I wanna see these snapped up quicker than a bowl of Rice Krispies.  Only open to UK residents I'm afraid.  If it's 10pm in your 'hood, that's just cheating see?!
On your marks, get set, GO! (You may need to refresh (CTRL+F5) the page to see your comment)
T&C
1. Entry open to UK residents only.
2. The first 25 eligible commenters will each receive a set of BBC Children in Need Nail Rock Nail Wraps.
3. One entry per person, duplicate entries will be deleted.
4. Winners will be chosen according to how they appear on my screen, my decision is final.
5. Lipglossiping.com is the sole promoter of this competition.
6. Competition closes when 25 eligible entries have been received.
7. Winners list will be published on-site on Saturday 19th November and I will email all winners shortly after.
8. I have no control over which colour Nail Rock Nail Wraps you receive, please don't make requests!