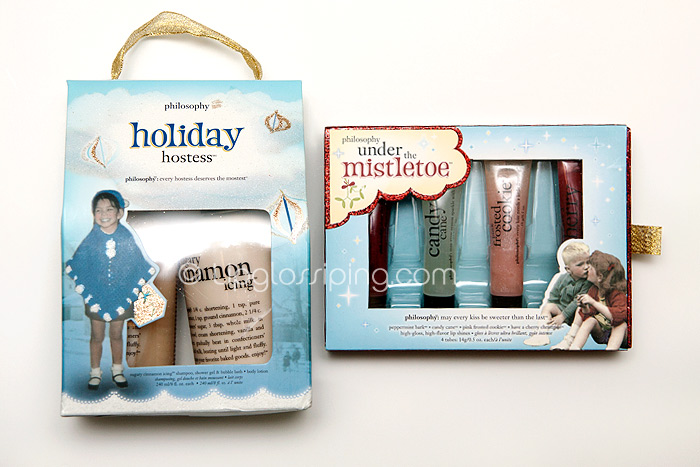 Sweet-smelling brand Philosophy have kindly donated not one, but two of their limited Holiday gift sets for your pleasure!
Holiday Hostess (£16.50): Cinnamon Sugar Icing Shampoo, Shower Gel & Bubble Bath and Body Lotion
the perfect treat for a holiday hostess, this gift set includes cinnamon sugar icing shampoo, shower gel & bubble bath and body lotion 8 oz. for her to indulge her guests. family and friends who visit for holiday gatherings will be in heaven with this incredibly decadent scent as they cleanse and moisturize, leaving skin feeling as silky smooth as icing
Under The Mistletoe (£16.50) – Peppermint Bark, Candy Cane, Pink Frosted Cookie and Have A Cherry Christmas High-Gloss, High-Flavour Lip Shines
Kisses under the mistletoe will seem sweeter than ever with these tasty lip treats. under the mistletoe includes peppermint bark, candy cane, pink frosted cookie and cherry christmas high-gloss, high-flavor lip shines. lips will be irresistibly sweet with a smooth, sheer shine.
Leave a comment to enter.  Giveaway closes at 23:59GMT on 26th January.
UK Only.
My lovely international ladies, I'm sorry but the rest of the daily prizes will be available only within the UK.  I don't want  you to keep returning to enter only to be disappointed that you can't.
If you're from outside the UK but don't want to miss your chance at winning "most dedicated" entrant mystery prize… you can still comment.  Just let me know that you're not eligible to win the daily prize because of your location!

Winners will be announced early next month.  Info and rulez can be found here.