Time for the next round featuring all the wonderful red lips you ladies have been rocking!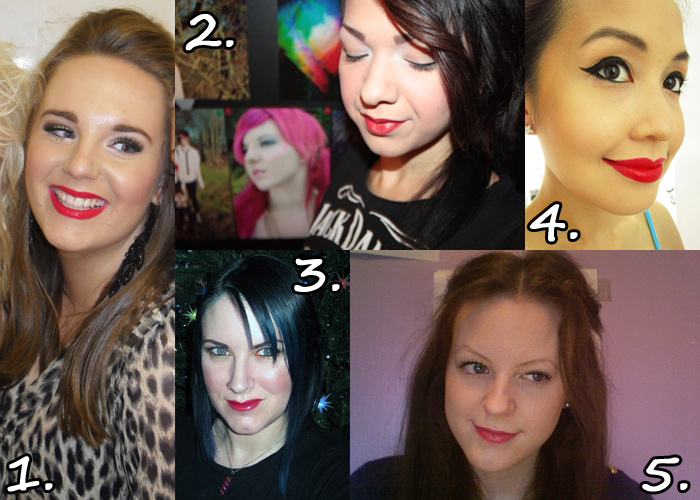 1. Abbie from AbbieBabby is looking lovely in Rimmel's Shocking Pink.  She says that she's also wearing Urban Decay pocket rocket lipgloss in Timothy which makes it look more red.
2. The lovely Lily from BeautysBadHabit is making me jealous with that MAC Port Red again!  Such a fabulous shade!
3. Phyrra is glossing it up with MAC Lip Pencil in Cherry and MAC 3D Lipglass in Boundless – gorgeous!
4. Julia from BlessMyBag shows off her fav red lip; IZGO La Belle lipstick in RED.  Killer shade!
5. Beautiful Sarah from CityGirlsFashionBox shows off the legendary red lip that is Cherries in the Snow by Revlon.
Well done ladies – thanks for braving your reds, hopefully this will go to show that red lips suit all kinds of beautiful women!  More to come soon!
If you want to submit your red lip look,
email
me a photo of your lovely selves with the following info:
Your name:
Lip shade name:
Link to blog (if relevant):