I've been waiting to write this review for a long time, I've owned the SK-II Facial Treatment Cleansing Oil since the summer, but was being a good girl and using up my Shiseido Perfect Oil before commencing a new product!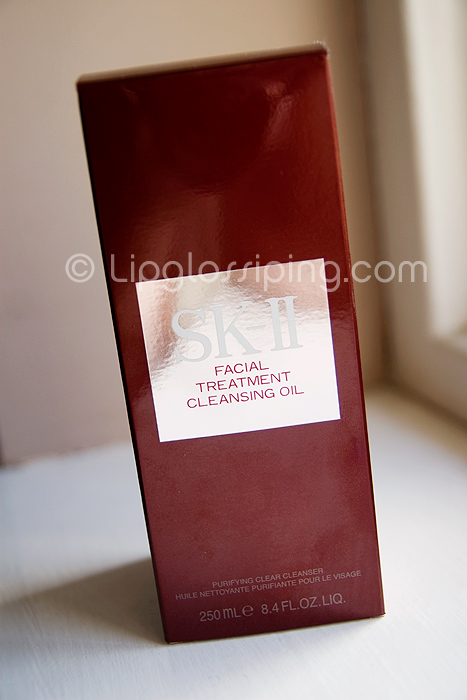 The SK-II Cleansing Oil is another string to the bow of the Japanese Skincare Line SK-II (owned by Procter & Gamble) – the USP of SK-II is a single "anti-aging" ingredient called Pitera which they claim works to allow the skin to rejuvenate more effectively.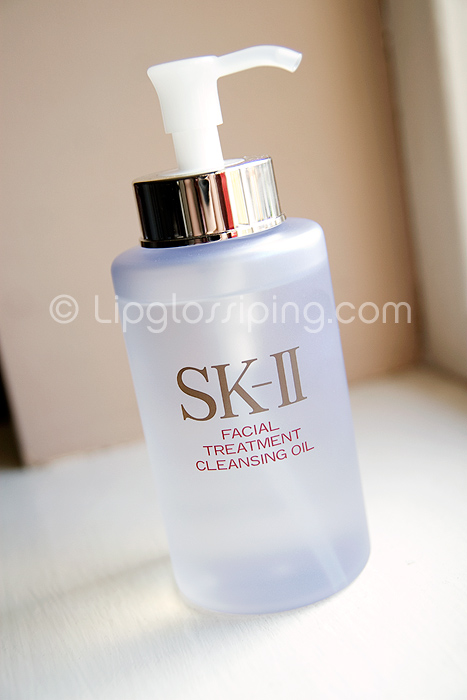 For your money (and rather a lot of it, I might add) – you get 250ml of oil, which, thankfully… is a generous sized bottle.  The packaging itself is plastic but at a glance looks like frosted glass.  I prefer the fact that it's plastic, which allows for safer transportation.
They say:
This delicate oil with Wild Rose Extract and Pitera emulsifies with water and 'Lifts and Locks' onto hidden sebum and impurities. The 'Lift and Lock' formulation allows oil to transform with water to gently lift away make-up and impurities from the skin. Leaves it soft and fresh.
I never notice any discernible scent when using this (unlike the NUDE Cleansing oil – review to come soon!).  It's a clear liquid of medium consistency which spreads quite easily over my face.  It's lighter than the DHC Deep Cleansing Oil but heavier than my Shiseido Perfect Oil.  A happy medium!
I've never had to use more than 2 pumps, 1 pump will suffice if I'm not wearing mascara.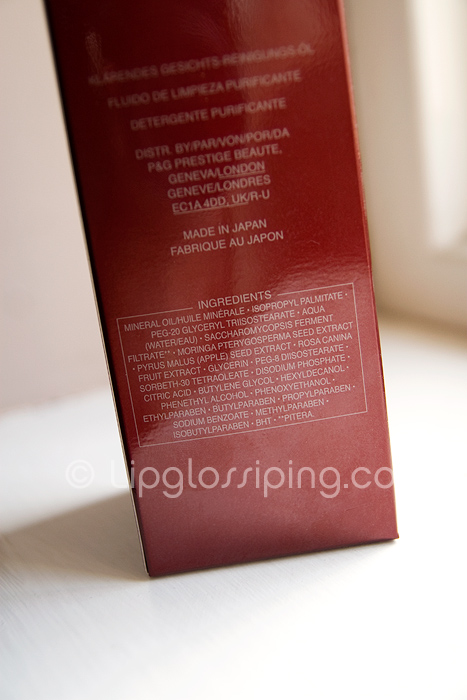 As you can see from the above list, mineral oil is the central ingredient… which is a shame, and at over £30 a bottle, I'm disappointed to see that they're using such a cheap filler that is widely known to cause skin congestion thanks to it's pore-clogging abilities.  Did you know that mineral oil is a byproduct of the distillation of gasoline from crude oil and that it actually costs more to dispose of it than it does to purchase it?  Now, I'm no Organic junkie… sometimes, chemicals just work and I admit to being endlessly suspicious that Organic products in general don't work as effectively as their chemical-laden alternatives… but in this case, I'd rather my £32 bottle of cleansing oil wasn't full of one of the cheapest substances on earth.
But, how does it clean?
It cleans well… It removes all mascaras (inc. waterproof) and leaves my face feeling fresh and (as promised) soft.  As with most cleansing oils… I do however, find it a little drying with continued use.  It also doesn't emulsify as well as my DHC Deep Cleansing Oil, leaving a slightly oily residue behind untl I've followed up with another cleanser (which I always do anyway).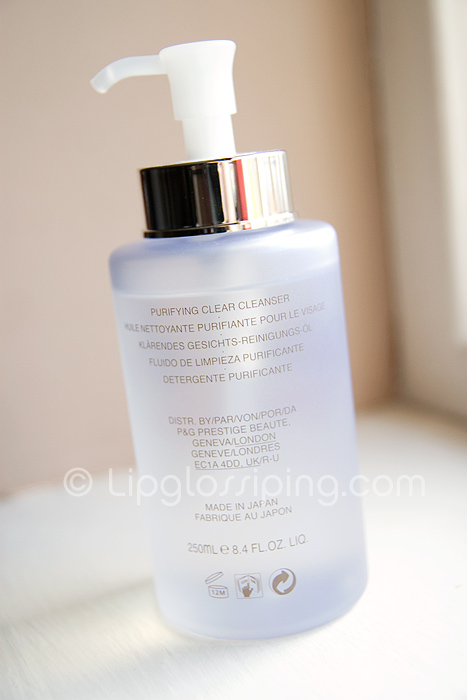 This puts it in the same category as the Shiseido Perfect Oil… but let's remember… gram for gram (or ml for ml) the Shiseido would work out less than half the price of the SK-II for the same quantity.  The DHC Deep Cleansing Oil also works out cheaper, and thus rendering it still my #1 choice for cleansing oils.
I mustn't forget the Pitera… and if I were comparing anti-aging night creams, I'd have a harder time eliminating it as a reason for purchasing.. but to be honest, I want my cleansing oil to clean – I'm not fussed about it's anti-aging, skin regenerating properties.  I'll save those concerns (and money) for my moisturiser.
You can purchase the SK-II line from Harrods, both in store and online.