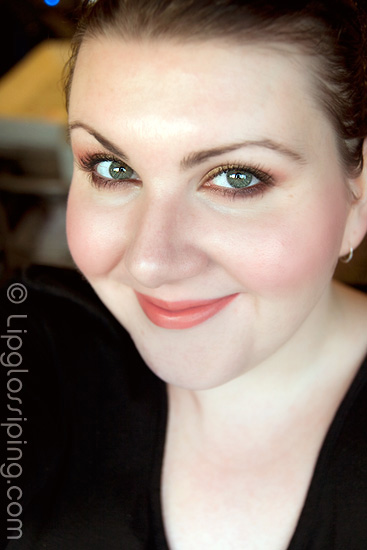 WOAHHHHHHHHH too much blush.
Aside from that, I was really pleased with how this turned out!  I was looking forlornly into my pigment drawer thinking that I don't use them enough and although it was 6pm in the evening and I had just done my first DIY home facial (courtesy of Liz… yeah, we're on first name terms innit) I decided to have a little play anyway.  Was that the longest sentence in the blogosphere?  Possibly.
I really need to start using more than 2 eyeshadow shades, I really enjoyed playing!
Products Used:
Face
~ Skin79 Super BB Cream
~ L'Occitane Etoiles des Neiges Illuminator
~ MUFE Full Cover Concealer in Shade 1
Eyes
~ Urban Decay Primer Potion
~ Silk Naturals Vanilla Pigment (all over lid up to brow bone)
~ MAC Melon Pigment (all over mobile lid)
~ MAC Revved-Up Pigment (crease and slightly above)
~ Elemental Beauty Vamp Pigment (outer v and under lower lashline)
~ Bourjois Khol & Contour in Brun Design (smudged on upper lashline then melon pigment reapplied over the top)
~ Benefit Bad Gal Lash Black Mascara
Cheeks
~ Milani Luminous Blush
~ Bobbi Brown ShimmerBrick in Nectar (yeah, I got carried away)
Lips
~ Bourjois Sweet Kiss Naturel Lipstick in 09 Sienne Kiss