This is Part 3 of a triple post on the Urban Decay Alice in Wonderland Palette.  Check out Part 1 and Part 2.
Whew!  I've been on a marathon swatching session for you to feast your eyes upon!  I hope the photos are clear enough.  I've worked hard to keep the swatches as close to real life as possible and I'm confident I've achieved it.
Slightly less importantly, I've added a commentary of my thoughts on each of the shadows.  I think eye shadow preferences are a particularly personal affair, so please be aware that these are my personal likes and dislikes.
There still seems to be a lot of (mis)information flying around.  To clarify, the Alice in Wonderland Book of Shadows will be released exclusively at Debenhams.  It appears that *some* stores won't be receiving stock, so do check with your local store in advance to save disappointment.  If your store won't be selling it, you will be able to order it online from Debenhams.com (and there's usually a free delivery code floating around on t'internet to save you a few pennies).

The palette will be priced at £28 (UK) / €37 (Ireland) and the rumours that there are only 2000 palettes allocated for our shores are untrue.  There will be many more than that, but it IS limited edition and it WILL sell out quickly as sales in the US have proven.
Ok, that aside… let's get started shall we?
Key:
S = Shimmer
SG = Shimmer Glitter
UGBCGGIOM = Ugh! Great Bit Chunks o'Glitter, GET IT OFF ME!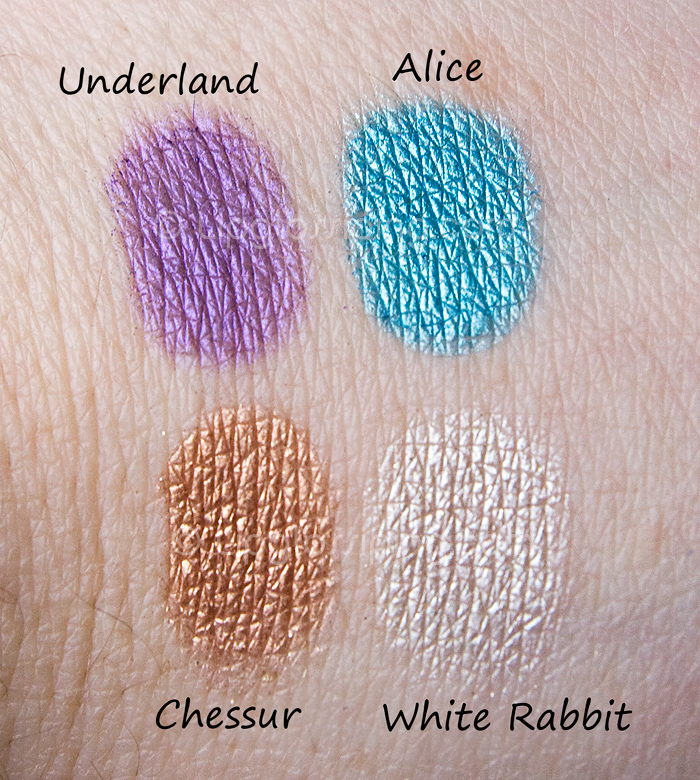 UNDERLAND (flash) (S) – A true violet.  It's buildable to a strong intensity with 3 strokes… definitely leaning towards the cool tones –


ALICE (painkiller) (S) – Beautiful aqua turquoise.  Highly pigmented, one firm stroke gives solid opacity on the lid.  Not a shade for shy, retiring types! –


CHESSUR (chopper) (SG) – A gold that leans towards brown.  This would be great for a pop of intensity to an otherwise neutral eye.  It's gold, but not gaudy –

WHITE RABBIT (polyester bride) (UGBCGGIOM) – More commonly known as "Polyester Bride".  It's a white with silver reflects.  Gritty in the pan, the large chunks of glitter are more likely to end up on your cheeks than stay on your lids.  Be prepared to apply your eyeshadow with your head tilted toward the ceiling in an attempt to minimise fall out –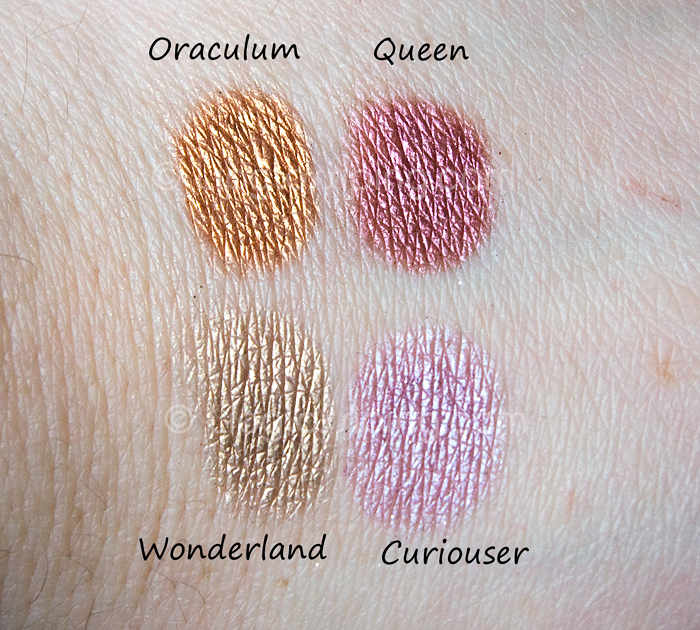 ORACULUM (baked) (S) – A true intense yellow gold.  Blends like buttah and I fear that I'm already making a very slight dip in the pan on this one –


QUEEN (last call) (S) – One of the nicest cranberry shades I've ever worn.  Most make me look like I've been rubbing my eyes, this one has enough purple in it to avoid that.  Texture is simillar to UNDERLAND –

WONDERLAND (maui wowie) (SG) – Quite hard to describe… a neutral gold?  60% Gold/40% Silver?  It's paler than the others in the palette and slightly more metallic.  Glitter is present, but mostly disappears with a couple of taps of my brush.  Other than being a beautiful shade in it's own right, I love this one for it's flexibility.  It pairs beautifully with most of the shades in the palette –


CURIOUSER (grifter) (SG) – Looks pink in the pan, applies lilac-y on my pale skintone.  Slightly less pigmented than the majority of shades in the box, but like UNDERLAND… it's buildable.  Unlike UNDERLAND, it contains glitter which will build alongside the colour intensity –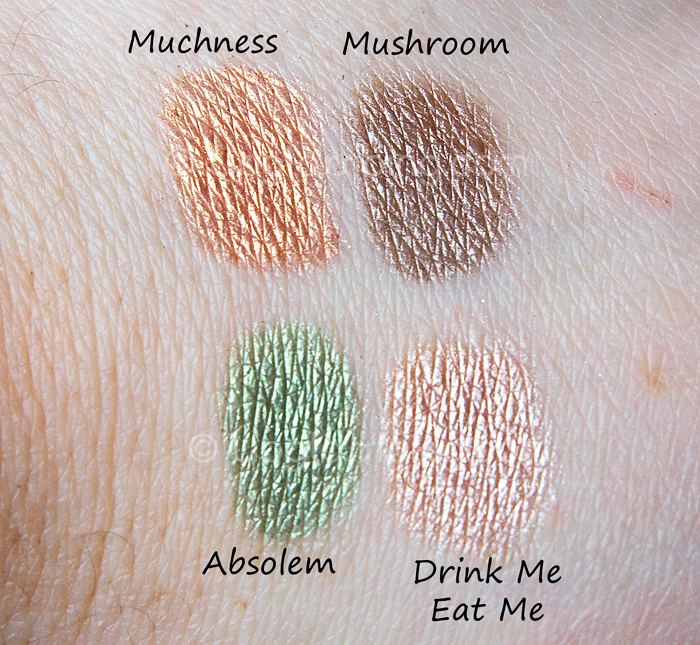 MUCHNESS (x) (S) – Pretty peach with a golden sheen.  A lovely duotone that would look great set against blue eyes, but not such a great shade for my pale pink skin.  Texture however, is smooth as a baby's bum and strongly pigmented –

MUSHROOM (mushroom) (S) – In my world, all taupes would look like this.  The perfect blend of grey/brown, a gorgeous crease colour –


ABSOLEM (homegrown) (S) – I'm not a fan of greens (which is one reason why I prefer this palette to the BOSII), but I'll try my hardest to be impartial!  This is slightly sheerer than the pan would suggest… It's buildable and safe to do so without ending up looking like a disco ball thanks to a lack of glitter.  A shimmering grassy green that would look fab paired with WONDERLAND –

DRINK ME EAT ME (sin) (S) – A fabulous champagne shade that makes a wonderful base for a neutral eye.  No glitter, smooth-textured and highly pigmented.  This is a winner! –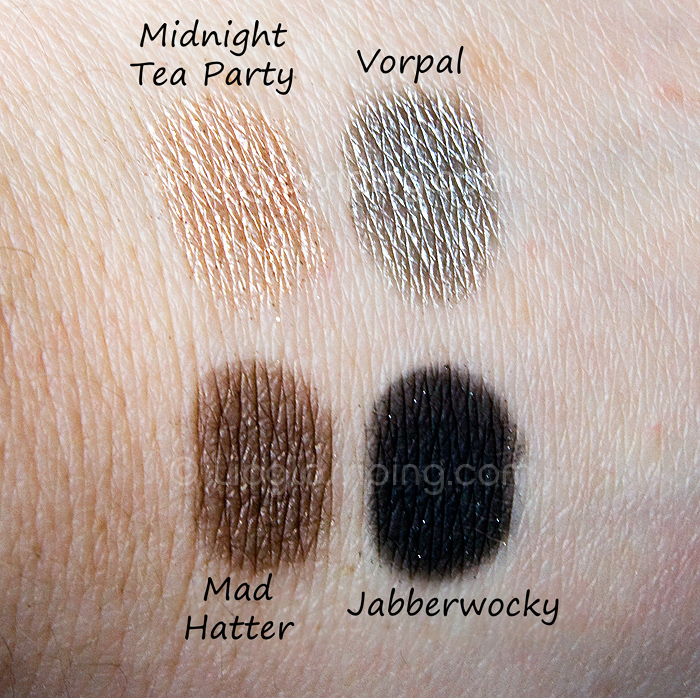 MIDNIGHT TEA PARTY (mcra) (UGBCGGIOM) – You knew it was coming… Midnight Cowboy Rides Again (and again, and again).  Why do Urban Decay keep insisting on putting it in my palettes! 😉  In seriousness, I know that there are lots of people out there who LOVE this shade… but for the life of me, I can't think why.  You guys must love it *for* the glitter, 'cos once that's dropped onto my lashes and cheekbones (20 seconds after applying) all that's left is a very sheer version of DRINK ME. EAT ME –


VORPAL (s&m) (S) – Stunning! Looks simillar to MUSHROOM in the pan.  Swatched, it's a gorgeous platinum grey.  Smooth as buttah and blends beautifully.  I actually DARE you to dislike this shade –


MAD HATTER (twice baked) (S) – The least shimmery shadow in the palette.  MAD HATTER is a neutral dark brown which should get kudos for not leaning towards the red.  It's slightly sheer on the first stroke, which I appreciate as it would be easy to go overboard otherwise.  I'm sure it's an absolute staple neutral shade for many –

JABBERWOCKY (oil slick) (SG) – Underneath the glitter, this looks to be a matte black.  It's highly pigmented… so use with a light touch!  I don't really wear black shadows but I've discovered that I LOVE to use this wet as an eyeliner.  The glitter makes it a killer black liner for the evening!  Urban Decay even make a product that allows you to do this with ease (or, failing that, just wet your favourite eyeliner brush with a drop of good old H2O).  Don't worry, Urban Decay eyeshadows can be used wet or dry! –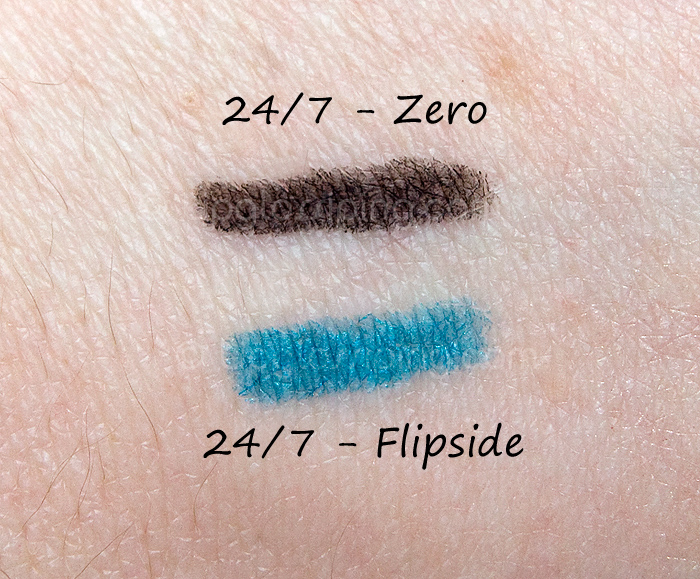 24/7 Pencil in ZERO – A basic strongly pigmented smooth matte black.  Glides on, doesn't rub off easily.  A makeup staple! –


24/7 Pencil in FLIPSIDE – A super bright teal.  For me, FLIPSIDE is a wise inclusion.  The palette boasts a number of shadows that work well together to create a natural looking eye and FLIPSIDE is the perfect shade to lift that neutral looking eye out of the ordinary and into the extraordinary… straight into Alice's world perhaps? –


That's it!  That's all I've got for you (barring a couple of dodgy looks I've done with the palette).  If you have any questions about the palette or swatches, I'll do my best to answer them for you.