…geddit? rides? as in horses… as in cowboys? as in Tex… oh forget it.
Due for UK release in February, OPI will be introducing 12 new shades for their Spring/Summer collection which takes it's inspiration from the U.S' 2nd largest state.
Talking of O.P.I (which, I quite clearly will until I get bored)… does anyone know what O.P.I stands for?
No googling… no cheating… I DO actually know ('cos I cheated) but that's not the point.  Let's pretend it could stand for ANYTHING!  In your mental little world, tell me what O.P.I would stand for?
For me and my bank account, it would have to be something like… Overall Purse Invaders.  I read one on Google that proferred "Ohmygod Pooh Inside" – I chuckled, though being over the age of 4… I probably shouldn't have.
Um.  Where was I?  Oh yeah…  Texas Collection!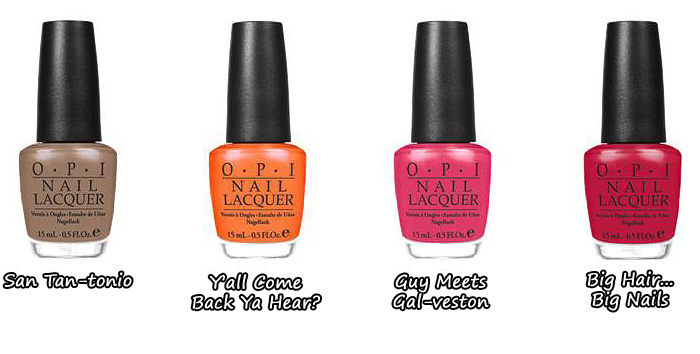 San Tan-tonio – The Perfect Honey Tan
Y'all Come Back Ya Hear? – Texan Tangerine
Guy Meets Gal-veston – "Engaging" Coral
Big Hair… Big Nails – Rosy Blush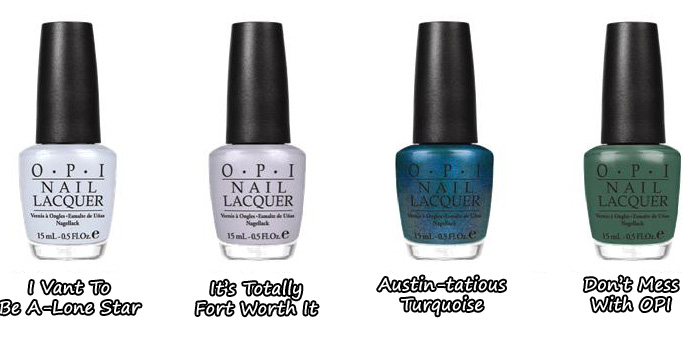 I Vant To Be A-Lone Star – Starry Silver-Blue
It's Totally Fort Worth It – Shimmering Lavender Grey
Austin-tatious Turquoise – Bodacious Blue Green
Don't Mess With OPI – Lean, mean kick-grass Green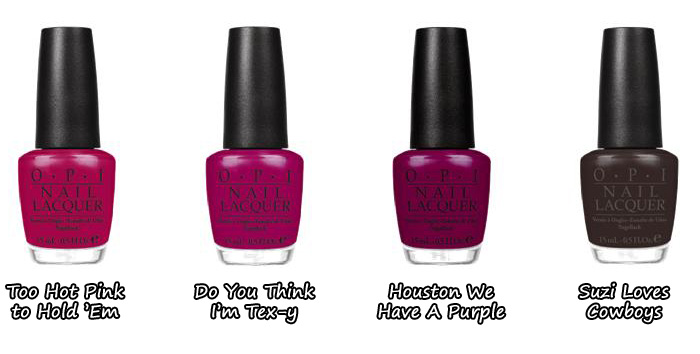 Too Hot Pink to Hold 'Em – A hot pink winning hand
Do You Think I'm Tex-y – A 'berry' sexy shade
Houston We Have A Purple – Galactic violet
Suzi Loves Cowboys – Rich campfire chocolate
I couldn't make the preview but have already picked a personal favourite (or two) after having looked at Helen's shots from the event.
Her swatch shot: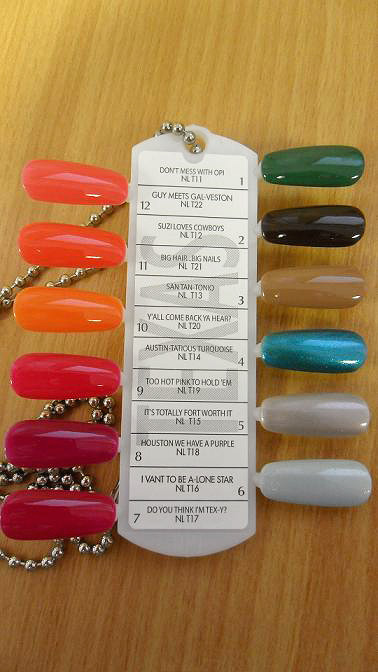 image used with kind permission from JustNiceThings
Are there any shades in particular standing out amongst this little lot for you guys?
After seeing the swatch shot over at Just Nice Things – I'm lusting after It's Totally Fort Worth It, but do have my reservations on how many coats I might need to apply to get the look I want from this jelly finish.
Other than that?  I'm not sure… nothing is filling me with overwhelming excitement, however… O.P.I (more than any other brand) have the ability to create slow burners for me.  I'm actually still indulging in the odd Swiss Collection bottle that I've now decided over a month after release that I simply cannot live without.
The O.P.I Texas Spring/Summer 2011 Nail Collection will be released in the UK in February, priced at £9.95 a bottle and avilable from LenaWhite.