This glass-flecked, foil shimmer is a new finish to me… but when I saw swatches online, I knew I had to hunt down this beautiful green polish from the Nubar Autumn collection.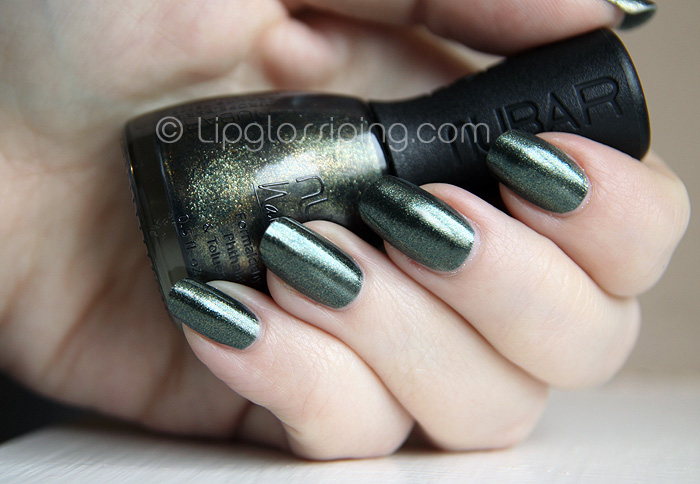 I don't usually go for green polishes… infact, it's the only drawer in my collection that has any room for more.  I'm so glad I decided to fill the space with this little number.
Nubar Verde is a blue-based green that makes it a good choice for cooler skintones… it's almost gunmetal in certain lighting.  What really lifts this from the ordinary are the beautiful golden glasslike flecks of glitter that run through the formula.
Because the photo above was taken on such an overcast day, I'm afraid that the gold is far more apparent in the bottle than it is on the nail, but trust me… it's there… being all beautiful and foil-like.
Tip wear was a bit of an issue with this polish as it was apparent by the end of the first full day of wear.  Such a shame because I could have happily worn this one for weeks.  On the plus side, pigmentation for Verde is magnificent and I was able to top up with a single coat to disguise the worn tips and get a few more days wear from this manicure.
If you're a fan of green polishes or even just looking for something slightly different to the current plethora of standard (but beautiful) glitters, do check out the Nubar Venetian Glass collection, it's really very pretty.
Nubar's Venetian Glass collection is priced at £8 each and available to buy online from BeautyShed.