As I explained in my previous video, I'm slowly coming to terms with the simple truth that one course of laser hair removal won't guarantee "permanent removal".  The wording that's generally used is "permanent reduction" and there's a difference.  It's comparatively far more permanent than other hair removal methods but will never be truly permanent without occasional treatment 'top ups'.
What I've also realised (with the help of hindsight) is that this doesn't mean it's not worth doing because you don't have the funds to cover constant salon visits or an expensive at home device.  The fact is that when (relatively) small amounts of hair do grow back, they're often finer, more manageable and far less offensive(!) than their original growth patterns and this is precisely the 'reduction' that companies refer to.
I will happily confess that I have always placed a preference on having my unwanted hair zapped at a salon.  It's far more expensive in the long run but there's something to be said for placing yourself in the hands of a professional in circumstances where the eventual outcome is potentially life-changing.  It's a confidence thing.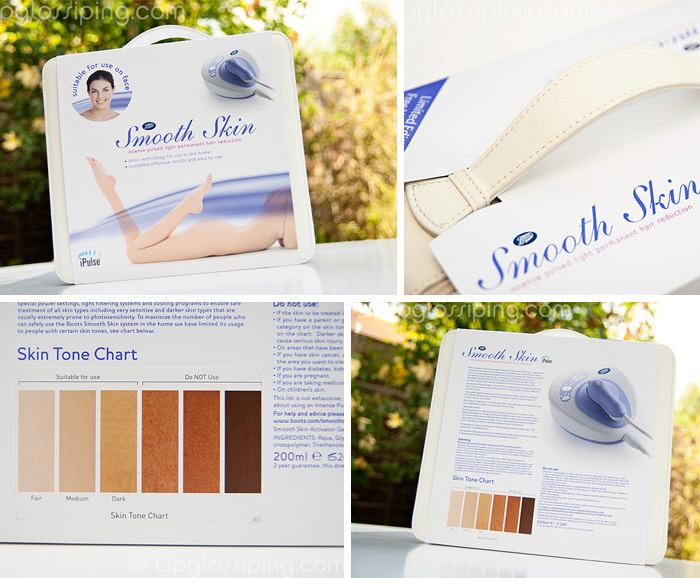 However, now that I understand and appreciate the need for these 'top ups', the thought of having an IPL device that I can use in the comfort of my own home is more tempting.  Despite this, there are considerations that should be addressed before you decide what's right for you.  For everyone, these will be different.  For me, they go something like this.
1).  Will I be disciplined enough when using an at home device?  I wouldn't miss a salon appt for fear of being penalty charged… it's much easier to be lax with the treatments at home.
2).  Am I confident enough in my own abilities to use an at home device competently?
3).  Are at home devices as effective as salon treatments?
4).  Do I want to use an at home device from day 1 or invest in one for maintenance purposes once my salon treatment is finished?
The wonderful thing about technology is that it's forever evolving and improving.  Hair removal is on the front line… it's a highly sought after process and still incredibly expensive for the average consumer.  Companies are investing millions in developing the best machines possible for both home and salon use.
I recently attended an event where we had the opportunity to put questions to the people behind the Boots iPulse Smooth Skin, you can watch the highlights of this event in the video below:
iPulse currently hold the enviable title of being Boots biggest seller.  They've sold approximately 35,000 units through the high street retailer and the device has generated an average 4 star rating from consumers on the Boots website.  Many are treating general areas such as legs and underarms, whilst others focus on hormonal hair (face, neck, chin etc.)
I wanted to follow up and put some additional questions to the people behind the iPulse, focusing on issues related to treating hormonal hair.
1). Most "at home" IPL hair removal systems aren't recommended for use on women with PCOS, am I right in thinking that you've updated your literature to specifically include considerations for PCOS sufferers who want to use the device?
We are aware that hormonal imbalances and in particuar PCOS, are extremely distressing conditions when the side effect can produce unwanted facial hair.  Boots Smooth Skin is suitable for use on the face and our research and clinical trials indicated a substantial reduction in facial hair and also our customers advised us that they were delighted with the results they have achieved in using the device on this sensitive area.
2). What are the main considerations that women with PCOS need to be aware of when using the iPulse?
The main considerations for customers with PCOS is that the hair growth cycle becomes irregular and therefore it may be necessary to give the area more treatments than other areas of the body.  Stimulation of hair growth to the facial area can be considerable when there are hormonal imbalances and it is good to be able to treat the area  as and when necessary.
3). What are the benefits of choosing the iPulse over going to my local salon for a course of IPL treatments?
Convenience and cost are the two main  benefits however, there are many more.  For some people privacy is important and this enables the treatment in comfort of your own home at a gtime convenient to you.  Another benefit is time.  Using Boots Smooth Skin will take approximately 6 – 12 weeks due to the regulated energy output enabling a weekly or fortnightly treatment.  With salon treatments you will have a four to six week waiting period between each treatment – probably needing 6 – 10 treatments to achieve the same results and then there is the cost and inconvenience of traveling to the salon when it suits them!
4). iPulse offer an "IPL system", the treatment I underwent at the SK:N clinic was on a "laser system".  What are the differences between the two treatments and is one more effective for reducing hormonal hair growth?
A laser is the first generation of hair removal systems using one beam of light to treat individual hairs – IPL (Intense Pulsed Light) is the next generation of light based therapy systems using multiple wavelengths and a larger spot size which enables the treatment of many hairs at any one time.   Offering the same results – permanent hair reduction – it is generally thought that treatment is faster and pain free with IPL systems.
5). Would you say that the iPulse is a particularly suitable option for women like me who have already undergone laser treatment and are looking for a cost-effective way to maintain their results?
Most definitely, this is a great way to keep previously treated areas hair free without the necessity of returning to the salon for further expensive treatments. A convenient way to ensure the initial results achieved are maintained.
.
A big thank you to iPulse for taking the time to answer my questions.  I hope that you've found them useful too!