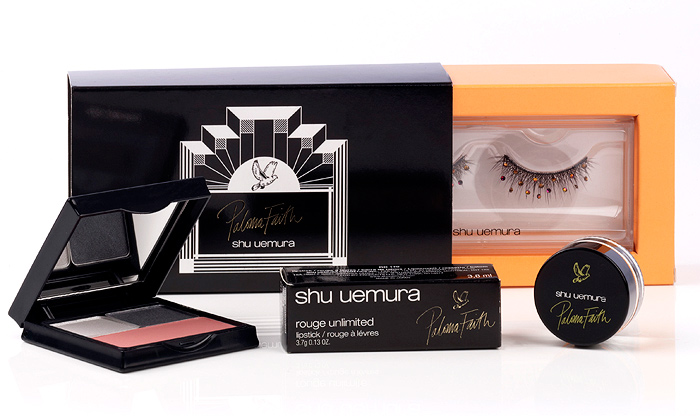 The Art Deco signature Paloma styling on the packaging is doing it for me alone.  But throw in bejewelled lashes (that in fairness, I would probably only ever gaze upon), a red lipstick, black liner and a smoky eye set?  I'm liking the look of the collection very much indeed!
The two limited edition items from the collection are unsurprisingly, the palette and the eyelashes.  The lipstick and liner can be found in Shu Uemura's current core collection (albeit in different packaging).
~ Paloma for Shu Uemura limited edition Swarovski encrusted false eyelashes – £55 (ouch)
~ Rouge Unlimited lipstick in 190 – £19.50
~ Black Gel Eyeliner – £19.50
~ Limited Edition Paloma Faith make up palette – £57
Paloma says… "I'm inspired by the queens of tragedy – Billie Holiday, Edith Piaf and Judy Garland.   Then throw a bit of Nick Cave, Etta James and PJ Harvey into the mix, add all my influences from avant garde cinema and you start to come close. My visual style is fancy dress as I never grew out of dressing up boxes! My early performances were David Lynch meets William Blake at the circus. Welcome to my world…."
The collection is available throughout February, exclusive to Selfridges, London.