It's taken me AGES to break this open from its packaging because I do this 'thing' where I don't let myself use new products until I've photographed them in their pristine glory.  I stick to this pact mostly but boy, it was hard to do with this one!
Just look…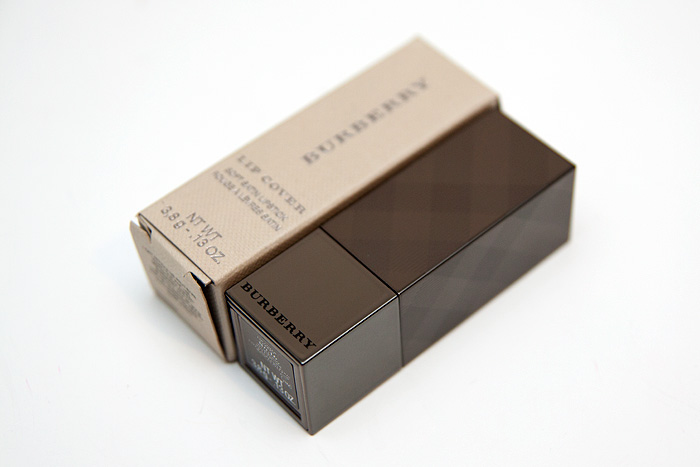 I'm not sure you can beat Burberry and Armani for their lipstick packaging… those magnetic closures get me every time.  The satisfying spin and gentle 'clunk' as the lid hits home.  One day, I will get a life.
I picked this up from the counter in Harrods a few weeks ago after umm-ing and ahh-ing over which shade to get.  I already own Cameo Pink which is a warm, summer pink with a slight hint of salmon… trust me, it's nicer than I've just made it sound.  Fish references rarely work well with cosmetics.
With this little beauty, I thought I'd buy ahead… I wanted something to "see in" Autumn.  You know I love my reds and HELL I can't wait to break them out again but I wanted something 'inbetween' for the coming months and I couldn't have made a better choice than Burberry Lip Cover in #16 Claret (£22.00).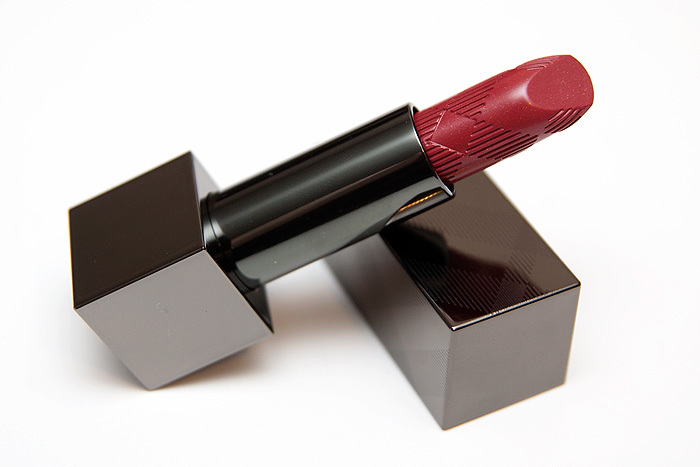 Claret is a lovely red with a hint of brown and a dusting of sparkle.  It can be worn to achieve a full, glossy finish (as in the lip swatch below) or blotted down to provide a beautiful, slightly bloodied (seriously, I can tell I'm selling this to you), full bodied stroke of sensuality for a more casual finish.
Casual reds don't usually work well on me, they often look a bit… well… smudgy and like I've had a few too many vodkas.  I tend to need that sharp definition that a lip brush brings.  But this one looks BETTER pressed onto the lips.  The sparkle makes my lips look fuller (proper sparkle, not frost), while the claret shade gives that 'just bitten' effect but slightly more vampy.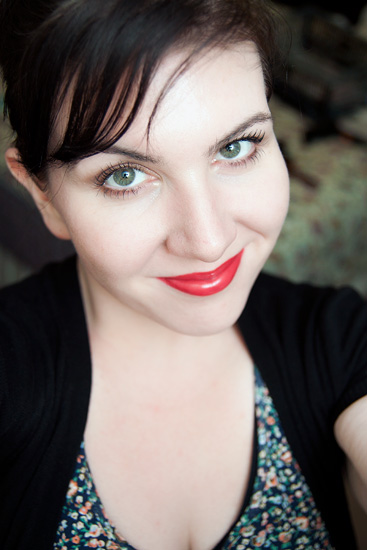 The above photo shows it NOT worn casually, silly me.  I'll include it in a FOTD soon wearing it the way that made me fall in love.  The formula of the Burberry Lip Cover is smooth and non-drying, a little slippy unless blotted but nothing as short-lived as a YSL Rouge Volupte.
I actually have Nonie Creme from Butter London to thank for this little beauty.  The S.A. in Harrods had applied it for me before I headed off to meet Nonie and her lovely PR and during a conversation which included me telling her that I'd been looking at some Burberry lipsticks that morning, she asked if I was wearing one of them.  After replying in the affirmative, Nonie asked if I had bought it to which I replied "Not yet, I couldn't decide between a couple of shades."
Nonie insisted that I go buy it.  Like I was gonna NOT buy it after that decree right?
So thanks Nonie!  Ok, I'm done with name-dropping now, as you were.
*cuddles lipstick*