It strikes me that there's a certain amount of appreciation for baked goods amongst beauty fans.  Cookies, cupcakes, muffins, cake-mix licked straight from the bowl… we're just not fussy.  Perhaps it's because we're so finely attuned to appreciating the finer luxuries in life, or maybe we're just a little big piggy – whatever the reason – I'm pretty sure you're gonna get as excited as I have about today's Christmas Gifting pick.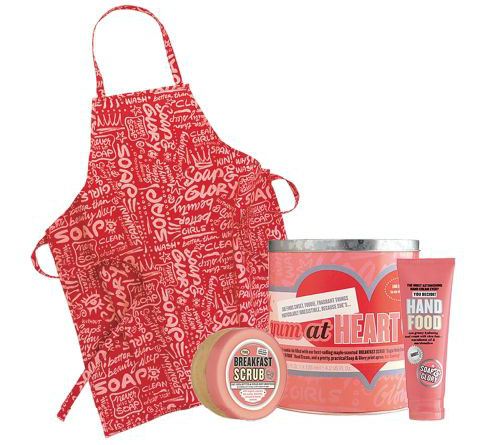 Let's have a look at what we've got here…
~ A reusable and very practical cookie tin in which we can hide our multiple stashes of Fox's Crinkle Crunch.  Don't look at me like that.
~ A full-size tube of Hand Food™ hand cream which I blogged about back in June (and like very much)
~ A full-size maple-scented The Breakfast Scrub sugar body smoother.  Maple scented… excuse me while I make noises that a doughnut-spying Homer would be proud of hearing.
~ Finally, a squee-cute APRON!!!  OMG!!!  A Soap & Glory apron!
There is nothing about this gift set that I dislike and if Mr. L is reading this… (a.) please can you logon and change our Tesco delivery time to an evening slot and (b.) buy me this, kthanksbai.
The Soap & Glory Yum at Heart Christmas Gift Set is priced at a very reasonable (imo) £16 and available instore and online at Boots.  You should also know that this is included in the current 3for2 offer.
Do you suffer from an incurably sweet tooth too?