Yesterday, I talked about recession-proofing your makeup with a bargainous £6 eyeshadow and today, well… you'll see…
We're living through some seriously tough financial times… upon this, I think we can all agree.  Yet, out of this seemingly never-ending recession, beauty brands really haven't done too badly.
You see, in times of "austerity" (oh, how I loathe that word and all it stands for), life's luxuries have to take a back seat… there are bills to pay, food to buy, and children to clothe.  And of course, all of these things are far more important than the need to satisfy any aspirations for a more extravagant lifestyle.  Except that, quite understandably, it's precisely now more than ever that we genuinely need those fluffy distractions and escape from reality that life's superficial offerings can deliver.
And so, instead of spending our pennies on designer clothes, handbags and expensive holidays… we've turned our attentions to slightly less flahoolick things such as shiny lipsticks, nail polishes, and Groupon-funded spa treatments.
In the midst of all this… it's quite clear that some brands didn't get the memo.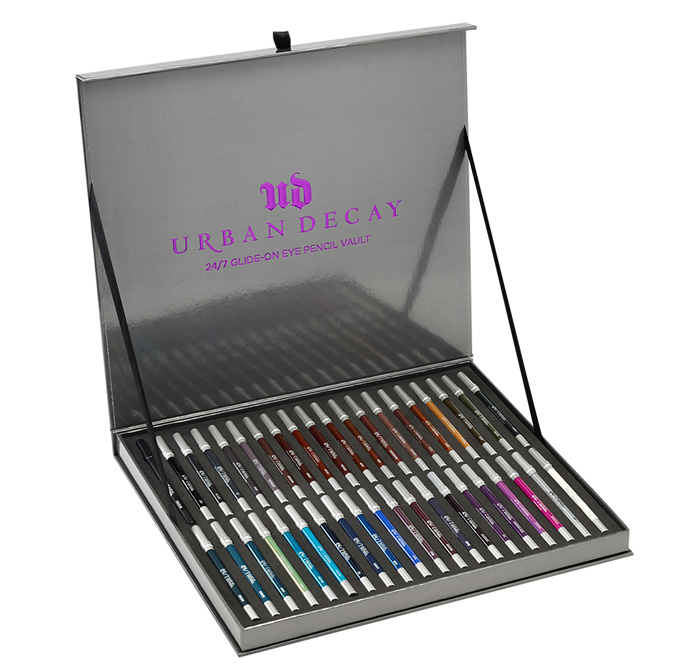 Launching today, exclusively at Debenhams.com is this rather spectacular and horribly-priced coffret, The Urban Decay 24/7 Glide-On Eye Pencil Vault… yours for just £240.  Now I could go on about what a ridiculous waste of money it is… but the truth is, if I could afford one… I'd be at least somewhat tempted.  After-all – and as much as I genuinely hate to call this a "bargain" – I can't argue with the fact that this 40-shade set represents a saving of £320 compared to buying each eyeliner individually.
I could argue the toss that unless you're a regularly-employed makeup artist, you have no bloody need for or business owning that many eyeliners.  But then, I'd be a bit of a spoil-sport wouldn't I?  I'd also have to hide my ridiculous eyeliner stash under the bed and try very, very hard to keep a serious face whilst doing so.  And let's not even talk about how much eyeliner you'd have to apply daily to use them up before the recommended eyeliner "use by" allocation of one year.
To put it plainly, that's some serious investment right there.
However, I know that in all honesty, you care not one jot.  Because look at it.  It's fucking amazing.  Lend us a tenner?
Will you be buying it?  Would you, if you had the spare change?  There are only 40 "vaults" available and the U.S stores sold out in 9 hours… you'd better be quick if you're going to nab one!
The Urban Decay 24/7 Glide-On Eye Pencil Vault is available online now, from debenhams.com, priced at £240