I'm a certified skincare fan, but Mr. L hates anything remotely greasy.  Infact, he doesn't really understand the concept of 'moisturising' or why he would ever need to do it.  Machismo aside, that doesn't stop me getting him to moisturise my back for me when I get out of the shower.  I'm lazy and it's always nicer if someone else does it don't you think?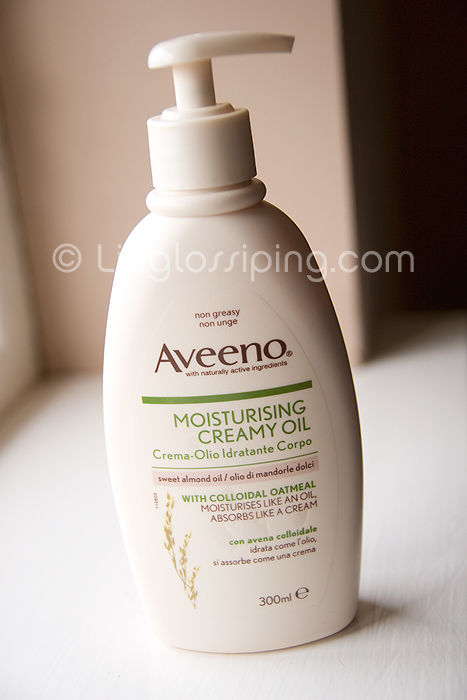 Aveeno sent me a few bits a while ago, and after giving them my unadulterated attention (not easy to do when you buy as many products as me), I'm back to let you know how they performed for me.
I'll start with the Aveeno Moisturising Creamy Oil.
Not quite an oil and not quite a cream means that it has a hella confusing name!
I wasn't sure what to expect when I first pumped the lid.  It is a very light, runny cream with a bakewell almondy smell.  I'm not sold on the scent, it's not offensive in any way… it's just a bit biscuity for me.
Aveeno say:
Combines the concentrated goodness of naturally active colloidal Oatmeal and sweet almond oil.
Provides the benefit of an oil with the convenience of a cream.
Helps to maintain the skin's natural moisture level and prevent dry skin.
Skin is left looking and feeling soft, smooth and healthy without a greasy after feel.
I adored the texture of Aveeno's Moisturising Creamy Oil, it glides onto the skin with no dragging and I can instantly feel it relieving any tight patches (I suffer from small areas of eczema).  Unfortunately, the cream isn't rich enough for the effect to last the whole day on me, so if you're very dry-skinned, I'd look for something a little heavier.
If you have normal skin, I'd whole-heartedly recommend this body moisturiser.  Especially for the Summer and morning applications.  It's light and absorbs quickly leaving a slight sheen on the skin.  A definite good buy and one that I will be repurchasing.
.
Next up is the Skin Relief Moisturising Lotion with Shea Butter 200ml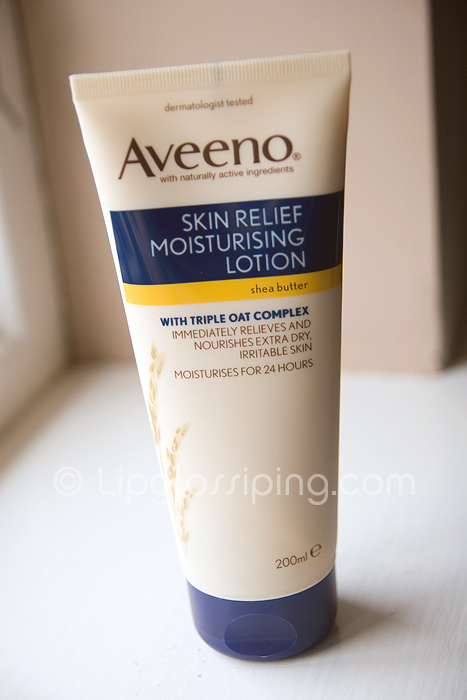 Shea butter based, it applies thickly and more heavily than the creamy oil.  I'm not a fan of the tube packaging, I seem to consistently dispense too much product.  However, I believe that if you buy the 300ml version of this one, it comes in a pump bottle like Aveeno's Moisturising Creamy Oil.
My skin feels slightly tacky to the touch after using this and it takes a good 5-10 minutes for absorption to be fully effective.  There's no doubt in my mind that this lotion is far more penetrating in it's skin relief than the creamy oil, but it's not as "light and carefree" to use.  I wouldn't use this after a shower before getting dressed in the morning… but I have been using it happily before bed where I don't mind my skin feeling a little tacky.
As for skin benefits, combined use of these 2 products means that I've banished my dry scaly bits!  My skin is now Summer ready, so bring on the sunshine (and fake tan).
The Aveeno range is currently £2 off at Superdrug and a 1/3 off at Sainsburys.