I'm a bit late with this one… oooooh about… *counts on fingers*…  8 months late?  Anyway… this was really doing the blog rounds back when Spring had barely sprung.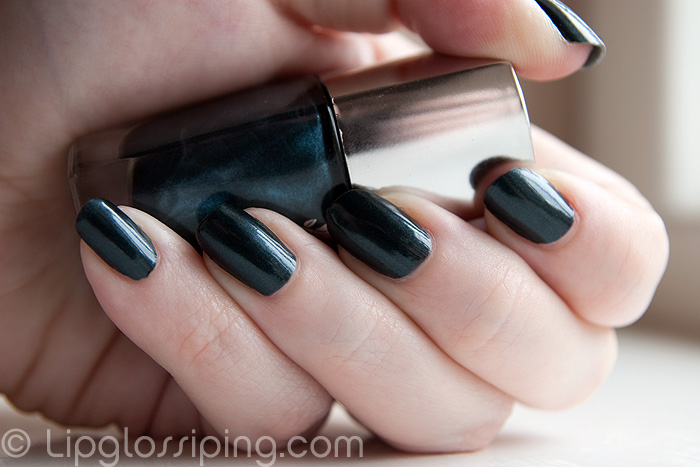 And I have to say… I don't really get it?
I was expecting to see some magnificent colour shifting between the teal and green and there was nothing.  Ok, so it was slightly more green in some light, but really?  You U.S girls didn't miss that much.
A true blackened colour, Mr. L had a hard time believing it was infact anything other than black polish on my tips.  Sparkle was VERY well hidden and the whole manicure looked a lot flatter than I had hoped it would.
Application wasn't too problematic… 2 coats with a brush that was a little too firm for me.  The streaking on the first coat shocked me, the brush practically drags the polish across the nail bed.  A thicker 2nd coat solved this though.
Wear on Lancome's Pop Petrol has been decent enough, no chips until the third day and tip wear (despite the v. dark colour) has been negligible.
This is a polish that I picked up from a counter bargain bucket last week.  Lancome are obviously shifting the last of their Spring collection, so if you wanted to get your hands on a shade that would happily suit Autumn/Winter – now's the time to do it!  Original price £14.50, I paid half that.