We all have a few of these in our collections right?
Those products that we wanted for ages… thought about more frequently than food or sex and then when we eventually found ourselves clutching them in our hot little hands, wished we'd opted for those other thoughts instead.
Here are my current disappointments.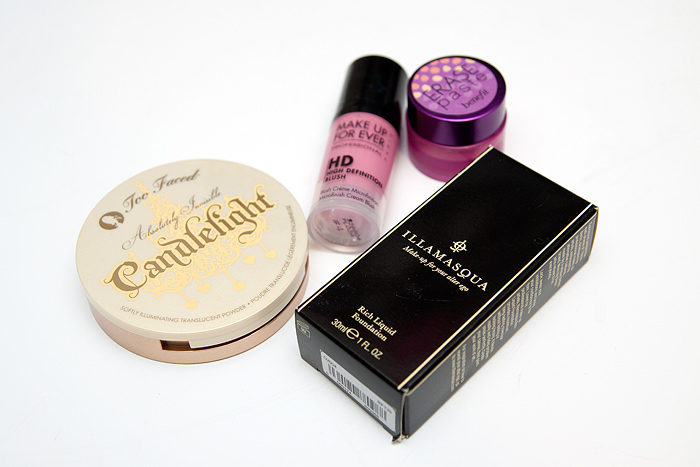 1. Too Faced Absolutely Invisible Candlelight Powder – £18.50
I have a bit of a 'thing' for finishing powders, the right one really makes a huge difference.
The reviews for the Too Faced Absolutely Invisible Candlelight Powder are generally pretty good but it's just a bit too sparkly for me.  I've tried using different brushes to ensure that I'm not being too heavy handed but I still don't dig the effect.  It's a nice powder… but the (albeit minute) particles of glitter seem to catch the light in a sparkly rather than glowy way.
2. Make Up For Ever HD Blush – £21.75
Can't. Blend. It.
It doesn't look atrocious but it doesn't look as well-blended as my other blushes and whilst I'm fully aware, confident even, that the problem lies more with my (lack of) skillz than the product… this knowledge doesn't make me like it more.
Shame 'cos the shades I own are gorgeous… *sigh*
3. Benefit Erase Paste Concealer – £18.89
I always thought that Erase Paste was for under the eye area and Boi-oing (or whatever it's called) was for blemishes but for the life of me, I cannot make this work on my dark circles.  It cakes and gathers in any fine lines within an hour of wear.  It may be heavy duty in terms of coverage but I'm not willing to comprimise about 10 years of my youth for a bit of concealing.
I've tried: warming it up before using/buffing it in with a brush/patting it on with my ring finger/setting it with powder/a combination of all the above!  Disappointing.
4. Illamasqua Rich Liquid Foundation – £21.50
I bought this with the hope of mixing it with a moisturiser and really being able to control the amount of coverage I achieved.  It gives the 'death mask' look when worn alone… which is fine for a night out but unwearable (for me) during the day.  I'm fine with this though, I expected it… what I'm not fine with is the fact that everytime I try to use it, it's separated and takes about 5 minutes to combine with vigorous shaking.
What products in your collection do you wish you loved more?  Are you like me and can't bring yourself to ditch them incase you suddenly get an a-ha moment?