Diaries out?
Circled Sunday 14th March with a red felt tip? No me neither (who DOES that anyway?)
This is the first Mother's Day I can join in with over on THAT side of the fence (the baggy fanny brigade* welcomed me last May incase you don't read my baby bores).
And in honour, I'm doing two gift guides.  One for my Mum and one for me, 'cos yano…. I totally catch Leila up here at the computer reading my blog when I'm not looking.
But first, here's a no-nonsense guide to some lovely things that MY mother would be more than happy to receive this Sunday: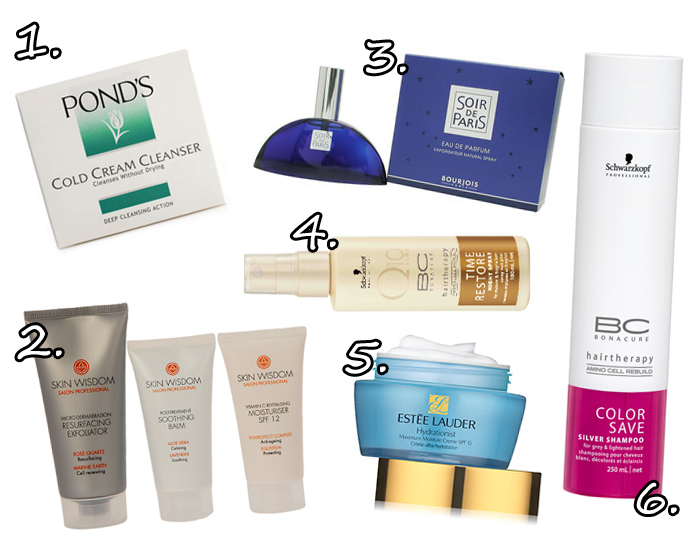 1. Ponds Cold Cream Cleanser (£3.99) – A true classic, uniting generations and still finding a place in bathroom cabinets across the world (including my Mums).
2. Tesco Skin Wisdom Microdermabrasion Kit (£10.00) – Ever since microdermabrasion became a bit fashionable a couple of years ago, I've caught her looking wistfully at the features on telly.  Good old Tesco offer a slightly more affordable DIY kit.
3. Bourjois Soir de Paris (£16.95) – "Evening in Paris" as it used to be known back in the…um… the… I dunno, dark ages… Anyway, Mum used to wear this and thought it had long been discontinued.  Kudos to the ladies at Bourjois for letting me know it still existed!
4. Schwarzkopf Bonacure Time Restore Night Spray (£10.95) – Formulated for more mature locks.  Mum's a bit low maintenance with her hair, and this looks like a fuss-free hair treat before bed… spray it on and sleep!
5. Estee Lauder Hydrationist Maximum Moisture Creme (£32) – We're both fans of Estee Lauder and their latest release promises to be a big hit.  I might buy this for her, but I can't promise she'll keep her hands on it for long…
6. Schwarzkopf Bonacure Color Save Silver Shampoo (£8.65) – Mum still retains a good amount of blonde hair, but with strands of silver running through this, would make a great choice to tone down brassiness and keep the silver looking silver instead of grey.
.
…and here's what I wouldn't mind finding upon waking after my 2pm lie-in and breakfast in bed come Sunday (hint, hint).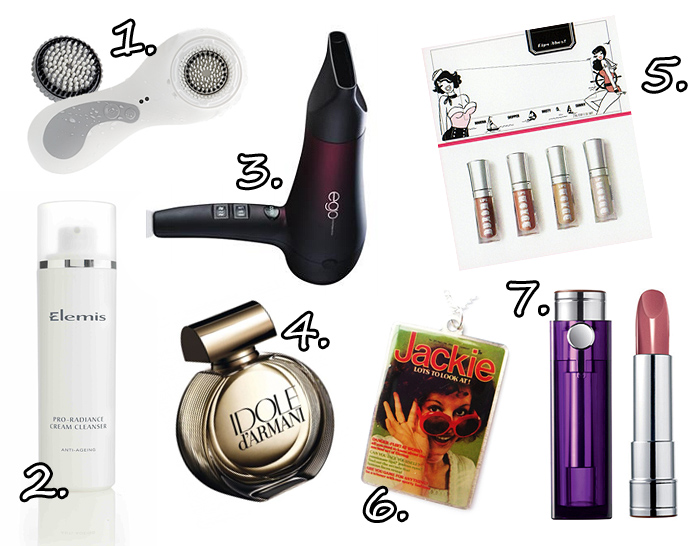 1. Clarisonic Plus (£175) – Developed by the same people that do those Sonicare toothbrushes, this litle gadget promises to remove six times more makeup than manual cleansing and reduce the appearance of open pores, fine lines and wrinkles, all whilst improving skin tone too.  We'll all have one shall we? Who cares if you're a Mum anyway?
2. Elemis Pro Radiance Cream Cleanser (£27) – I flippin' love me a bit of Elemis!  A great British luxury brand that knows how to hype a product.  Unfortunately, Elemis doesn't love my purse too much… but I'm celebrating a guilt-free day right?  Their new Pro Radiance Cream Cleanser is on my wishlist… and if I don't get it, I'm witholding cuddles for at least 10 minutes.
3. Alter Ego Hairdryer from EGO Professional (£109.99) – ZOMG!  Listen up ladies.  This is what is known as a 'Sunny' hairdryer.  Normal hairdryers blast out air and blow your hair all over the shop right?  I mean that's how they dry… they effectively blow the water molecules off your barnet.  Well… this baby dries your hair using infrared technology to evaporate the water droplets.  Which means no more tangling as you're drying… and surely less noise too!  In a house with a light sleeping baby, I'm considering this a joint gift!
4. Idole D'Armani (£35) – A beautifully balanced fragrance that's light without being fluffy.  It's spicy, floral and sweet all at once and lasts forever on my skin.  This will still be on my wishlist when my birthday comes around if I'm not hugely lucky on Sunday.
5. Buxom Sailor Girls Set by Bare Escentuals (£25) – Not out 'till April, I'm happy to take a raincheck on this adorable set of 'lip polishes'.  I had a couple of them applied on me a couple of weeks ago at a press day and fell in love, not only with the shades but also the lip-plumping sensation that seemed to last for HOURS!
6. Retro Jackie Necklace from Dollipops (£7.99) – How cute? Strung on a silver-plated chain, I'm sure to get some knowing "we're almost over the hill" looks of consolidation from passing strangers with this round my neck.  It's too adorable!
7. Bourjois Sweet Kiss Shine Lipstick in Rose Pomponne (£7.99) – I tried the latest addition to the Bourjois Sweet Kiss Shine lineup a couple of weeks ago (Sweet Tangerine) and whilst I adored the old-skool rose-scented formula and moisturising finish, the colour just wasn't me.  So here's one that is, take note Leila.
BRING IT ON! *hastily does lots of perfect mummy-type things*
Oh and you may have noticed that my wishlist is about 15 times more expensive than my mother's… I do assure you, it's like TOTALLY an accident…
oh wait… I knew I forgot something!
* Hooray for emergency C-Sections!  Every cloud and all that…