Miners have a special offer on a range of their polishes at the moment costing just 97p a bottle.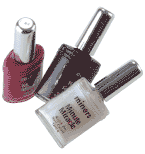 I haven't tried anything from their nail polish ranges yet so can't comment on quality but seeing as I just made myself a mini haul of some pretty colours, I thought I'd share the love.  It's a great excuse to try some colours that you wouldn't normally be brave enough to purchase without spending too much!  I've gone for:
Purple Hologram
Lemon
Hologram Turquoise
Pale Mint
Rain Glow
Raw Edges
Babyziz
All for a grand total of £8.26 inc. P&P – Bargain!
Stock up on some cool colours for summer!