There was nothing that my teen-self liked better than spending a Saturday afternoon sniffing her way around the carousel of fragrance oils in my local Body Shop.  I used to lose hours in that store, coming away smelling like an odd fuzzy peach/dewberry fruit hybrid.  I can only imagine the Pepé Le Pew-esque trail I must have left in my wake as I wandered up the high street toward Pilot.
This August will see the launch of The Body Shop's first 100% organic fragrance collection.  The hand-picked, natural extracts have been blended with community fair-trade alcohol under the supervision of fragrance experts and I, for one, am I excited to see if I can relive my youth, turn back the clock, erase some crowsfeet, re-ignite some fond memories when they hit the shelves next month.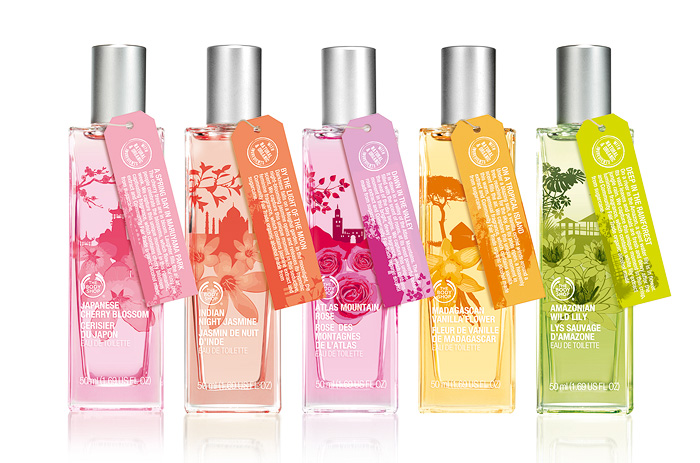 The range comprises five new scents, described thus:
Japanese Cherry Blossom: Fruity and floral, with top notes of Fuji apple and Chinese magnolia, alongside real Japanese cherry blossom.

Indian Night Jasmine: Spicy and seductive, notes of sandalwood and violet leaf fuse with orange blossom and jasmine from India.

Atlas Mountain Rose: Amber and musk combine with citrus notes, exotic spices and mountain rose extracts from Morocco.

Madagascan Vanilla Flower: An Oriental gourmand delight with notes of amber, frangipani, and vanilla from Madagascar.

Amazonian Wild Lily: Green and fresh with iris, orchid and papaya alongside white lilies from Brazil.
One of my favourite "lighter" day scents (you know I like the heavy stuff!) is a Body Shop one that was a limited edition release last year, so I'm really hoping that the brand will have conjured up something special with this new range.
The new Scents of the World fragrance collection will be available from August.
EAU DE TOILETTE RRP £15.00 50ML
FRAGRANCE MIST RRP £7.00 100ML
BODY LOTION RRP £9.00 200ML
BODY WASH RRP £8.00 200ML
PERFUME OIL RRP £7.00 15ML
Were you a Dewberry, White Musk or Fuzzy Peach kinda girl?