I usually have a little more time to myself while writing my annual birthday letter to you beautiful, but just last week… we welcomed your baby brother into the world.  I keep looking at you, wondering what you're thinking about this latest installment into our family but you know, if you don't end up being Daddy's chief game designer, I'm sure you'd make a great poker player.  When I think of you, the phrase "still waters run deep" springs to mind.  It's not that you're not vocal… it's just that you're always, always thinking, far more deeply and analytically than any child I've known.
For a Mum, this is something that I both cherish and despise.  Shouldn't you just be living in the moment, shouldn't I be the one doing all this deep-thinking for you?  The truth is, you love nothing more.  If you're not applying this analysis to your own thoughts and feelings, you're asking me and Daddy to quiz you on the Universe.  You want to know where you came from (not like that) and why you're here.  You want to know all about Earth's gravity and just how big is the Sun anyway?  But despite your adoration for all things planetary, you know for sure that you never want to be an astronaut.  Far too scary.  Clever girl, we don't want you to be an astronaut either.
We've bought you a telescope for your birthday.  You may only be able to see into next door's garden with it but all the same, I know you'll cherish it for the way you'll feel as though you've been given a key to another portal.  Let alone the opportunity to stay up a bit later for some moon-gazing.  You have a glow in the dark solar system hanging from your ceiling and your favourite planet, despite its rugged and inhospitable surface is Mercury.  I think that Venus, with its poisonous clouds, makes you feel a little in awe of just how incredible it is up there.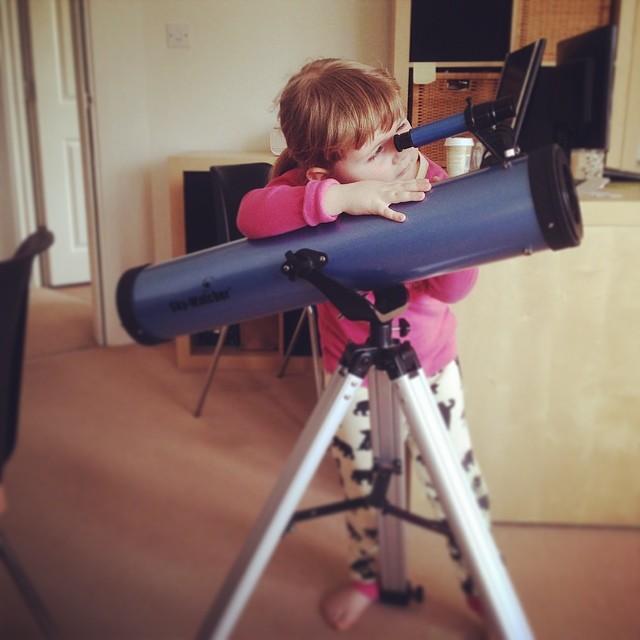 This is the year in which you started infant school, and after the tribulations of starting nursery, both Daddy and I were terrified.  Not about how you'd fit into an academic environment and the stresses of a work-load, but fearful of how you'd socialise with your friends.  Let's face it… you still struggle to mount a climbing frame with any kind of grace at all, the monkey-bars don't even stand a chance.  This makes you a little sad.  I know that for once, you'd love to be able to catch your best friend Issy whilst playing tag… but just like your Mum before you, we simply weren't built for speed my love.  Unlike your Mum, however, just recently… we've noticed that you seem to have been blessed with a generous side-order of humour… comical timing and a quick wit that endears you to both adults and children alike.  This is something that, if we're honest, has caught us by surprise… our little girl is a funny one!  Please stay self-confident enough to know that the things you have to say are worth the smile of others.
School is going really well, you're almost up to box 6 for reading.  You love a bit of maths (though hate being wrong) and we often catch you belting out school assembly songs about all the different year groups and classes.  You're not top of the class but slightly better than average and you know what?  That's a very comfortable place to be in life.  One of my favourite things about your school life is the way you come home with a newly-learned word that simply must be slotted into our every conversation… "Hey Mum, let's collaborate!"
Just recently, you've developed the kind of sass that makes me both roar with laughter and hold my head in my hands as I catch glimpses of the future teenager you'll become.  From your street-dancing (single person grinding) in Asda to your desperate desire to have the last word, you're finding your own way.  For now, I can hold my own but I know that a time will come when I need to allow you the occasional victory if I don't want you to experience too many of those teenage feelings of resentment.  Give me a few more years of reminding you who the Mummy is though, eh?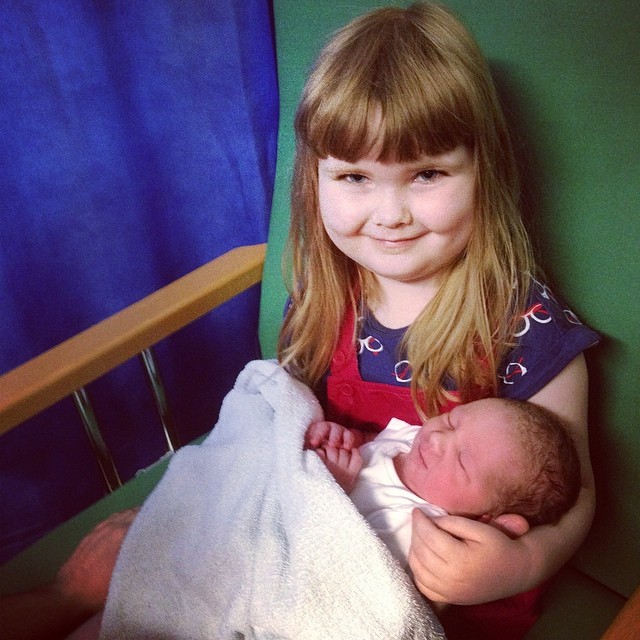 When you see us looking at houses to buy, you worry that we're going to move too far away for you to have your weekly sleepover at Nanny and Pop's house.  We do our very best to reassure you that this will never happen and it's true.  Our initial desire to roam further afield in the quest for a more affordable home has been quelled by the simple knowledge that such a move would break your heart.  So important are your Nanny and Pop to you, we understand and realise that they're more like second-parents than grandparents.  You are so very lucky to be so very loved.
Hot on Nanny and Pop's heels is your infatuation for your cousins.  If you're not making cards and notes for Mummy and Daddy, you're inventing ways to express your adoration for the cousins you get to see frequently: Mildred, Ava, Eli, and Ola.  From simple scraps of paper to sophisticated Cool Cardz, from Post-It Notes to hand-crafted greeting's cards… our flat is awash with your arty creations.  Only around 10% of these find their way to their intended targets once life has gotten in the way… but still, they keep coming.  "I love you!", "Thanks for being my friend!".  They love you too stinky-bum.
Your brother is wakimg up and so I must find a way to close this letter to you.  I just want to thank you for being so bloody brilliant, so genuinely reasonable, and so infinitely enchanting.
Leila Jean (beauty queen), Happy 5th Birthday big girl.  We love you to Pluto and back.
xxxxx
Previous "Birthday" Letters: Four, Three, Two, Four Months