What with Christmas supposedly being for kids and all… I thought I'd better give them at least some kind of nod in this year's gift guides. I mean, it's not like they don't get enough stuff bought for them ALL YEAR ROUND is it?!
I have been having a huge clear out of Leila's toys in advance of the 25th December, and she won't let me actually get rid of anything – we're currently playing the game of moving things from one pile to the next as she pretends to fall in love (all over again) with the left leg that fell off her Poundland dolly I bought to keep her quiet at a wedding two years ago. I am losing the both the battle and the war.
Which is why, I'm very pleased to announce, that my kids/teens gift guide contains products that are either actually incredibly useful… or at least, completely use-upable.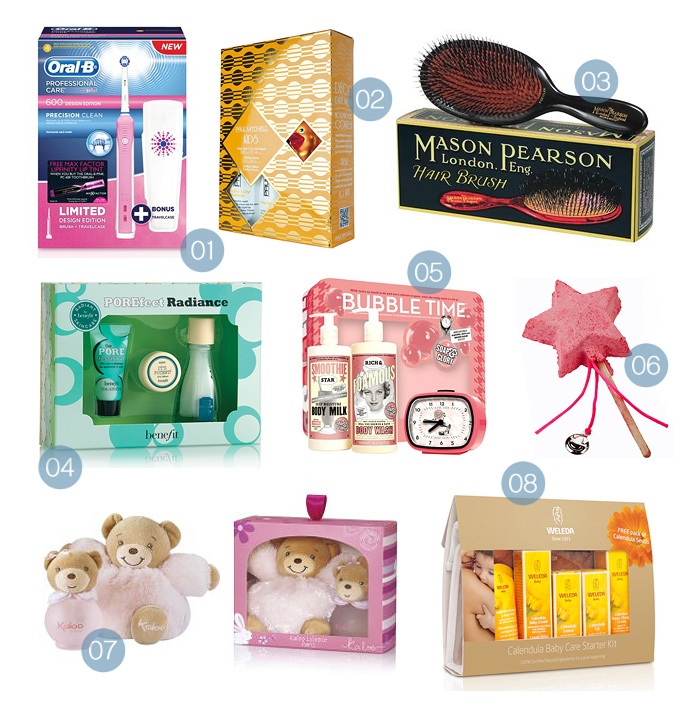 01:  Oral-B PC600 Limited Edition Pink Power Toothbrush (£24.95)*
Since when has a toothbrush been anything other than indispensable?  We're talking about kids/teens though…  so what do we do?  Give it a 3D cleaning, oscillating action with a two minute timer and it gets better.  Make it pulse at 7,600 rotations and 20,000 pulsations per minute and it's looking quite tempting.  Paint it pink and put it in the half price sale at Superdrug?  SOLD.
02:  Paul Mitchell Kids Duo Gift Set Holiday 2012 (£15.75)
Kids have stupid hair don't they?  If you're not trying to flatten it down with a bit o' spit – then you're trying to stop it from soaking up the contents of the soup bowl.  Paul Mitchell have released this very cute kids duo containing: Baby Don't Cry Shampoo 300ml and Taming Spray 250ml to make our lives easier when it comes to bath-time.  Even more importantly, check out the free rubber duck!
03:  Mason Pearson Bristle/Nylon Handy Brush (£47.50)
I was bought my MP brush when I was 2 years old, and I bought Leila's MP brush when she was just over a year old.  You may have already read about my love affair with Mason Pearson brushes… but all I can say is that mine is still in daily service (despite how mangled it looks!) and Leila won't be parted from hers either.  Escentual.com carry a really good range but my one tip would be to buy the nylon/bristle mix – the bristle is great for toddlers but at the price you pay for MP brushes, you really don't want them to grow out of their brush too quickly.
04:  Benefit POREfect Radiance Skincare and Primer set (£6.34)*
What teenage girl wouldn't like to open their stocking on Christmas morning and see a Benefit set looking back at them?  The Benefit POREfect Radiance Skincare and Primer Set is currently on offer on the Benefit website, although I don't expect it to remain in stock for long!  Featuring, three skin-perfecting products including: The POREfessional (deluxe mini), It's Potent! Eye Cream (deluxe mini), and Triple Performing Facial Emulsion SPF 15++ (deluxe mini). Grab it quick at this price!
05:  Soap and Glory Bubble Time (£18.00)
Leaving things to the last minute is hellish, so while you've still got time – set an alarm and head down to your nearest Boots store.  Talking of alarms, the Soap and Glory Bubble Time duo features a rather cool, retro-styled alarm clock!  But if your teenage daughter is all about the relaxation, she'll be pleased to hear that the set also contains the brand's Rich & Foamous Super Creamy Body Wash & Smoothie Star Deep Moisture Body Milk.  Bliss!
06:  LUSH Magic Wand Bubble Bar (£4.95)
When you swish upon a star, you're guaranteed a bath-full of bubbles!  These reusable bubble bars are probably my favourite things of all time from the British brand.  They offer really great value you for money as your little Miss will get around 6/7 baths (or more) from each product.  Leila made her Easter carrot one last around 2 months!  Still missing that special stocking stuffer for your little princess?  At under £5, you just won't beat this gift!
07:  Kaloo Lilirose Maxi Fluffy Set (£14.35)
Whilst you may not agree with scenting babies (they do smell rather lovely all by themselves), I've always scented Leila's clothes in her drawers… I used to store my LUSH goodies in amongst her baby-grows and every so often, I give her cupboards a quick spritz of Kaloo Lilirose which is a very pretty, and importantly, delicate scent that's completely hypoallergenic and alcohol-free.  It stops her from going gooey eyed over my perfumes and we enjoy a shared love of smelling "pretty".  A perfect gift for little ladies, complete with fluffy soft toy.
08:  Weleda Mini Calendula Baby Starter Gift Kit (£12.99)
The Weleda Calendula range is a wonderful gift for new mothers and their tiny tots, the set features a comprehensive range of minis from the lineup including: 1 x 20ml Calendula Shampoo & Body Wash, 1 x 10ml Calendula Face Cream, 1 x 10ml Calendula Oil, 1 x 10ml Calendula Nappy Change Cream, and 1 x 10ml Calendula Baby Lotion.  If you're not a fan of the high-street brands for baby-care, do check out this range – I still use the Weather Protection cream on both mine and Leila's skin in this weather.
Phew, that's the lot!  My 2012 Christmas Gift Guides are done-didded!  I hope you've been inspired or helped with the daunting task of buying a gift for that difficult someone! 
Or perhaps you've just enjoyed reading about some new ranges or products that you've never encountered before.  Have a wonderful Christmas, can you believe that the sales start in approximately 3 days?  Blimey.
* press sample