Since when have a good pair of tweezers not been a beauty essential? Even before I got into makeup properly, I was well-versed in the art of tweezing… that's not to say I was any GOOD at it. I was just, proficient at trying. Or in my case, over-trying… as my sparse brows proved.
You'd think that buying a pair of tweezers would be as simple as popping down to your local chemist and grabbing whatever's on the shelf, right? Wrong. There are so many different styles of tweezers…
Let's start with the tips…
The most popular style of tweezer tip is the slanted, and for good reason. Slanted tweezer tips offer a great compromise between the precision of a pointed tweezer tip and the grab-all approach of a straight tweezer tip. Slanted tips generally work well on ingrown-hairs without the risks of skin-damage that pointed tips can cause when used by inexperienced tweezers.
So now that you've chosen a good all-round tweezer tip, you should know that not all tweezers are created equal. I've owned some shockingly bad bought-on-a-whim tweezers in the past. The worst of them are the ones that simply don't grab the hair properly… and if they do, warp or twist as you press the tweezer together!
All of the tweezers below come from quality brands, none of these will let you down when it comes to tweezing!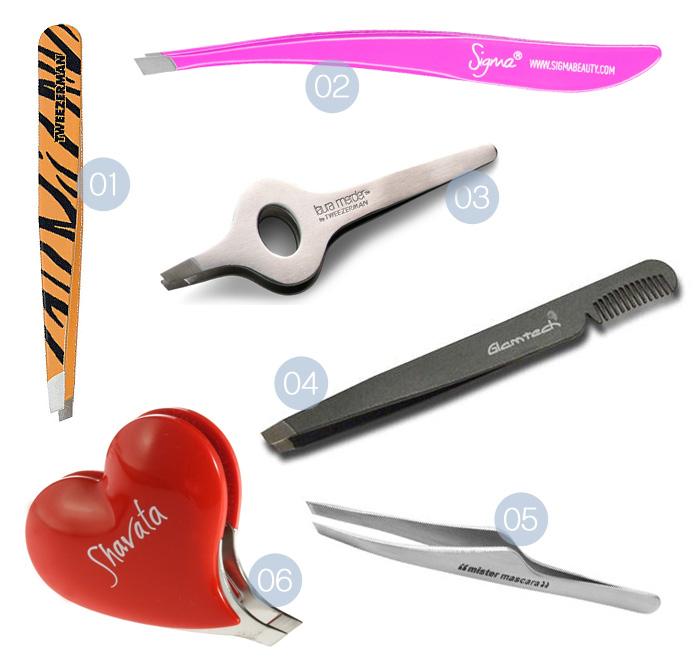 01: Tweezerman have been my brand of choice for the last 10-years. They offer a variety of styles, colours and patterns, often with limited-edition releases. They're not the cheapest brand on the block but they're pretty accessible and also offer free sharpening for the lifetime of your tweezers, though you do have to send them off to the U.S. for this service. (£22.00 / selfridges.com)

02. Sigma have recently launched their Beauty Brow Tweezer which incorporates some funky angles designed to improve accuracy and ease of use. The hot pink colour should also ensure that they're easy to spot inside your makeup bag! (£9.95 / cloud10beauty.com)

03. Laura Mercier's tweezer uses the classic Tweezerman design, indeed these are made for Laura Mercier by Tweezerman. This is the style of tweezer that I've used for the past 10-years, the rounded handle ensures that your grip is rock solid and shows those errant brow hairs who really is boss! (£18.50 / spacenk.com)

04. Glamtech's offering is a multifunctional tool that not only delivers the sharpest of hand-honed tips but also a rather innovative brow comb on the other end. If like me, you've been "blessed" in the brow-length department, you'll find this extra a useful addition in the quest to tame those brows. (£6.00 / glamtech.co.uk)

05: Mister Mascara's Japanese Style tweezers are another pair to consider if you need a little more security in the grip. The wider handles ensure that you keep utmost control while navigating toward even the most baby-fine of hairs. (£8.95 / urbanretreat.co.uk)

06. For some super kerb-appeal, Shavata's Heart Tweezers win the prize for cutest eyebrow accessory! Described as both fun and practical, they even come complete with a magnifying mirror, making them ideal for travel. (£18.90 / beautybay.com)
Once you've found your perfect pair of tweezers, it's time to look after them. Baby these things like they're your first-born. If you drop a pair of steel tweezers on a bathroom floor, more likely than not… when you close the grip, that precision-engineered tip is not going to close squarely anymore and if they don't close in perfect alignment… you may aswell attempt to pluck your stray hairs with a pair of BBQ tongs for all the good they'll now be.
You'll also need to keep the tip as sharp as possible, a pair of blunt tweezers will struggle to grab hairs effectively and can often end up snapping the hair as you pull them away from the skin. Most of the pricier brands include little caps to protect the ends of the tweezers. Use them, don't just throw your tweezers in your makeup bag without some kind of protection or you'll end up having to sharpen them on a regular basis.
Now tell me…
Do you have a favourite pair of tweezers, and if so… how old are they? Mine are 7-years old!