I know that when it comes to recipes on the blog, I'm all about the puddings.  But did you know, I like dinners too?
This is one of my favourite dinners in the entire world.  Did I mention that I like dinner, do you like dinner?  I like dinners A LOT so to have this one elevated to my top… *thinks*… TEN all time dinners is nothing to be sniffed at!
I might even like dinners more than I like makeup.  It's THAT serious people.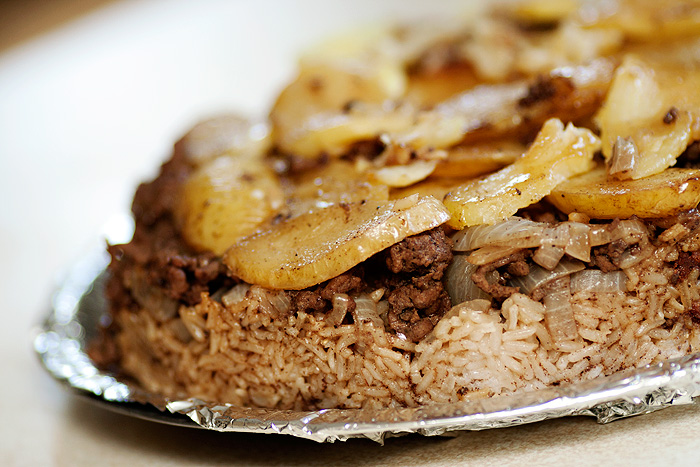 Makloubeh (literally meaning Upside Down) is a family dish cooked in a large pot, originating from the Middle East.  My uncle was Jordanian (he passed away in 1996) and the entire family would pile over his house on New Years Day to feast on Makloubeh.  Then we'd all go play Boggle or Battleships or something else that makes me feel old whenever I remember it.
The traditional recipes online call for eggplant (my uncle never included it).  I add potato for no other reason than to protect the meat/rice from catching on the bottom of the pan.  Well, that and the fact that my family are potato fiends.
This dish is not very healthy.  Don't be fooled by the inclusion of cauliflower.  YOU DEEP FRY IT.
A quick note about the meat.  My uncle always used lamb shoulder, which is expensive in the UK.  I use mince (ground beef or lamb) or chicken thigh.  We only have lamb in this dish if it's a special occasion and I apparently never put enough in the pot.  My horrible brother has christened my version of Lamb Makloubeh, "McNoMeat".
Makloubeh – serves 4 greedy ones:
Vegetable oil for frying
1 1/2 cups of rice (I use long-grain to keep better form when cooking)
500g Beef/Lamb Mince (you could use chicken thighs or lamb)
1 large head of cauliflower, broken into large florets
3 large potatoes, sliced about a cm thick
2 large onions, sliced
3 cloves of garlic – thinly sliced
2 Beef Oxo/Stock Cubes
1 tsp. cinnamon
1 1/2 tsp. allspice
1 tsp. nutmeg
1 tsp. ground pepper
1 tsp. ground ginger
1 tsp. ground cumin
3-4 tsp. salt
Unspecified amount of water!
1).  Salt the cauliflower and fry until dark brown (yes, really).  I use a deep fryer.  Cover a plate in kitchen towel and allow cooked cauliflower to rest on the plate once cooked.
2).  Pat sliced potatoes dry and deep fry until golden, transfer onto more kitchen towel to soak up the excess oil.
3).  Brown the meat and onions in a frying pan before adding all the spices and crumbling the stock cube over the mixture.
4).  Add about an inch of hot water to the pan, drop in the garlic and allow the meat to gently simmer for around 5 minutes.
5).  Take a large pot (something like this), add 2tbsp of oil and layer the potatoes on the bottom of the pan.  Spoon the (sloppy) meat and onion mixture over this before adding the cooked cauliflower.

6).  Add the uncooked rice and pour over enough hot water to barely cover the rice.
7).  Cover with a lid and cook on a medium heat (you want a gentle simmer) until the rice is cooked (20-30 minutes).  Don't stir!
8).  Once the rice is cooked, all the water should have been absorbed.  If not, simmer for a little longer with the lid off.

9).  Grab a tray and line it with foil.  Tip the pot upside down (hence the name!) onto the tray and sprinkle with pine nuts.
10).  Stick it in the middle of the table and let people serve themselves, preferably with lots of natural yoghurt.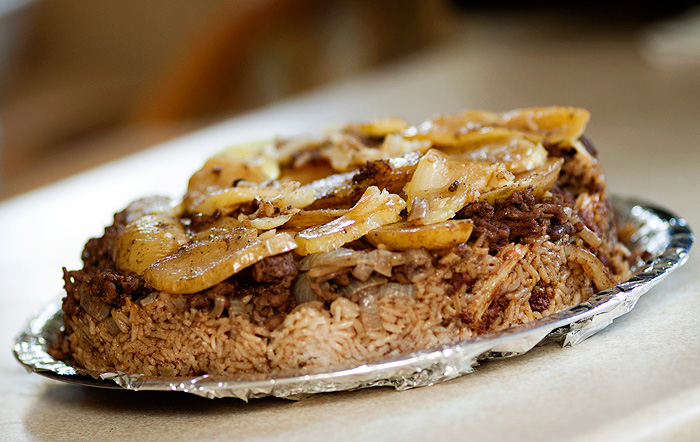 11).  Undo top button.
p.s. If you want to make your version a little healthier (and clearly less fun), you could probably roast the cauliflower and potatoes before adding them to the pot… probably.
.
Do you have any favourite Middle Eastern dishes?