All being well, in just over 6 weeks, I'm going to be a Mum again.  To say that I'm feeling a little apprehensive about this is an understatement.  Five years is a long time for the mind to heal, forgetting about the sleepless nights and the frustrations at not being able to immediately comfort an unhappy little one.
I love being the Mum of a 5-yr old more than anything, but I'm acutely aware that I didn't relish those first few months in my new role.  I'm not ashamed to admit that either, I much prefer the company of someone who can talk back to me.  That being said, I shall be patiently awaiting the flood of maternal love that will surely wash over me within minutes of meeting our new family member.  And then I'll be demanding a belated Mother's Day present, because… you know, how dare you schedule your entry to coincide with MISSING THE BIG DAY?!
Incase you're listening little one… any, or you know… ALL of the below will suffice.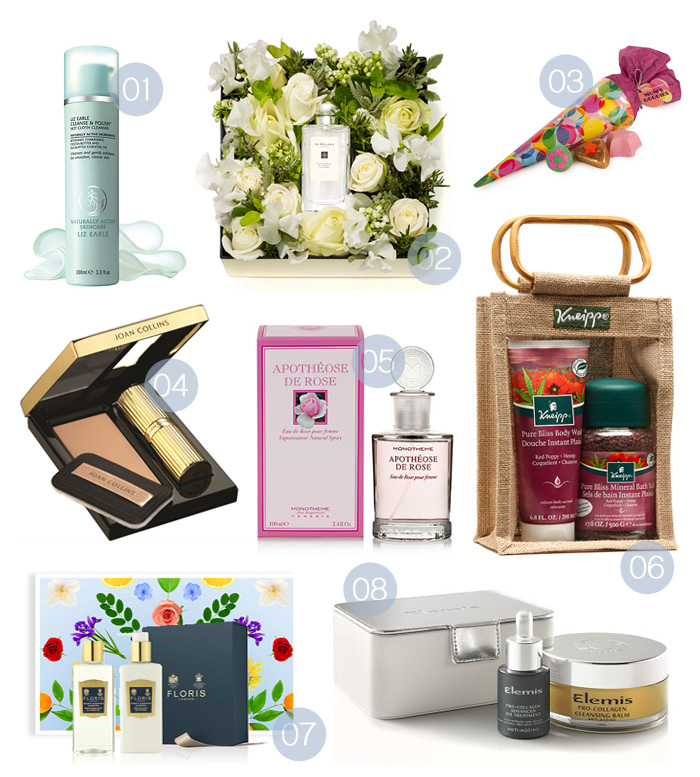 1). It's an oldie but a goodie.  Liz Earle's Cleanse & Polish (£14.75) sales must hit the roof come Mother's Day, I genuinely don't know any women in my family who wouldn't love to see this blue bottle pop out of a gift bag.  There's also free delivery over on the website at the moment until the 25th March and a free sample with every order.
You could even build your own Liz Earle goody-bag for Mum by purchasing the mini 15ml tube and a muslin cloth for only £3.75 – now there's thoughtful!
2). Each year, when Jo Malone release their bespoke Mother's Day Floral Boxes (£120), I sit and drool at the thought of receiving something so mind-blowingly extravagant.  Complete with 100ml cologne of your choice (Vetyver for me please sproglet!), this beautiful floral display will melt the heart of anyone you've been privileged enough to call "Mum".  Available from Monday 24th March, exclusively from the Jo Malone Sloane Street boutique.
3). Back down to earth with a beautifully-scented bump now, thanks to this perfectly-presented sweet little cone of bubbles and fizz!  The Mum's Goodies (£13.50) offering from LUSH contains a limited edition Wonder Woohoo bubble bar, the Secret Garden bath bomb, and a Rockstar Soap.  The perfect way to show Mum that you care.  Just don't steal the contents while her back is turned, ok?
4). For the ultimate glamour-Mum, look no further than this Paparazzi Compact (£27.65) from the new Joan Collins Timeless Beauty range.  The pretty duo features a classic lipstick/powder combination that makes "on the go" touch-ups a thing of true elegance!  The powder shade is a "neutral" tone to suit most complexions and depending on how bold your influential lady's beauty tastes are, you can choose between a pink or burgundy lipstick!
5). When it comes to picking a perfume, you can't go wrong with a delicate rose scent, the queen of all florals.  This Monotheme Apothéose de Rose (£18.00) from Marks & Spencer, offers a modern take on a much-loved theme.  Described as a soft, young and feminine scent – you won't mistake this beauty for one of granny's old perfumes.  The packaging is beautiful and will look a proper treat given pride of place at the dressing table.
6). If you haven't yet heard of bathing brand Kneipp, trust me – you're about to…
This German, mineral-rich brand offer a wide-range of bodycare products developed around the wonders of hydrotherapy.  The Kneipp Pure Bliss Bath & Body Gift Set (£12.95) will turn Mum's bath water from boring to blissful in the blink of an eye.  With Red Poppy and Hemp as the workhorse naturals in this set, Mum will be sure to achieve complete serenity.  Even if its only until the water turns cold.
7). For the more traditional fragrant-fiend in your life, you won't go wrong with a sneaky purchase of Floris' Night Scented Jasmine Gift Set (£50) which includes a moisturising Bath & Shower Gel and an enriched Body Moisturiser.  This luxurious scent is inspired by the original Jasmine perfume introduced in 1806 by Mr. Floris.  It's the kind of fragrant heritage that money just can't buy… err, except luckily for us, it can!  The epitome of elegant gift-choices!
8). When spa-brand Elemis put together a special release that saves almost £30 on the full-price, you have to sit up and take notice.  Particularly when the items included are full-size products!  The Elemis Pro-Collagen Treats Collection (£49.00) comprises two beauty essentials from their iconic Pro-Collagen range: the Pro-Collagen Cleansing Balm, and the Pro-Collagen Advanced Eye Treatment.
Both products are housed in a rather cute, silver presentation box that makes gifting just a little bit more glamourous!
if you liked this post, please don't forget to check out my subscriber options, here